Trifecta Meals Review: With lots of meal delivery services available on the market and each of them making huge claims and health benefits, it is never easy to find out the best one for you. Being top notches like Nutrisystem already capturing the market, Trifecta is a new entrant in the field of meal delivery services.
Trifecta is a rapidly growing meal delivery service with lots of claims and advantages for those who are unable to prepare healthy and balanced meals for themselves. In this Trifecta meals review, we are going to explore this brand and find out the facts behind its claims and promises.
Trifecta Meals Review – Brand Overview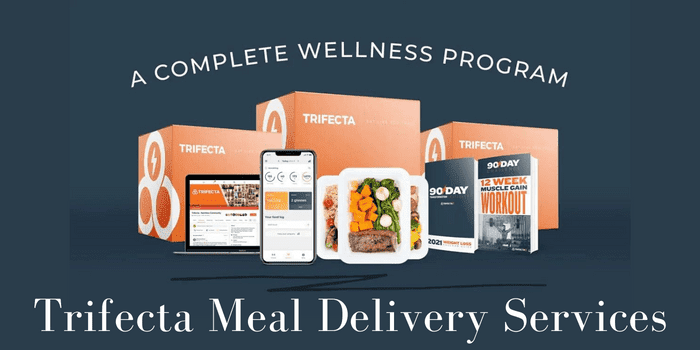 Trifecta is among the most popular meal delivery services on the market today that delivers organic and fresh meals at your doorsteps. The company offers various meal options like vegetarian, vegan, paleo, and keto. The user has the option to choose between the combinations of breakfasts, lunches, and dinners that are delivered in a weekly meal box. Different from other meal delivery services, Trifecta delivers fully cooked and ready-to-eat meals.
Personally, I am a great fan of Nutrisystem because their foods are delicious and reasonably priced compared to other meal delivery services on the market today. But to give you an unbiased review of Trifecta meals, I personally ordered their weekly plan.
To be honest, their delivery is quick or, I may say so, superfast. The packaging was also nice and impressive, with meals delivered in an ice-packed box. To keep it precise, the taste was also good but the price is a comparatively little bit high. With that said, let's move further in our Trifecta reviews to find out more.
Benefits
Uses high-quality ingredients in meal preparation
Helps in losing weight
Plans for everyone, vegan, vegetarian, keto, and paleo
Promotes healthy and balanced eating
Provides fully cooked meals at the doorstep
Meals are tasty and delicious
Trifecta Meal Plans
Trifecta Clean Meals –
A clean meal plan starts at $108 for a weekly box that contains 5 days meals. Meals in this plan are prepared with minimally processed ingredients including vegetables, lean proteins, and whole grains.
Trifecta Paleo Meals –
This plan also starts at $108 for a weekly box that contains grains and legume-free meals prepared with organic fruits and veggies, and sustainably-farmed meats.
Trifecta Keto Meals –
Keto plans again start at $108 for a weekly box. These meals are low in carbohydrates and high in fat and protein.
Trifecta Vegetarian Meal –
If your goal is fat burning then this meal plan is highly recommended by the company. Meals in this plan are prepared with plant-based ingredients that are rich in protein. The price of the weekly box in this plan is $113.
Trifecta Vegan Meals –
This meal plan contains similar nutritional benefits to the vegetarian plan. The vegan diet is environment-friendly as it doesn't contain any type of animal product. The price for this plan is $113.
Are Trifecta Meals Helpful In Weight Loss?
Trifecta meals are typically created to provide you with the ideal amount of calories for losing weight. Remember that eating Trifecta meals is not a replacement for consulting a dietician. Trifecta also has no control over your diet outside of your membership. But if you continue to get your three meals a day from this delivery service, Trifecta might be a terrific weight-loss tool.
For the number of calories you consume, Trifecta prepares its meals to provide the optimum amount of nutrition. As any vegan will attest, it can be easy to get sucked into the temptation of junk food or zero calories. Making a strategy with Trifecta may enable you to stay away from emotional eating.
Pros
Prepared with 100% organic and non-GMO ingredients
Lots of options to choose between breakfast, lunch, and dinner
Helps in losing weight and improving overall health
Shipped free of cost all over the USA, including Alaska and Hawaii
Cons
No ala carte option is available
Quite expensive compared to other meal delivery services
Trifecta Meals Customer Reviews
After going through a couple of Trifecta reviews, it could be said that users are enjoying the meals from this service.
A user named Kevin commented that he was amazed by highly responsive customer service and their quick responses to queries.
Another user from Minnesota named Judy commented that she was saving enough money with Trifecta that she earlier use to spend on grocery shopping.
However, a user named Dean reported a complaint about Trifecta. He complained that the company was sending three meals repetitively for regular four months and that was quite boring for him.
Trifecta Meals' Taste
So, let's have a look at the main factor of a meal delivery system, and that's the taste, at least for me. I personally tried this meal plan and the first meal that I tasted was chicken curry, served with bokchoy and sweet potatoes. To be honest, the taste and texture of this meal were awesome and impressive. Next meal that I tried while craving comfort food was Sloppy Joes. This food was also tasty and seemed unsubstantial while heating up again and again.
Is It Worth Trying?
Trifecta is a fantastic choice for those who are looking for quick and simple ways to eat healthily.
Customers of Trifecta meal delivery service can choose to receive support from certified dietitians in addition to enjoying delicious fully cooked meals.
Trifecta ensures that all the compounds and proteins are organically and produced compassionately by sourcing all ingredients sustainably.
Customers have flexibility with their orders and free delivery is provided across the entire United States.
How much does Trifecta Cost
Just a couple of weeks ago, on Black Friday, the company was offering huge discounts on their meal packs. On that occasion, Trifecta meals were offered at $10 per meal.
You will have to pay $108.43 for a regular Trifecta delivery, which includes 7 meals. This equals $15.49 for each meal. This is the most expensive meal delivery plan I have used so far. According to me, the price is not justified for the average taste and the small portions.
Other companies provide considerably better-tasting options that are more reasonably priced. For comparison, Nutrisystem offers better-tasting meals at a reasonable price of $12.17 per meal.
Where Does Trifecta Deliver?
Trifecta offers services worldwide! Trifecta does, in fact, provide free shipping to every 50 states of the USA. Alaska and Hawaii are included in this. You can choose between the delivery options of weekly, twice a month, or even once a month. You need to inform Trifecta a week prior to suspending your delivery if you are planning to go out of town.
Trifecta Alternatives
If you're unsure whether Trifecta is the right choice for you, see some alternatives to Trifecta meals:
Nutrisystem
Similar to Trifecta Nutrition, Nutrisystem obtains a significant amount of its ingredients from sustainable sources. Customers can select from a variety of pre-made kits that are catered to a few different diets, including vegan, vegetarian, and family-friendly options.
Freshology
Customers of Freshology have access to over 30 professionally prepared meals delivered to their homes every week. They provide a variety of delectable meals that are stuffed with lean meats and nutritious vegetables. Unlike Trifecta, this meal delivery plan doesn't provide any a-la-carte meals, so you're locked into a weekly subscription.
FAQs on Trifecta Reviews
Are Trifecta meals organic?
Yes, each and every meal of Trifecta is prepared with organic and non-GMO ingredients.
Is Trifecta expensive?
Although foods are tasty and healthy, they are quite expensive compared to other meal delivery services like Nutrisystem.
Can I freeze Trifecta meals?
Trifecta meals are delivered in vacuum-tight, ice boxes. You can store these foods in frozen form for future consumption.
How to cancel a Trifecta subscription?
It is very easy to suspend or cancel a subscription online. But you need to inform the company one week prior to canceling the subscription.
Final Verdict on Trifecta Nutrition Reviews
Overall, Trifecta is an excellent company that keeps getting better, and I think they'll always keep vegans in mind!
Vegans are accustomed to coping with the challenge of finding ideal food options. Trifecta vegan meal plan is currently ironing out some problems, but if you're having trouble eating healthy, filling vegan meals, it's definitely worth a try. Trifecta meals will help you avoid craving filler foods simply because they are on the vegan-friendly list by ensuring that your calorie intake is balanced with the nutritional requirements.
Trifecta might benefit from expanding its selection by giving customers more choices. Additionally, it would be better if you could create your own menu rather than being forced to eat what Trifecta believes is best for the week. However, Trifecta often does a terrific job cooking meals that are sure to please everyone.