In our earlier post of similar background on choosing a health plan, we have precisely given an overview about Jenny Craig and Nutrisystem, and in this post, we will be highlighting the main points of differences and customer services the Nutrisystem or weight watchers offers.
It will be hence easy to streamline the ongoing confusions of all those health effective seekers who want consolidated and proven results among either Nutrisystem vs weight watchers vs jenny craig.
Many health programs boast that they provide enriched nutritional value but half of them are just saying without a factual basis, and that's the main aim of this blog to remove any doubts and confusion regarding the type of health plan and its serving purpose upon which an individual can decide for which one to go after?
Nutrisystem or Weight Watchers Comparision 2023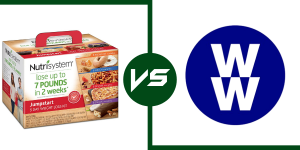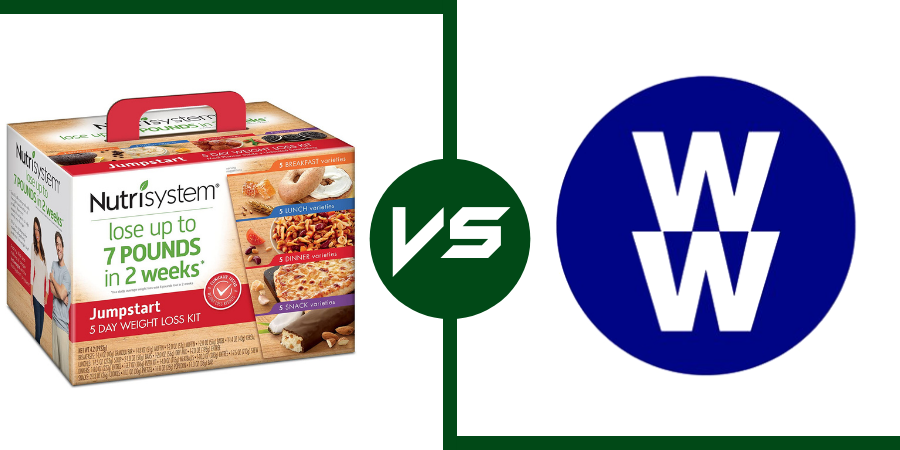 Important Health Plan Features About Jenny Craig Or Weight Watchers And Weight Watchers Or Nutrisystem!
As we have seen in our earlier post, Jenny Craig and Nutrisystem had followed their own unique set of health plans and diet menus which was both interesting and directive following their targeted customers, however, the two differ slightly on the term of cost-effectiveness but both have proven the results of weight loss up to 2 pounds in a week.
But what about the features of health plans offered by weight watchers? How does it aim to differ in the race of its health-promoting features? What are some undiscovered diet options which make it one kind of a health program? There are so many questions running about its cost, type of diet plans, delivery options, service qualities, etc.
Don't worry! We will be targeting your every query in detail by learning more about weight watchers, for knowing more about Nutrisystem and Jenny Craig, you can refer to our previous blog on How To Choose The Best One Between Nutrisystem Vs Jenny Craig?
Knowing About Weight Watchers: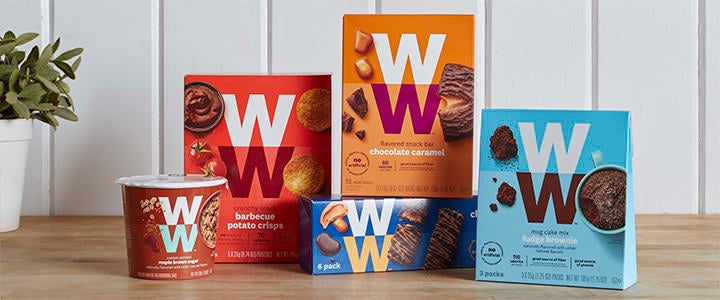 Previously known as weight watchers have now been shortened to WW, which has its global health networks working as the best weight loss and health managing programs with long- and short-term diet goals.
Some brief key features about weight watchers:
It provides unlimited health-related workshop
24-hour coach chatting support
Personalized health plans and progress reports
Free health tracking tools
4000+ homemade healthy diet recipes.
Provide Smart points system based on calorie measurements, saturated fats, sugar level, protein intake, etc. Every day a maximum of 30 points is given to check the credibility of its wellness routine.
Working Mechanism Of Weight Watchers:
We have already told that it has adopted a calorie calculation method where each food item has been assigned to a particular number rating out of 30 points, these number signifies many nutritional elements, here is the complete guide about how does it structure its health achievement goals:
Health members are provided with budget options with two categories, weekly or monthly.
High priority is given to the number of exercises done in daily routine, their dietary intakes, and health goals.
An easy health routine tracking tool is also provided to the WW members to track their health goals.
WW helps its members to stay motivated by introducing a free reward program where it provides some discounts on plans, free fitness class passes. Etc.
Weight Watchers Diet Plan Programs
WW has introduced the three category diet plan programs, which comes with three health memberships i.e.,
Digital WW diet program: It is a private health community club program where more than 4000+ homemade healthy recipes are available with tracking tools and personalized health reports, also 24*7-hour health support is provided to help its members regarding any health-related issues.
Digital 360: In digital 360 the aim is to get extra healthcare support from health experts and both live sessions of wellness programs are provided, along with healthy recipes cooking demo classes.
Workshop + Digital diet program: Health and diet-related workshop sessions are provided to its members who want in-person health sessions and interactive live chats with certified health coaches and fitness trainers, one can go for weekly check-in opportunities with their WW mentors provided in more than 3000 studio locations all over the nation.
Personal coaching + Digital diet program: Here one can get personal health coaching sessions with essential diet programs to stay fit and focus, it comes under its premium package aiming at health goals.
My WW+: It helps its members or any health advice-seeking person to get complete health and personalized diet plan based on an online personal health assessment where the person has to give details about its eating habits, nutritional intakes, exercise routine, and so on.
Weight Watchers Diet Menus:
WW had released its Smart points Kitchen scale which acts as a diet meter for those who want to calculate or add some nutritional values like percentage of saturated fats, essential dietary fibers, protein intake, it helps to weigh the amount of the diet elements and also use to suggest the 10 favorable foods from the chosen option.
Some examples of what food to eat:
Eggs
Nuts
Green vegetables like broccoli, beans, etc.
Fresh fruits.
Greek yogurt
Fish, etc.
Some examples of what food to avoid:
Greasy burgers, pizzas
Deep-fried things
Beverages like coke, etc.
Sweets and ice-creams.
Alcohol intake and sodas
Vegetables that contain starch like a potato.
Comparing The Three Health Programs
Now as we have completely analyzed the WW and its effective health program session, although it has earned a global health program platform still, we have to compare its compatibility along with every pros and cons.
The Nutrisystem Vs Weight Watchers Vs Jenny Craig: Under this, we will be touching every feature that concerns a health benefit seeker for asking the credibility from the various online support forum and health communities, these three health programs have unique systems to get personalized with their member's health need so let's begin to explore more about them:
1.1  The Nutrisystem vs weight watchers:
The main difference between the Nutrisystem and weight watchers is the pre-made food delivery system, which is the main health diet selling plan of Nutrisystem, whereas WW begs to differ,
It doesn't have such a system but yes it targets the scientific method of keeping its customers' health and well-being.
It not only laid many things as a rivalry fact between weight watchers vs Nutrisystem like:
Fee Cancellation Policy: However, WW has been less effective in terms of money return policy as compared to Nutrisystem vs WW then Nutrisystem has been very active in its return policy having money back within 14 days of cancellation.
Home Delivery Policy: 
WW plans act better with flexible health sessions and dietary plans which are not lenient and are made after research-based, you get 1:1 help from your health coach while talking about Nutrisystem versus weight watchers, it differs as Nutrisystem focuses on self-health management with its pre-packaged food for 28 days along with a frozen meal that can be home-cooked, but WW doesn't provide such pre-cooked meal instead provide health ready sessions and workshops.
 1.2  Jenny Craig or weight watchers:
WW has been an older health productive program while Jenny Craig had been discovered in the early '80s, both are good at providing in-person health guides to their members and help in learning the right healthy lifestyle with proper tips and guidance.
But we think that WW had exposed its health programs with more dynamic outreach by holding weekly live sessions, 14000+ health workshops teaching meditations, exercises, and dietary plans cooking demos,
Here are some key takeaways about Jenny Craig and WW:
Final Thoughts
Finally, after seeing all the health parameters and features we must conclude that all of the three are particularly designed with specific needs and customer demand Like Jenny Craig is for those who are beginners and want in-personal guidance with convenience while Nutrisystem is for those who want to make their healthy food plan more delicious without needing any personal help, whereas WW is all for those strict health freak that never compromises to their health with more personalized support.