If you are a green superfood powder lover then you must have heard about Organifi. But for those who are still unaware of green powders, I would love to give them some green truths 🙂 to convince them.
It is a fact that about 90% of the US population does not eat enough vegetables in their diet. May be either they don't have enough time or they hate the taste. But according to a recommendation, a person needs at least 2 cups of vegetables daily to get enough nutrients.
Organifi Vs The Alternatives – An Overview
Green Superfoods like Organifi is the best alternative to raw vegetables as you can get a similar amount of nutrients in just one scoop of green powder. ( If you are interested in  finding all the details about Organifi just visit our well researched and extensive Organifi Review  covering its green juice as well as all the other  variants in the range)
Now talking of the best green superfood powder available in the US market, Organifi is one such product that you can always find listed in the top 5 green superfood powders.
It is because, Organifi is a 100% organic blend of 9 vital superfood ingredients such as vegetables, fruits, wheatgrass, spirulina, matcha green tea, coconut water, chlorella, ashwagandha, and turmeric.
One glass of Organifi green juice every morning assures you healthy digestion, liver, heart, detoxification, boost immunity, and energy. But being a human being, we always love to have options.
Therefore, here in this article, we are going to explore some of the best alternatives to Organifi and see how they match up. So, let's get started.
Organifi Green Juice vs Amazing Grass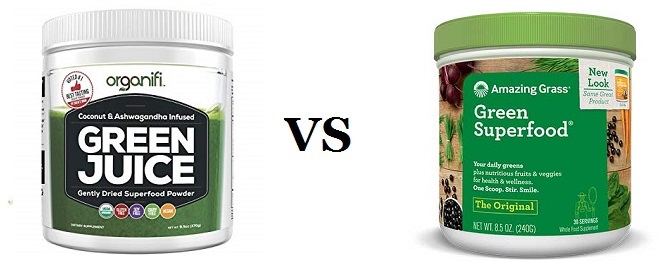 Organifi and Amazing Grass are among the most popular green superfood powders in the market. Though both the products are naturally formulated with enough green ingredients such as wheatgrass and spirulina. But still, there are some differences between the products.
Talking of the taste, where Amazing Grass's base product tastes a little bit earthy, Organifi's original product has a zest of mint and lemon that tastes quite good. Though Amazing Grass has many more flavor options than Organifi, still it has an upper hand on Amazing Grass.
Organifi also covers many more key areas of health than Amazing Grass.
Organifi Green Juice vs Athletic Greens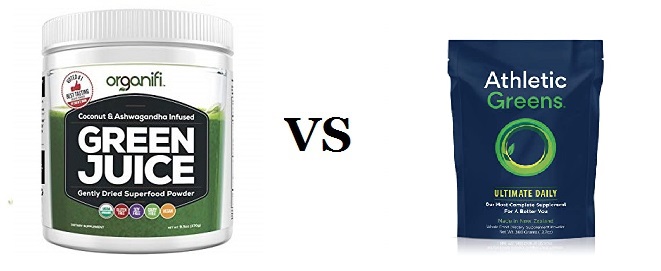 It is a battle among the two biggest green drink powder, Athletic Greens and Organifi. Comparing both the product's nose to nose, Organifi is a younger option against Athletic Greens according to market presence.
Both the products are highly reputed brands in the market in all aspects whether it's taste, ingredients, and effectiveness. Athletic Green is formulated with 75 vital ingredients and Organifi is composed of 9 superfood complexes but these 9 superfoods complexes nowhere are less than those 75 ingredients.
Both Athletic Greens and Organifi helps in enhancing detoxification, immunity, digestion, and energy. The only thing that makes Organifi prominent over Athletic Greens is its variety of flavors and options focused on various health and wellness issues.
Organifi Green Juice vs Green Vibrance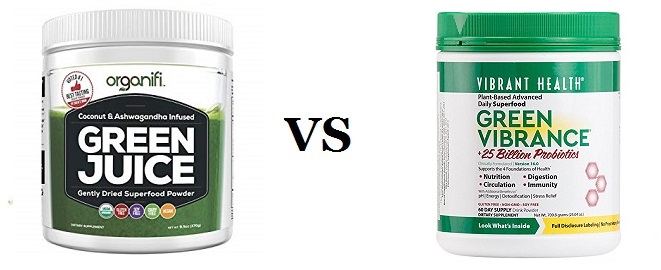 Green Vibrance is one of the popular names in the green superfood market by Vibrant Health.
Comparing to Organifi, Green Vibrance also has a list full of green superfood ingredients with around 25 billion probiotic bacteria. Though Organifi has quite fewer ingredients all of them are 100% organic and more potent.
Talking about taste, Organifi has the upper hand as it has the taste of mint whereas Green Vibrance tastes earthy. Overall, Green Vibrance is also a popular brand but Organifi is definitely a better option as it covers more key areas of health and has more flavor options.
Organifi Green Juice vs Shakeology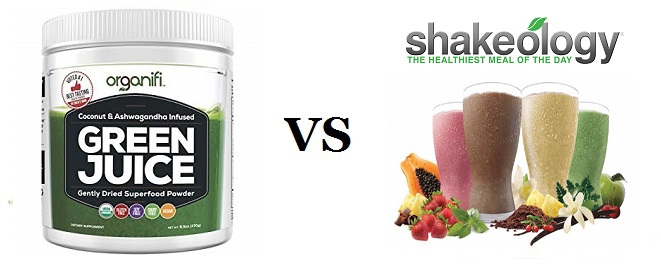 Well, Shakeology is another popular and one of the most renowned superfood brand in the market.
More than a superfood product, it is popularly known as a smoothie drink with a variety of flavors.
The base product of Shakeology is composed of vital green ingredients such as green vegetables, fruits, greens like chlorella, algae, moringa, green tea, herbs like ashwagandha, matcha, and various other nutrients.
Whereas, Organifi is formulated with all organic ingredients. Considering the health benefits, you cannot expect a lot from Shakeology as it focuses on detox, energy, and rejuvenation. Whereas, Organifi focuses on overall health, detox, immunity, weight loss, rejuvenation, and transformation.
Organifi Green Juice vs Vega One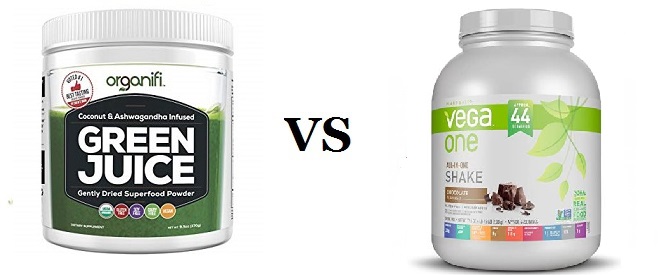 Vega One is a nutritional green and protein drink supplement that includes almost 50% of the vitamins and minerals that we require daily. Comparing Vega One and Organifi, both are vegan-friendly, non-GMO, soy-free, and full of greens.
Talking of flavors, Organifi has two flavor variants, chocolate, and vanilla. Whereas, Vega One has various flavors such as chocolate, vanilla, berry, almond, mint, and coconut.
Vega One provides a high quantity of protein that helps in energy, muscle building, and recovery. Organifi is a rich source of all essential nutrients including protein (in average quantity) for immunity, detox, digestion, and overall health.
However once we add the variants and options available under the Organifi brand, the sheer gamut of health issues covered dwarf Vega one
Organifi Red Juice vs Vital Reds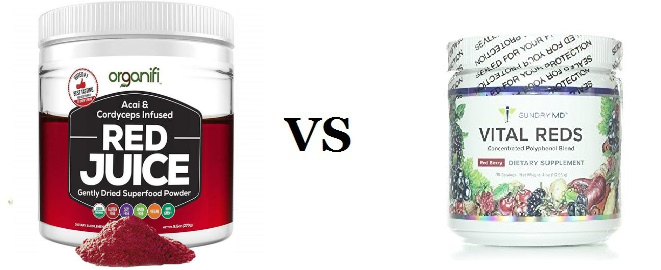 Now this one is not a green juice powder. This one is a red superfood powder called Vital Reds. It is a dietary supplement that promises to aids and provides various health benefits.
It is surely a popular and best red superfood powder until Organifi Red Juice comes into comparison. Both the red powders are focused on providing relief from fatigue, boost energy, support weight loss, boost metabolism, and improve the supply of antioxidants.
Though Organifi Red Juice is more popular and demanded in the market, Vital Reds doesn't fall short by much in the race.
Again, the brand value of Organifi and the trust that it enjoys in its manufacturing and after-sales support is what wins the day for it.
Organifi Green Juice vs Juice Plus+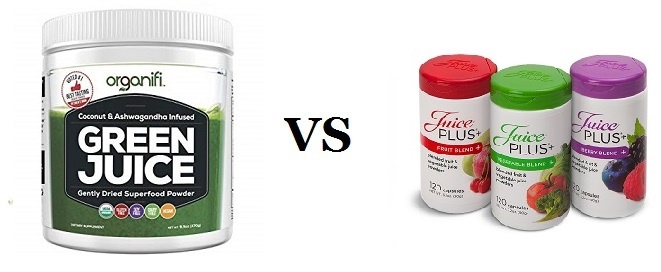 Juice Plus+ is a very much popular brand in the superfood market. What makes it such a popular brand is its varied range of products.
The brand offers superfood supplements in the form of capsules, chewable candy, powder, and bars. The brand promises to focus on boosting immunity that helps you to protect from every kind of viruses, bacteria, disease, and viral. Juice Plus+ is available in 4 variants, Omega Blend, Vegetable Blend, Fruit Blend, and Berry Blend.
Whereas, Organifi initially focused on a potent blend of green superfood mix that along with boosting immunity, also helps in digestion and detoxification.
However, with the introduction of the complete range that Organifi brand now offers, the core USP of Juice Plus+ does not stand, moreover Organifi is much more trusted
Organifi Green Juice vs Your Superfood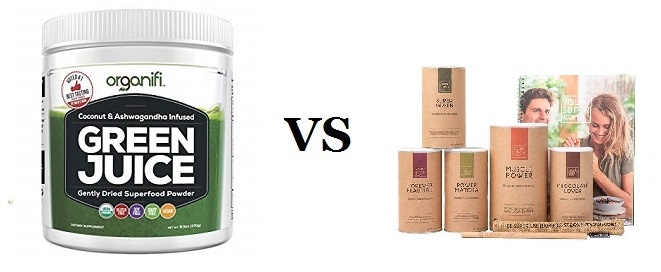 Your Superfoods is a very popular and very well marketed organic superfood brand in the market.
The brand is not only famous for its taste, ingredients, and health benefits but also for its packaging and presentation.
The brand has a varied range of flavor options focusing on various key areas of health such as Power Matcha for focus, Skinny Protein for a healthy weight, Energy Bomb for energy, Chocolate Lover for good mood, Super Green for immunity, Forever Beautiful for healthy skin and Muscle Power for muscle building.
Though Organifi initially seemed to stand short among such a wide range of products when we are essentially talking of green powder, now the Organifi range is comprehensive.
However, talking of the green juice, Your Superfoods Super Green, and Organifi Green Juice both are good for immunity and digestion.
Organifi Green Juice Vs Other Alternatives – A Brief  Outline
Vs Arbonne Daily Health Essentials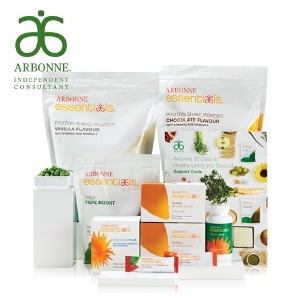 Arbonne's nutrition range has supplements for daily health, targeted health, weight management and sports nutrition.
Arbonne's Daily Health Essentials is a green powder supplement for daily energy, stamina, digestion, endurance and immunity boost. It is a 100& vegan and gluten-free product that is formulated with herbal ingredients and botanicals.
Vs Isagenix Organic Greens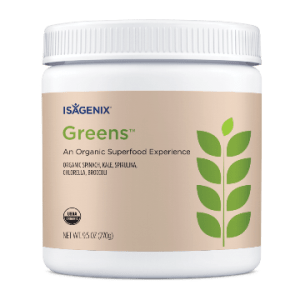 Isagenix Organic Greens is a green superfood powder drink that is specially formulated with 30 premium ingredients that include herbs, botanicals, and vegetables.
It is promoted as a tasty and convenient way of fulfilling the daily necessity of recommended fruits and vegetables to give you a health boost and daily nutrition.
Vs Garden of Life Green Superfood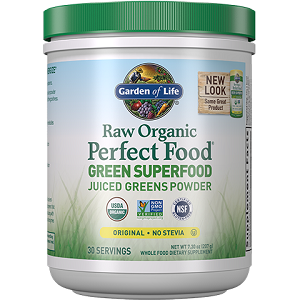 Garden of Life's Green Superfood powder is claimed to be the only green vegan supplement that is certified by both Non-GMO Project Verified and USDA Organic.
The supplement is packed with 34 vital nutrients that include raw and organic form of vegetable, sprouts and green juices aiding in healthy digestion, detoxification and immunity.
Vs Morning Complete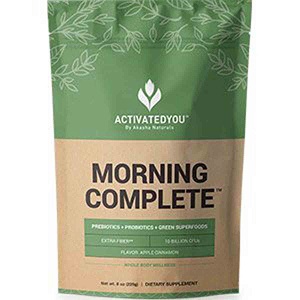 Morning Complete is a green superfood by ActivatedYou for overall health and wellness support.
The powder drink is available in apple and cinnamon flavor that makes it a tasty way for healthy digestion, energy, liver function, and sugar level. It is formulated with ingredients like probiotics, prebiotics, green superfoods, and fibers.
Vs Nested Natural Super Greens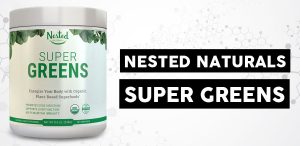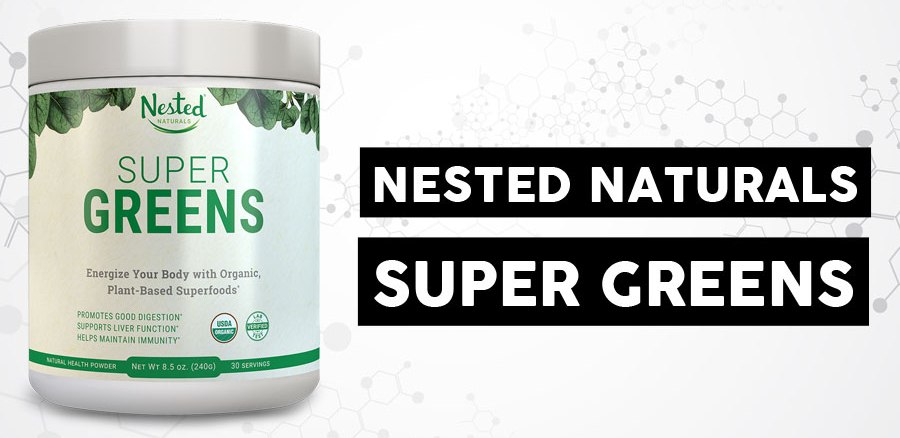 Nested Natural's Super Greens is a 100% natural meal replacement green superfood powder drink that consists of organic vegetables and fruits.
It is formulated with vital ingredients including alkalizing blend, fiber blend, antioxidant blend, immunity blend, probiotic blend and enzyme blend.
The supplement focuses on improving digestion, immunity, gut and heart health.
Vs Orgain Green Protein Powder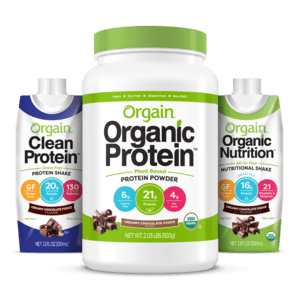 Orgain Green Protein Powder is a plant-based protein supplement that is formulated with various greens ingredients including kale, spinach, broccoli and various others.
The perfect blend of every ingredients makes it a delicious green drink that is tasty as well as tasty. The product is 100% vegan, gluten-free, lactose-free, non-GMO, and high in protein.
Vs Green Detox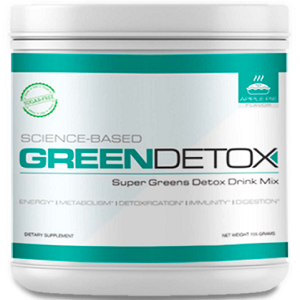 Science-Based Green Detox is a green powder supplement that is claimed to be a detox supplement that is different from all other detox supplements available in the market. The product is packed with 13 vital superfoods along with antioxidants and probiotics. Green Detox along with helping in detox, promises to boost immunity and digestion.
Vs Opti-Greens 50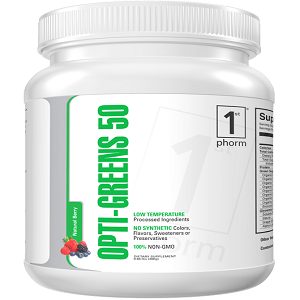 Opti-Greens 50 is a digestive health supplement that is manufactured by a famous and renowned supplement brand, 1st Phorm.
The product is formulated with 100% organic ingredients that include vital greens such as spirulina, wheatgrass, barley grass, spinach, broccoli, and kale. Along with focusing on digestive health, it also helps in improving energy and immunity.
Vs MAXX Organics Green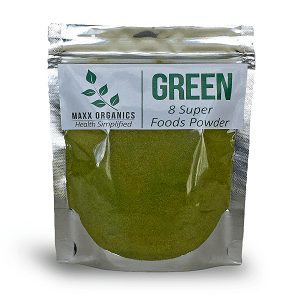 MAXX Organics Green is a 100% organic health drink that is formulated with 8 natural superfoods such as ashwagandha, chlorella, lemon peel powder, green tea, moringa, spirulina, turmeric, and wheatgrass.
The product is not much popular in the market as Organifi and other alternatives but it carries some good health benefits at an affordable price.
Vs Patriot Power Greens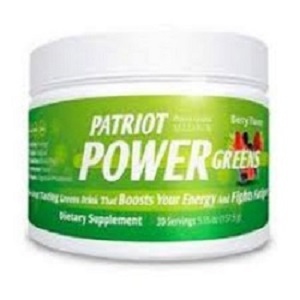 The reason for mentioning this product at the very end is not that it is unworthy but because currently, it is unavailable for sale through the official website.
Patriot Power Greens was once a very popular US-based green drink brand focusing on boosting energy, stamina, and endurance in elder people.
It is one of the best alternatives to Organifi but due to its unavailability on the official site currently, I am suggesting PPG buyers consider Organifi or if they just want Patriot then they can buy it through Amazon.
However, take care to buy it from a trusted vendor and not just some FBA ( Fulfilled By Amazon) Vendor, as the quality might be suspect.
Organifi – In a Nutshell!
The Current Health situation in the world is grim, the Pandemic has woken us all up to the hazards of improper nutrition and the effect that it combined with our daily stress is having on our vital health indicators. We need to wake up now.
Organifi is at the forefront of Nutritional Supplements offerings with its High-quality products, Strict Manufacturing procedures, Best ingredients, and multiple product offerings catering to various individual needs right from its Green Juice, Red Juice, Organifi Immunity, Gold, Pure and so many others which fillup the nutritional gaps in all age groups as well as on basis of daily activities like students – professionals – working women – athletes, etc.
My extensive research and experience in this Green Superfood Juices domain makes me confident while recommending Organifi over most of its competitors, right from its Nutritional Value to its Cost-Benefit analysis, It offers the right quality products at the right price.  That's why it's the " Editors Choice" by far.
You can get going today with our special 15% Off Coupon code MGD15.