Balance of Nature is one of the fastest-growing and leading supplement companies. Balance of Nature is a well-known brand that sells plant-based supplements. One of their popular supplements is Balance Nature fruits and veggies. Balance of Nature offers a blend of whole fruits and vegetables. It aims to bridge the gap between nutritional deficiencies and leads to better health and wellness.
In this article, we will explore the two popular products from Balance of Nature. How do they work, with pros and cons, ingredients, advantages, drawbacks, and more? Finally, we will also conclude whether it is effective or not. Read the article till the end to get the most accurate and researched information on Balance and Nature fruits and veggies.
Balance Nature Fruits And Veggies – Overview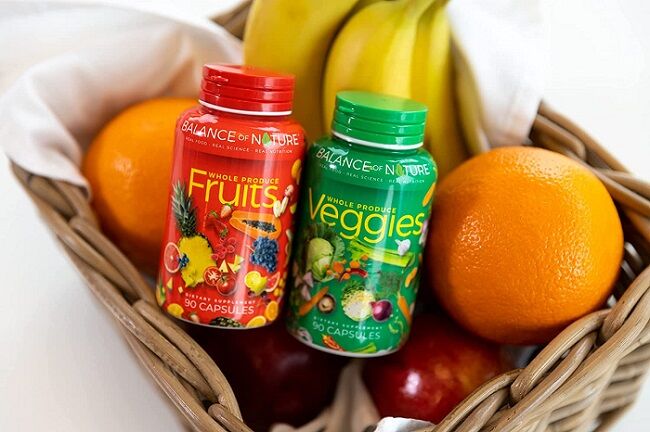 Balance of Nature food supplement company was established in 1997. The founder of the Balance of Nature is Doctor Douglas Howard. The company, Balance of Nature aims at providing pure and natural whole vegetable and fruit vitamins to combat nutrition deficiencies in many people.
Dr. Douglas was keenly interested in nutrition. He is a well-known Chiropractic and dietitian. During the Cold War with Russia, he observed nutritional deficiency in the people of Russia and many others. Thus, he started researching phytonutrients and phytochemicals to develop a formula that could act as a replacement for multivitamins.
Later, he developed Balance of Nature Fruits and Veggie supplements that can provide the benefits of real fruits and vegetables. The fruit and veggies capsules are infused with potent ingredients to offer plenty of benefits, such as increased energy, better metabolism, protecting cells from damage, and more.
Balance of Nature is doing better and continuously improving to offer high-quality supplements to their customers. The best part about Balance of Nature is that it is free from all types of toxins and harmful substances.
Balance of Nature Veggies and Fruits-Product Outline
The Balance of Nature fruits and veggies mainly aims at offering phytonutrients from the variety of vegetables and fruits. All the fruits and vegetables, including leafy greens, have been tested in the laboratory for potency and quality. These fruit and veggie capsules support your immune system, repair DNA, and protect cells.
The Balance Nature fruits and vegetables are packed with essential nutrients that you hardly get in your daily diet. The company ensures that you will get the ten servings of fruits and vegetables with low calories and carbs. The capsules have a good taste. You either sallow them or chew them up; if you don't want to chew sallow, just sprinkle the powder into your favorite drink or meals.
Does It Work?
Balance of Nature fruit and veggies supplements are made with real whole fruits and vegetables. The blend discovered by Dr. Douglas Howard is a combination of balanced ingredients that work better when used together. Moreover, the company also claims that their supplements are tested by a third party, but they don't disclose the results publicly.
They use revolutionary flash drying technology to remove the water content without losing the nutrients available in the fruits and vegetables. The pills contain only 100% pure, vine-ripened fruits and vegetables. You just need to take three fruit capsules and three veggies capsules and let the pills do their work.
You will experience increased energy, less fatigue, better sleep, reduced inflammation, tiredness, a better immune system, and many more benefits. The balance of nature supplement is the convenient way of getting the nutrients of five cups of vegetables and fruits.
Pros and Cons Of Balance Nature Fruits And Veggies
As per our research and experience, we have listed some likes and dislikes of the supplement.
The best thing about Balance of Nature is that it is pure and safe. The supplements of Balance of Nature are non-GMO. They are free from pesticides, artificial colors, sweeteners, added sugar, fillers, synthetic addictives, extracts, etc. Balance Of Nature is made up of real fruits and vegetables.
The ingredients mean the fruits and vegetables are specifically chosen by the company to offer multiple types of vitamins, antioxidants, and nutrients from a variety of fruits and vegetables.
Balance of Nature fruits and veggies are a great and convenient way of getting nutrition along with some minerals and probiotics.
The company offers a 30-day bullet-proof refund policy. You can ask for a refund if you didn't like the supplement or if it was ineffective for you.
Preferential customers will also get health coaching.
Cons:
The cost of supplements is quite higher.
In the past, the company has received a letter of warning from the FDA.
You have to take six pills per day.
Some customers leave doubtful comments on the official website.
Ingredient List Of Balance Of Nature Fruits and Vegetables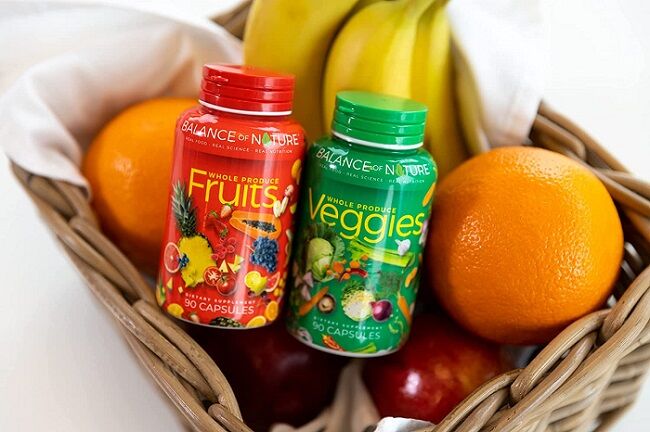 The company, Balance of Nature, offers 100% pure and safe supplements. As of today, the company has sold over 500 million Balance of Nature supplements. The balance of natural fruits and veggies contains whole foods blended with no added gluten, fillers, preservatives, no GMO, no pesticides, and no harmful chemicals.
Balance Nature Fruits Ingredients
Balance of Nature fruits multi-vitamin capsules contain 16 whole fruits and aloe vera. The primary foods included in this supplement are lemons, pineapples, apples, mangos, bananas, oranges, strawberries, grapes, papaya, tomatoes, grapefruit, cranberries, and cherries.
These ingredients contribute to the proprietary blends of 731 mg of maintain blend, 719 mg of protect blend, and 561 mg of repair blend.
Balance Nature Veggies Ingredients
Balance of Nature veggies pills are infused with 15 whole vegetables. The named vegetables are garlic, spinach, kale, carrots, cabbage, cayenne peppers, yams, onions, cauliflower, wheatgrass, celery, broccoli, soybeans, shiitake mushrooms, and zucchini.
Unlike fruit capsules, the veggie capsule facts labels show that they also contain proprietary blends such as Maintain blend 720 mg, Protect blend 713 mg, and Repair blend 576 mg.
How to Use Balance Nature Fruits And Veggies Vitamins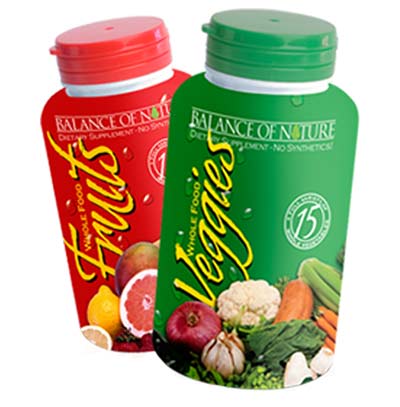 The Balance of Nature fruits and veggies are easy to use. The company suggests that you take these supplements with your favorite beverages. You can swill three pills with the liquid or directly chew them up.
Moreover, you can also break the capsules and sprinkle the powder on the top of the meals. The capsules are safe to cook. You can choose any of the methods to use in Balance of Nature. One bottle of fruits and veggies contains 90 capsules, which means it is enough for one month.
Balance Of Nature Supplements – Benefits
A list of some of the main reasons to take Balance of Nature fruit and vegetable supplements is below.
The balance of natural fruit and veggie capsules is very beneficial for increasing phytonutrients in the body.
It helps reduce inflammation.
The Balance of Nature contributes to a healthy lifestyle by keeping you healthy and energized.
The Balance of Nature supports the immune system.
It can repair DNA cells and suppress oxidative stress, especially induced after intense exercise.
Balance of Nature is a vegan supplement.
The company uses flash drying technology that prevents the supplements from oxidation.
In a study conducted in the year 2019, it was found that the superfood powder concentration with phytonutrients can be helpful in weight loss and helps to regulate blood in the vessels after exercise.
It may also decrease the risk of some diseases caused by DNA hypomethylation.
Drawbacks To The Balance Of Nature
The only drawback to Balance of Nature that we have noticed is the cost of the supplement. The initial cost of fruit and vegetable supplements is slightly higher. If you purchase the supplement and also subscribe to the preferred customer membership,
The cost will be higher, but after the second purchase, you will save $40 on each purchase you make. Otherwise, choosing the Balance of Nature supplement is a wise decision.
Balance of Nature Fruits and Vegetable Pills Side Effects
Balance of Nature's Fruit and veggie capsules are safe and free from side effects. A lot of people who have used the product for a long time haven't said that they have had problems with it.
The fruit and veggie capsules are made of natural ingredients, and they don't include GMOs, gluten preservatives, artificial sweeteners, etc. Hence, the supplements from Balance of Nature are safe and don't harm your health. However, remember that if you have allergies or are taking any medication, consult your doctor before using this supplement. It can be used by members of all age groups.
Take the message with you –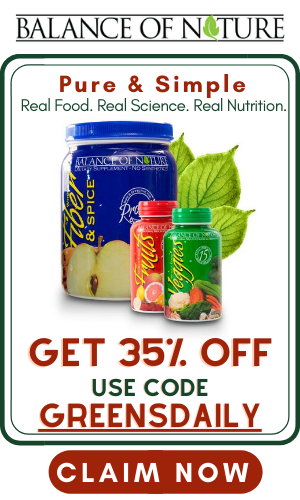 Balance Nature Fruits and Veggies is a whole food supplement. It offers multiple health benefits when consumed properly and regularly. Because this supplement doesn't have any side effects or drawbacks, it's even better for you.
It is true that you may need to take more capsules than usual, but if you get a healthy life in return, then consuming two extra pills is not a big deal because nothing is superior to health.
Balance of Nature is a leading dietary supplement company, and they have sold 500+ bottles to date. Now is the time to give priority to your health and get the benefits of multiple vitamins in just one bottle of three capsules. So don't delay. If you book your supplement today, there are higher chances of getting extra benefits and saving some bucks.