Are you unable to eat your daily essential vegetables and fruits? Are you searching for any perfect meal replacement supplement? Texas Superfood is claimed to be made just for you and this Texas Superfood reviews is to explore these claims made by the manufacturer. According to the company, this superfood drink will give you the benefits of a healthy diet the way God intended it to be!
Texas Superfood is available in both capsule and powder form, and comes with a separate jar of digestive enzyme powder. Athough, there are lots of claims from the company, the product also has some drawbacks that are essential to have a look. Therefore in this review, we are going to find out each and every fact about this superfood supplement.
What Is Texas Superfood Supplement?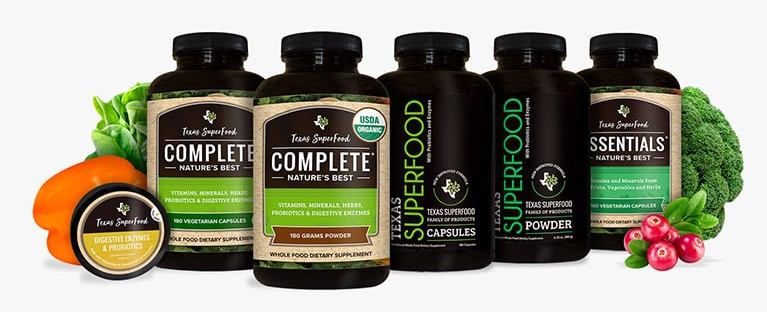 Texas SuperFood is a dietary supplement that is available in two variants, powder and pills. The supplement also has brand variants that includes, the Original, Complete and the Essentials. You can choose among these variants as per your requirement. You can choose whether to take the Superfood in powder or capsule form.
The nutritional profile appears to be identical, so this will come down to your own preferences. However, the probiotic add-on supplement is always like a powder! The supplement is a powerful blend of 25 vegetables, 30 fruits, 8 types of greens and 9 types of enzymes. Now that we've got all of those out of the way, let's take a brief look at the supplement!
Texas Superfood Original
The is the flagship superfood product of the company that is claimed to be a whole food dietary supplement. The supplement helps in boosting energy, healthy sleep, daily nutrition, mental focus and clarity and nutrition. The supplement is available in both capsule and powder form.
Texas Superfood Complete
The product is an organic combination of superfood capsules and supplementary powder with digestive enzymes and probiotics. Similar to the Original, this supplement also helps to boost energy, sleep, mental focus and clarity and daily essential nutrition.
Texas Superfood Essential
This superfood supplement by Texas Superfood is a 100% vegetarian capsules that are formulated to fulfill your daily essential nutrition through potential supply of vitamins and minerals. The supplement is formulated with 35 essential fruits, vegetables and herbs.
What's In Texas Superfood Ingredients Label?

Texas Superfood is a product that consists of superfood in the form of capsules or powder. Serving size equals 6 capsules, or one 6g scoop if you choose the powder.
Fruits and Vegetables include :
Artichoke, Broccoli, Chicory root, Kale, Pea protein, Acai Berry, Beetroot, Carrot juice, Dandelion, Maca, Turmeric, and Monk fruit
Algae and Grasses include :
Chlorella, Pine bark, Wheat grass, White mulberry, Peppermint, Spirulina, and Cassia seed
Enzyme blend include :
Amylase, Bromelain, Peptidase, Beta Glucamase, Invertase, Diatase, Protease, Glucomylase, Hemicellulose, Phytase, and Lipase
No one has any idea about the serving size of individual ingredients or the total amount of the active ingredient combination. There is zero information about the Digestive Enzyme Blend, the additional product. Given that the ad claims that there are 55 ingredients in total and there are only 24 listed ingredients, there remains a shortage of 31 unknown ingredients.
Benefits of Dr. Black Texas SuperFood
The below mentioned benefits are gathered from the claims made on official website and some reviews on the online platform.
The supplement helps in boosting energy level
It gives you daily and dense nutrition
It improves your mental focus and concentration
The supplement helps in supporting healthy sleep
Does Texas SuperFood Really Work?
It is important here to mention what claims are made by the company. The manufacturer claims that Texas Superfood helps in boosting your energy, performance, sleep, mental focus, clarity, maintaining healthy weight, elevated mood and radiant skin. But unluckily, it is very difficult here to consolidate these claims over here.
The reason behind this insurity is the unclearity about the amount and composition of the ingredients used in the formulation of the supplement. The company doesn't clarifies about the nutritional value in each serving, therefore it is not easy to justify the claims made by the manufacturer.
Although, the list of ingredients are quite long and according to it, there is no doubt that it is an impressive superfood drink that can boost your overall health. But, when a product crams lots of ingredients in a tiny serving or a capsule, you cannot be sure about the quantity of the ingredients.
Overall, though manufacturer makes a lots of claims about the benefits of using Texas Superfood supplement, but the unclarity about the ingredients composition doesn't allow me to give you any assurance about the effectiveness. Although, there are plenty of positive reviews that can impress you about this superfood supplement.
Pros and Cons of Texas Superfood
Pros
The ingredients include varied types of vegetables and fruits
Some prominent ingredients are proven to boost overall health
The supplement could be found of various online stores
It does not contain any sort of synthetic ingredients
The supplement is available in both powder and capsule form
The company offers 30 days money back assurance
Cons
The product is quite expensive compared to other supplements
The company doesn't clarify the individual composition of ingredients
Claims made by the company are not backed up by any clinical evidences
Usage Details
As we know that Texas Superfood supplement is available in both capsules and powder, therefore the dosage is also different.
For Adults –
Texas Superfood Pills – 2 capsules, three times a day
Texas Superfood Powder – 1 scoop, three times a day
For Younger –
Texas Superfood Pills – 1 capsules, three times a day
Texas Superfood Powder – 1 scoops, two times a day
How does Texas SuperFood Taste?
To make it sure, I haven't tasted Texas Superfood personally, so I cannot tell you about personal experience about the taste. Although, according to some reviews on internet and being a green superfood genre, there are facts about the taste. If you are planning to use capsules, then you don't have to bother about the taste. But if you are planning for the powder version, it tastes similar to drinking raw veggies.
Texas SuperFood Customer Testimonials & Complaints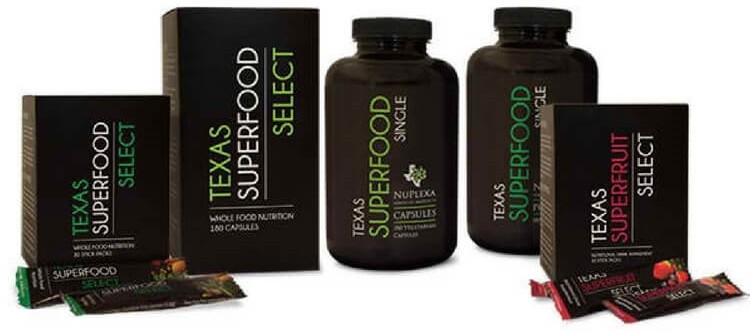 Well, if you visit the official website, you can found number of verified reviews for Texas Superfood, all rating it above 4 out of 5. But that is obvious, that official website will only showcase the positive reviews. Therefore, best way to find genuine reviews is the 3rd party platform. Amazon has more that 200 customer testimonials and reviews and around 1/3 of them have rated it 3 or below. This means that 2/3 people have rated Texas Superfood with 4 or 5 stars and it is really impressive and encouraging for potential buyers.
Side Effects of Texas Superfood
There are around 200 reviews on Amazon and none of these users mentioned side effects which is good news. However, with such unknown components of this supplement added to the concerns about what exactly is in the mix, we would be very careful.
Possible side effects may include allergic reactions to spirulina, which may include:
Hives
Swelling
Irritation in the throat
An additional major concern about spirulina is the high risk of contamination from pollution, such as mercury, lead and arsenic.
Other ingredients can cause:
Headache
Stomach ache
Fatigue
Too much sweating
Insomnia
Nausea
Diarrhea
Green Stools
Interactions with Prescribed Medication
The unknown Digestive blend and probiotic blend of the supplement is of concern. It is important to remember that probiotics are a type of bacteria and may be unsuitable for some users, with some strains more dangerous than others. Possible side effects include:
Stomach ache
Bloated feeling
Infection into the body
FAQ
Q – Does Texas Superfood helps in weight loss?
Well, the supplement is promoted as a meal replacement dietary supplement. Even the official website doesn't claim about it's weight loss benefit. Although, there are some ingredients included in the formulation that are known for thier weight loss benefits. But, that's not enough to prove it's weight loss efficiency.
Q – Who should not take Texas Superfood?
Not suitable for persons under the age of 18. Avoid if you are pregnant or breastfeeding. Do not take if you have an underlying medical condition or a weakened immune system. Do not take with prescribed medication and then stop using if you have any side effects. Consult a physician if necessary.
Q – Are there any discount or coupon code for Texas Superfood?
Therer are two offers currently active on official website, first one gives you option to save upto $15 on buying bundle. While the second offer gives you free bottle of Essential Superfood on buying a bottle of Complete Superfood.
Q – Can I found it on Amazon & Walmart?
Yes, Texas Superfood is also available for sale on online stores like Amazon and Walmart. But it is always advised to buy it from official website.
Q – Are there any scams related to Texas Superfood?
Although, there are no such cases reported about the scamming related to this superfood supplement. But, some stores on Amazon are found to ship fake or replica supplement outside USA, knowing that the company doesn't ship it other countries.
Q – Is there a money back guarantee?
The company assures that every order of Texas Superfood is backed by 30 days money back guarantee that validates from the purchase date. But please make sure that the offer is valid only on unopened pack, a prominent marketing tool used by most supplement companies. So if you have opened the bottle, then you are not eligible for money back guarantee.
Texas Superfood Price
The price range for different variants of Texas Superfood supplement are:
Texas SuperFood Original Capsules – $54.95 per bottle
Texas SuperFood Original Powder – $59.95 per bottle
Texas SuperFood Complete Capsules – $49.95 per bottle
Texas SuperFood Essential Capsules – $29.95 per bottle
Offer #1 – Subscribe for bundle and save upto $15
Offer #2 – Buy 1 bottle of Texas Superfood Complete and get 1 free bottle of Superfood Essential
Texas Superfood Competitors & Alternatives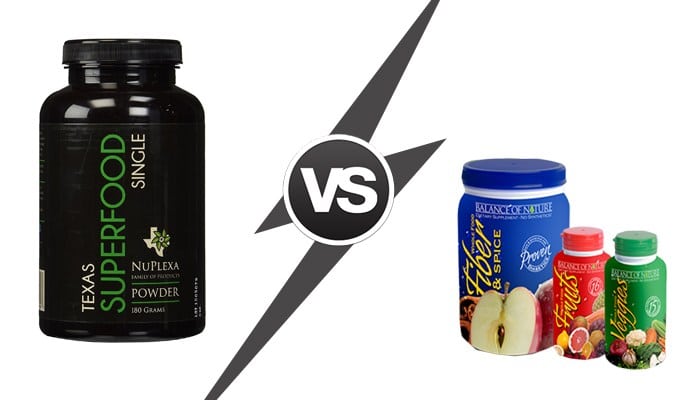 Texas Superfood vs Balance of Nature
As the name suggest, Balance of Nature is really a great combination of vital superfood ingredients that make it a perfectly balanced superfood drink compared to Texas Superfood.
Texas Superfood vs Juice Plus
Juice Plus and Texas Superfood, both are the capsule variant of superfood supplement. Juice Plus is formulated with juice extracts, Texas is a formulation of 55 veggies and fruits.
Texas Superfood vs Patriot Power Greens
Patriot Power Greens and Texas Superfood are two best competitors as they both are local based supplement. Where patriot is a special formulation for elderly, Texas can be used by any age group.
Superbeets vs Texas Superfood
SuperBeet is not a green juice. It is a red superfood powder that is formulated with beet extract that helps in boosting digestion and immunity. Whereas, Texas helps in nutrition fulfillment.
Texas superfood vs Athletic Greens
Athletic Greens is one of my favorite and best alternative to Texas. It is uniquely formulated with 75 vital ingredients that helps in countering 5 key areas of health, such as, detox, digestion, and immunity.
Texas Superfood vs Organifi
Orginifi Green Juice is another my favorite green superfood drink. It is a vital formulation of 11 amazing superfoods that include green veggies, fruits, enzymes, probiotics, algea and greens to boost your overall health.
Where To Buy Texas SuperFood?
The product is directly available for sale on the official website. One main drawback for Texas Superfood is that the company doesn't ship the product outside the USA, similar to most supplement companies based inside the USA. Although, the product is also available for sale on other online stores like Amazon, but recently it has been noticed that there are no active stores to fulfill the order. Therefore, to avoid any inconvenience, it is better to place your order through official website.
Texas Superfood Reviews – My Final Verdict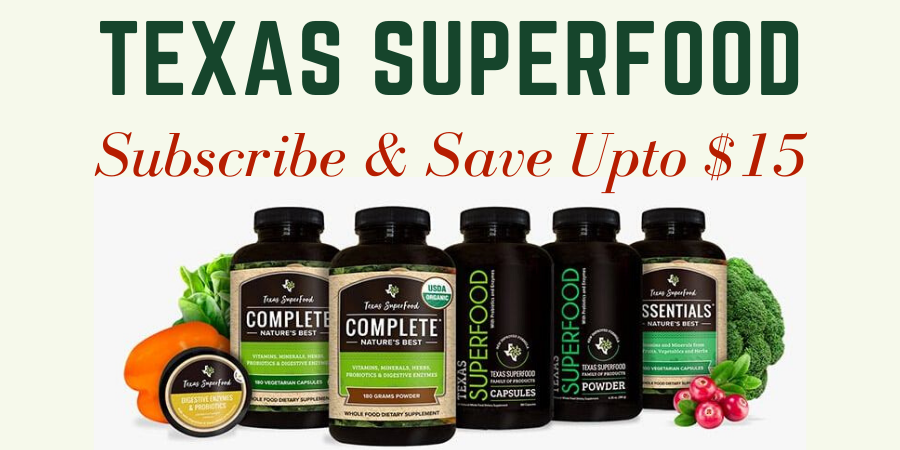 I have reviewed plenty of superfood drinks on this blog and surely couple of them are my favorite. When I decided to write Texas Superfood reviews, there were few things in my mind, such as, the popularity of the supplement, impressive marketing and extensive official claims. Keeping these factors in mind, I was trying to judge it with my favorite superfood drinks.
There is no doubt that Texas Superfood is an amazing green superfood supplement that offer both variants, pills and powder. The supplement has also received majority of positive reviews and feedbacks for it's results and effectiveness.
Texas Superfood has an impressive health benefits, long list of ingredients, and customer reviews that make it a new addition into my list of favorite superfood supplements. Although, there being a lots of option, Texas Superfood can be a perfect meal replacement superfood drink to fulfill your daily nutritional requirement.