Today, mostly everyone wants to lose weight and keep their bodies in shape. However, for effective and sustained weight loss, various mental aspects are also associated with motivation and persistent efforts.
For example, you might think about what would happen if someone actually saw how hard you worked to lose weight and gave you a reward too for it. Recognizing this human tendency and hence capitalizing on it, today, there are a lot of platforms that make losing weight more fun as well as rewarding.
The premier amongst them, HealthyWage, is a company that gives cash prizes to people who manage to lose the target weight in a stipulated time period. This makes it more fun and probably easier as there is a tangible reward to achieve your desired goal.
We take a look at the HealthyWage website and app and try to find both advantages and disadvantages to the HealthyWage program in our usual unbiased and objective manner. So read on 🙂
HealthyWage Reviews: An Overview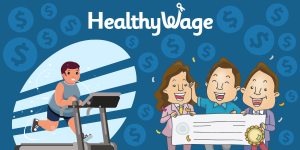 HealthyWage is a platform where people get various weight loss challenges and win cash prizes. This is a website where people can join individually or in a significant group and can bet on a weight loss challenge. On this website, people can win up to $10,000 in cash prizes. This company also provides support from various experts, goal setting, and tracking tools and technologies, including various resources to help with a weight loss plan.
What is the HealthyWage App? One can also use the HealthyWage app to participate. The app can be downloaded through the Apple App Store, and Google Play Store.
Who Has Started It? And why? – The co-founder of HealthyWage is David Roddenberry. This company launched a website in 2009 to address the issue of being overweight in America. With all of its efforts in waging weight-loss campaigns, the company has initiated funding for many health systems, insurers, municipal governments, hospitals, and other types of organizations in the United States. The service is designed specifically for those who require accountability.
How Does
Healthywage

Work?

Healthywage Reviews: To join the site, one needs to sign-up as an individual, or in a team or group. One should establish winnings through the HealthyWage calculator. This asks for a target weight, the length of the user's diet, and the amount he/she wants to bet. The payments can be made through monthly repayments too.

The users need to take a 12-week HealthyWage challenge for perfect weight loss. The user can set weight loss goals through HealthyWager.

One can give evidence of his/her weight by uploading an image of him/her. This can also be done by submitting a video online through the app.

One has to complete the weight-ins and should also provide proper verification to prove that his/her weight goal has been achieved.

The user needs to upload his/her weight twice once at the beginning and one at the end. The company HealthyWage has designed a challenge for losing weight to encourage determination and empower the desire of users to lose weight if they are suffering from obesity.

Prizes are offered in a variety of categories. The site has four different and significant categories of challenges, like the team challenges, step challenges, and the jackpot, which will be worth about $10,000. The HealthyWage can help to win up to $10,000 in a weight loss challenge for an individual. One can just earn money by losing weight. 

Healthywage Reviews: Normally, the HealthyWage cost or membership fee is about $25 a month, and for three months, it charges the amount of $75 for each of the members of a group or team. If someone joins a company, he/she needs to pay fewer charges. There is a dispensation charge for a paper check, which is $7.0. The membership is available to people who are older than the age limit of 18 years.
What If You Do Not Lose Weight?
The main target of participating in the site is to lose weight, and hence, if someone does not lose weight, he/she will not win any prize.
What's The Hold Up With HealthyWage?
There is no catch with this site, HealthyWage. There is only one rule and that is that one needs to just get the target achieved within the timeframe and one can set the challenge when you are checked in at the weight-in.
HealthyWage Review: Is This A Scam?
Healthywage Reviews: The "HealthyWage" is not at all a scam. It is a legit way of earning money by losing weight. There is no news about the HealthyWage scandal. In the year 2020, it will have made a payment of about $13.6 million to its various winners. When HealthyWage recognizes their program as a "bet,", it is not at all betting or gambling, as the user tentatively has control over the outcome. Thus, it is completely legit.
How Does the Site Make Money?
HealthyWage is the category of the site where various users bet on how much weight they will lose in a particular timeframe. It makes money at that point when users do not achieve the targeted weight and lose the bet. The site also generates revenue through various sponsorships.
Does the plan work?
The healthy wage plan has worked for many people, and several people have also won a good amount as a prize. With various steps to check, verify, and guide for proper weight loss, the site has worked well. The plan works perfectly.
What If Someone Faces Some Health Issues During The Challenge?
In the event of an unhealthy condition or an injury occurring during the program, this will have an impact on the challenge. If in any case, someone needs a piece of medical advice, he/she needs to send an email to info@healthywage.com within 14 days of the diagnosis, and he/she also needs to provide the needed documents for this. The experts of the company will assist the user with proper guidance during illness or injuries. In such a situation, the app can provide the "buy more time" option. This should be done within 14 days.
Does the winner need to pay any tax if he/she wins the prize?
Healthywage Reviews: The program of the site does not ask for any taxes and also does not take any tax information if someone wins. In this process, the IRS has set a threshold of $600 for a winning bet, and if someone wins more than that, their tax information will be requested.
HealthyWage Reviews 2023: What Do Customers Think?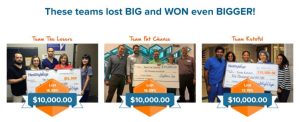 Healthywage Reviews: The plans for weight loss and gaining money have gotten a consumer rating of 4.39 stars and over 102 reviews. Most of the customers are very satisfied with the purchase, and among all the weight loss sites, HealthyWage has got the 9th position. People have also given their opinions on various social media platforms and they have also talked to various news channels. More than 900,000 people had liked the site's services on various social media platforms.Many people have also uploaded their weight loss journey videos. There are various group and individual reviews available on the site, which means customers are very much satisfied. You can also get content on the HealthyWage reddit.
HealthyWage Reviews: FAQs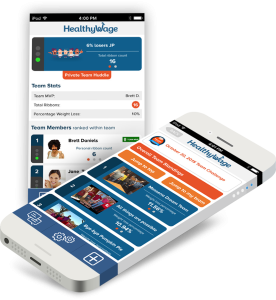 What Is the Minimum Goal for Weight Loss?
The minimum goal for weight loss is 10%. For example, if someone is starting with 200 pounds, his or her weight loss target will be 20 pounds.
Is it good for pregnant women?
This weight loss plan does not allow pregnant women to participate. However, after having a baby, they can participate with a doctor's advice.
Can I Participate If I Am Taking Weight Loss Pills?
If someone is taking separate weight loss pills, he/she cannot participate. However, this can be possible with a doctor's recommendation.
Is There Any Cancellation Or Refund Process?
The app or the site of HealthyWage always wants customers to not give up in any situation, so there are not any chances for cancelling the program or refund.
What Is The "Yo-Yo" Rule?
The rule applies only to the past winners of this challenge. If a person begins with a higher weight at the end of his/her winning the HealthyWage challenge, the level of profit of his/her current challenge will be decreased as compared to the prior challenge.
In which countries is the health wage available?
HealthyWage is available in countries like Europe, Canada, the US, the UK, America, Australia, and all over Asia.
Why Should A HealthyWager Be Required?
Because a healthy wager aids in the achievement of the weight loss plans' objectives.
How Can I Select My Level of Prize Among Many Prize Options?
One needs to just enter the weight loss goal and how much he/she wants to wager. He/she should also set a time limit for the weight loss and provide all these details by clicking on the button that gives the particulars like the weight and height. To finish the calculation, the final amount of the prize automatically occurs.
The Final Verdict
Healthywage Reviews: In the case of losing weight, you will not get anything like healthyWage. If you really want to win thousands of dollars for a perfect weight, you just need to stick to all the rules and regulations for your weight loss process. Nevertheless, there are some risk factors with any kind of bet, but with all the support and tools, you will be able to reach your weight loss goals easily and with fun. The platform provides accountability and acknowledgement to those who are always willing to lose weight and get recognized.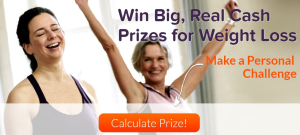 You May Also Like: