Was your new year's resolution about losing those extra pounds this year? But didn't get around to work on it? I know it is hard to start a weight loss journey without getting the right help and support. There are various diet and meal plans that claim to help you lose about 1-2 pounds every week. Nutrisystem, Weight Watchers, and `Jenny Craig are the three most popular diet plans in the market and here we are going to compare Jenny Craig vs Nutrisystem vs Weight Watchers 1-on-1 to find the best one.
Jenny Craig vs Nutrisystem vs Weight Watchers – What Are They?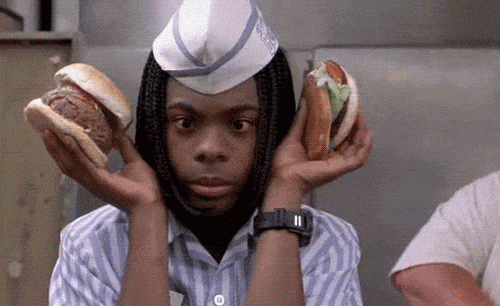 Nutrisystem Diet
Nutrisystem was started back in the year 1972 in Fort Washington, Pennsylvania. The company was started with a small mortar model where people willing to lose weight would come and meet with the counselors to take recommendations and consultations. The company also had packed foods that clients use to buy as per the recommendations by the counselor.
In 1999, when the internet business was at the boom, Nutrisystem started its online counseling and food delivery. Later and a few years back, the company expanded to provide premade diet meal plans specially prepared by professional chefs.
Jenny Craig Diet
Jenny Craig is a weight loss meal plan that was incorporated by a dietitian, Jenny Craig, and Sidney, her husband. The company was founded 11 years later. In the year 1985, Jenny Craig expanded its business outside Australia and by the end of the year, it was counted among the top diet plans in the USA.
The nature of the work of Jenny Craig was similar to Nutrisystem as it also used to be in-location coaching, counseling, and selling foods. It also shifted its focus to online business and premade meal delivery plans. But Jenny Craig is still running their in-location consultation.
Weight Watchers
Weight Watchers was started by Jean Nidetch of New York by experiencing her ability to provide the right tip and guidance. In the year 1960, she invited her friends to her home and actually shared some tips and ideas on losing weight. Her clear insight and support led her friends to experience positive results.
This hint of success made Jean think of establishing her talent into an organization. By the year 1967, Weight Watchers expanded to 100 franchises all over the world. In the year 2018, the company rebranded itself as WW and expanded its focus from just weight loss to overall health and wellness.
Jenny Craig vs Nutrisystem vs Weight Watchers – 1-on-1 Comparison?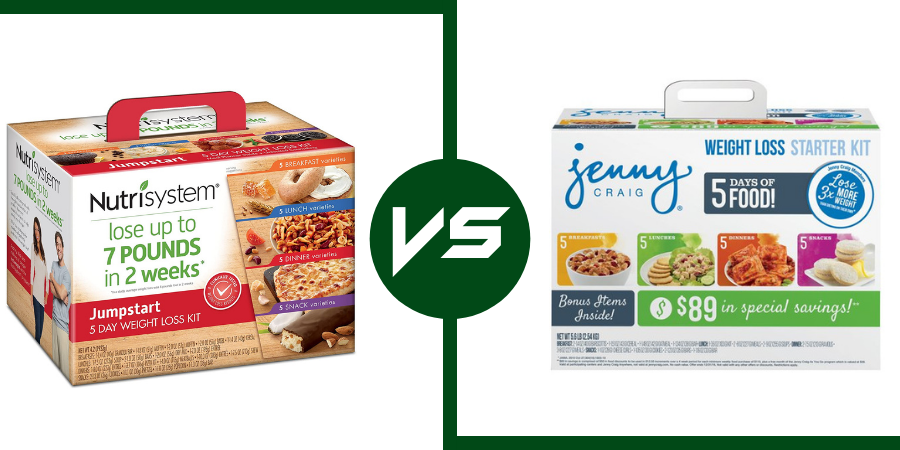 Jenny Craig vs Nutrisystem
Jenny Craig is a weight loss meal plan that focuses on portion control and is delivered at your doorstep. Along with meal delivery, it also provides online and in-person consultation to its clients for healthy nutrition and eating routines.
The good thing about this system is that it offers both online and in-person consultations. Similar to Jenny Craig, Nutrisystem is also an online meal delivery and consultation weight loss program.
Where Jenny Craig has plans for 1 month and 3 months, Nutrisystem provides only a 28-days plan that is recurring or can be renewed. Both weight loss programs offer specific meal plans for diabetics.
Which Is Better Jenny Craig or Nutrisystem program?
Talking about the success comparison between Jenny Craig and Nutrisystem, both weight loss programs has delivered on average about 1-2 pounds weight loss every week. Where Nutrisystem offers online consultation that is included in the price of the plan you choose, Jenny Craig charges for their online consultation.
Overall, Nutrisystem is the best value for money weight loss program. It has received more positive reviews and ratings for its taste and food quality. You also get "Try before you buy" with Nutrisystem so that you can taste the meal before you subscribe to the plan.
Check out top 15 Nutrisystem alternatives
Nutrisystem vs Weight Watchers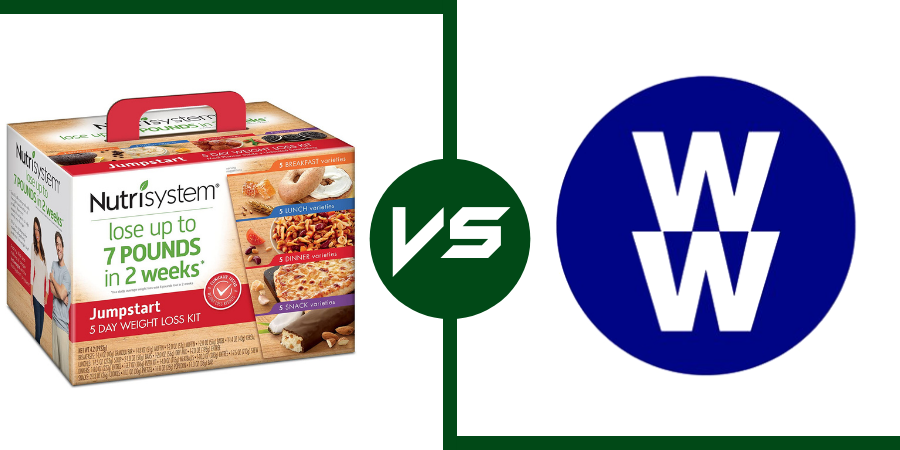 Both Nutrisystem and Weight Watchers are quite popular weight loss programs in the USA. Where Nutrisystem delivers premade meals to their clients, Weight Watchers does not deliver meals rather it provides instructions and recipes to their clients to cook their own meals.
Both weight loss programs offer vital information on nutrition, workouts, healthy lifestyle, and consultation, both in-person and online. Where Nutrisystem has plans for 28-days, Weight Watchers offer subscription plans that include healthy recipes, food and calorie tracking, workout plans, and consultation along with selling fitness equipment.
Which Is Better Weight Watchers or Nutrisystem program?
If you are among those who are eager for dietary restrictions and flexibility, Weight Watchers is for you. Weight Watchers is a perfect choice for those who are comfortable with cooking their own meal. But most of us don't have enough time or don't like to prepare our meal and shop for groceries.
Nutrisystem is the best choice for these people. Nutrisystem offer prepared meals for their clients and also provides a "Try before you buy" option that gives you the option to taste the meal before you subscribe for a plan. Overall, both are good but with different services and plans to offer.
Weight Watchers vs Jenny Craig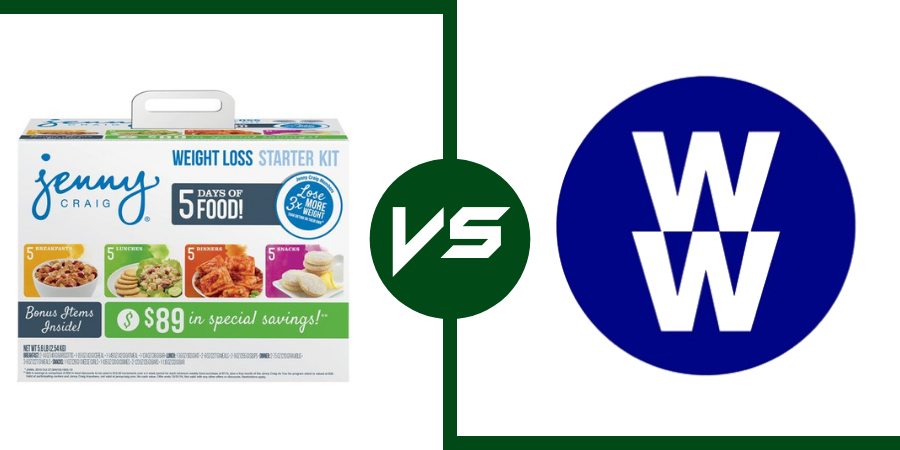 While Weight Watchers is an app-based weight loss program that analyzes your data such as age, height, weight, sex, lifestyle, and weight loss goal to create a personalized routine for you. This routine includes daily diet ideas, workouts, and progress tracking.
On the other hand, Jenny Craig is a meal delivery program that delivers prepared meals to its clients according to their current weight and weight loss goal. This weight loss program is different from other programs as rather than promising weight loss figures, it focuses on educating a healthy lifestyle, weight management, and nutrition.
Which is better: Jenny Craig or Weight Watchers?
There are two things, if you are looking for an easy weight loss program, Jenny Craig is the best choice. Although, if you are searching for something flexible and healthy recipes for self-cooked meals, then Weight Watcher should be your pick.
Also if Jenny Craig is much more compatible and user-friendly through their prepared diet meals, fitness tracking, and 1-on-1 consultation. Although both weight loss programs focus on healthy living and weight management through healthy nutrition, it is good to check your requirement and make your choice accordingly.
Jenny Craig vs Nutrisystem vs Weight Watchers – Final verdict
It's never easy to make a choice when it comes to diet plans and programs. The best thing to find the best weight loss program is to check it according to your need, budget, and convenience. Here I have made it easy for you.
Most Convenient Diet Program – Jenny Craig
If you want a weight loss program that is most convenient in the market is Jenny Craig. The program comes with the most convenient meal plans that are easy to pick and order. Other than Nutrisystem with varied types of meal plans, Jenny Craig has limited but prominent meal plans combined with workout plans and counseling.
Most Popular Diet Program – Nutrisystem
Nutrisystem is the longest-running weight loss program that has lots of things to offer. It has varied types of meal plans for clients of every need. Nutrisystem is the most popular program in the market with thousands of satisfied customers.
Diet Program With Most Freedom – Weight Watchers
Weight Watchers is not a meal delivery weight loss program that lets you choose meals only from their database. With Weight Watchers you are free to cook your own meal from the recipes provided along with daily progress tracking, weight management, and exercise plans.
Overall Best Program – Nutrisystem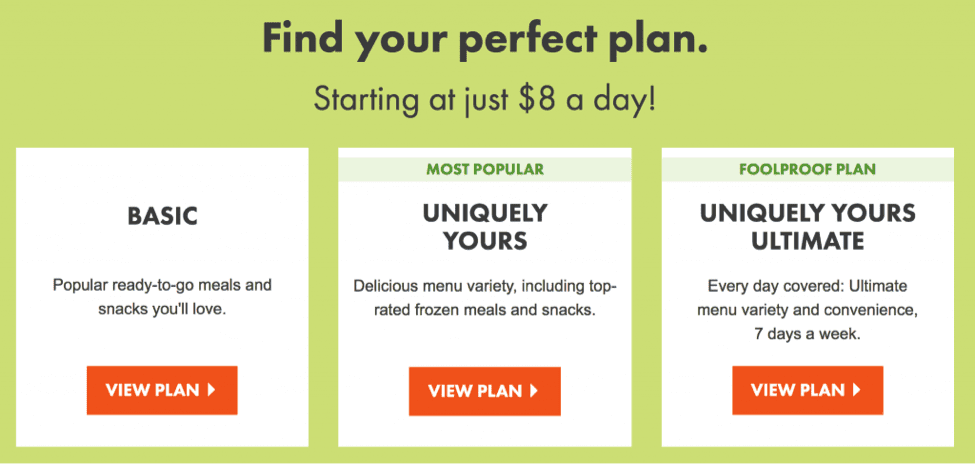 It's time to pick which is the overall best among all three weight loss programs as per me. I have closely gone through all these three programs and found that though each of them is unique in its way. But Nutrisystem impressed me a lot because it has lots of options to offer to its client.
Whether it's diet plans, meals, consultation, results, customer reviews, and pricing, Nutrisystem leads on most of these criteria. But at last, it's your requirement and pocket, so the last decision also should be yours.