Balance of nature Review 2023: Are you among the 9 out of every 10 people who aren't eating the recommended fruits and vegetables? Moreover if the idea of  getting your daily nutrition needs in a capsule really appeals to you. Then this Balance of Nature review is just for you.
It is a fact that every individual needs to add enough fruits and veggies to their everyday diet to get the essential nutrients required to live healthily and stay fit. The problem is, there are various whole food supplements available in the market that claim to fulfill this deficiency of fruits and veggies, and it's really a tough call to decode the mumbo-jumbo and arrive at the right choice.
This Balance of Nature review is about exploring one of the most popular whole food supplements out of the numerous options available.
Among nutritional superfood supplements and pills, the Balance of Nature vitamins supplement is actually a very popular and also a very well-marketed supplement because it claims various unique benefits that set it apart from other vitamins and whole-food pills.
This review of Balance of Nature tries to explore all the information and feedback on this superfood supplement and to try and answer the most important question – Is Balance of Nature really a legit choice?
Balance of Nature Review – An Overview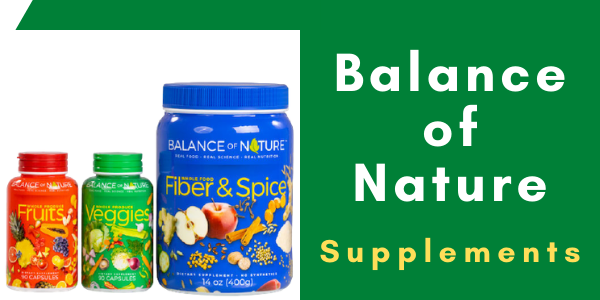 It is recommended by all nutritional experts that we need to consume a specific amount of vegetables and fruits to get enough nutrition to live healthy and fit. But in today's hectic lifestyle, most of us face difficulty in eating enough veggies and fruits daily. Therefore, we face a significant amount of deficiency of dietary fibers, vitamins, and minerals.
Balance of Nature vitamins supplement is a prominent and popular superfood supplement that claims to fulfill this deficiency of daily nutrition in your life. It is a herbal supplement that is developed and manufactured in the USA.  The supplement is a combination of three products, Veggie Pills, Fruits Pills, and Spice & Fiber Powder.
Balance of Nature is formulated with 100% natural ingredients that include raw fruits, veggies, and herbs. The supplement is founded by an American physician, researcher, and lecturer who specialized in Phytonutrition.
The company is based in St. George, Utah. If you look at the headquarters office that's where it is listed in the Better Business Bureau (BBB) since 2002.
Balance of Nature Fruits Supplement: People love to eat varied types of fruits but it is difficult for us to consume all types of fruits in a day. Balance of Nature Fruits is an easy way to consume pills that are formulated with 16 types of raw fruits.
These pills give you all the essential nutrients from fruits.
Balance of Nature Veggies Supplement: We all know the health benefits of eating vegetables in our diet. But it is never easy to consume a wide range of veggies in your everyday diet. Therefore, Balance of Nature Veggies serves you 15 types of veggies in a single capsule with all the benefits of the nutrients from those vegetables.
Balance of Nature Fiber & Spice: Balance of Nature Fiber & Spice is a powdered supplement that is uniquely formulated with 15 special ingredients that include whole apple, husk, flax seeds, and 12 types of herbs.
Taking this fiber supplement daily helps in regulating your bowels, improves your digestive health, and also helps to balance blood sugar levels. (balance of nature fruits and veggies review, balance of nature review)
Balance of Nature Ingredients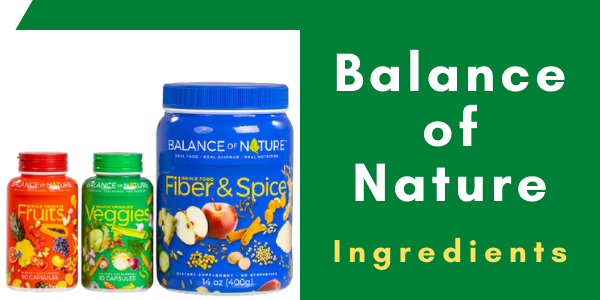 The ingredient list is the most impressive part of this supplement. All three products of Balance of Nature are formulated with 100% raw natural ingredients.
Balance of Nature Fruits: A Blend of 16 Fruits – Aloe Vera, Banana, Cherry, Grape, Lemon, Orange, Pineapple, Strawberry, Apple, Blueberry, Cranberry, Grapefruit, Mango, Papaya, Raspberry, and Tomato.
Balance of Nature Veggies: A Blend of 15 whole Vegetables – Broccoli, Carrot, Cayenne Pepper, Garlic, Onion, Soy Bean, Wheat Grass, Zucchini, Cabbage, Cauliflower, Celery Stalk, Kale, Shiitake Mushroom, Spinach, and Yam.
Balance Of Nature Fiber & Spices: A Blend of Fibre and 12 Spices – Whole Psyllium Husk, Whole Apple, Flax seeds & 12 spices- Cardamom, Clove, Cumin, fenugreek, Mustard, Turmeric, Allspice, Cinnamon, Coriander, fennel seed, Ginger, and Nutmeg.
Benefits
The first and main thing you will discover is you will have a lot more energy. You will feel like doing more things and you will enjoy a clear and simple feeling of vitality. If you suffer from feeling lethargic most of the time and have just lost your get-up and go, it would be worth it to try this supplement just to feel more energetic.
Another benefit is really mainly for people who either don't like eating fruits and vegetables on a regular basis or are bad at getting them into their diet. With the equivalent of 10-12 servings of vegetables and fruit in each serving, you are giving your body more nutrients than it probably has had in ages.
100% natural ingredients
The fruits & veggies are vines ripened
Can be consumed by all age groups
It is manufactured in the USA
It is safe for pregnant mothers & diabetics
The supplement is 100% vegan & whole food
It is 3rd party tested
Product is Free From
GMOs
Additives & Fillers
Extracts
Added vitamins & chemicals
Added sugars
Pesticides
Synthetics
Gluten
Does Balance of Nature Really Work?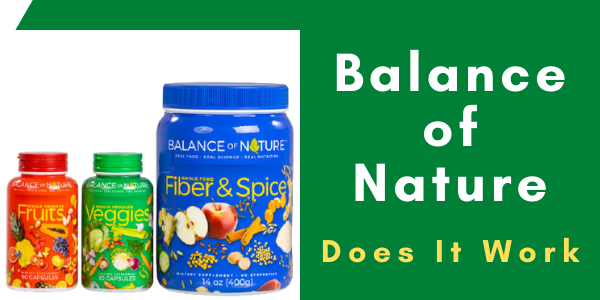 According to the official website, Balance of Nature is a pure and simple way to get real nutrition through the real scientific formulation of real food.
The company has effective marketing along with lots of radio advertisements that have made it popular among people looking for natural supplements. The supplement is claimed to be a result-driven formulation of real fruits, veggies, and herbs.
The company offers health coaching along with the products to help improve your health, set goals, improving results, and to help assist with any supplement questions.
The company also offers a 120 days health challenge to allow you to prove the health benefits in your life. Balance of Nature suggests a 4-month usage will typically show results in your health such as improved digestion, more energy, and overall health.
Balance of Nature is a unique combination of raw ingredients that provide the natural nutrients, vitamins, and minerals from fruits and vegetables compared to most other superfood supplements which are lacking that quality of nutrients because of the use of extracts in their ingredients.
Customer reviews, feedback, and ratings also prove that the supplement really works in boosting your health and fitness.
Pros:
Fruits & vegetables used are 100% real and vine ripened.
The product is 100% vegan.
Pills are free from any additives.
The fiber powder is known to deliver instant results.
The company also offers health coaching.
You get 30 days money-back guarantee.
The flavor of the powder and even the capsules have a tasty flavor.
Cons:
There is not much information available online and on the official website ( Update 2023 – The Official site has added information on their research and manufacturing process as well as an extensive FAQ, based on the inputs of their customers.)
The individual bottle is quite expensive.
Dosage Details of This Vitamins Supplement
Balance of Nature Fruits & Veggies – You need to take 3 capsules of both the fruits and veggies on a daily basis. You can also increase the dosage if you feel you need more
Balance of Nature Fiber & Spice – It is recommended to take 2 full scoops of powder once daily ( either morning or evening), in a glass of water or some juice for e.g. taking it in a glass of diluted apple juice is very popular
The positive aspect of these capsules is that they can be consumed in varied forms. You can swallow it, chew them or simply uncap them and mix and sprinkle the powder as a delicious flavor over salads or cottage cheese, etc. I know people who also prefer mixing it in a fruit or vegetable juice and drinking it.
Learn more about balance of nature fruits and veggies supplements reviews
Possible Precautions
If you are allergic to soy products, then you should avoid using a Veggie supplement
The Veggie supplement has strong garlic and onion flavor so either avoid them or you can swallow the pills without chewing them.
You should avoid using Fruit supplement if you are allergic to latex as this supplement has papaya and pineapple
Fiber and Spice supplement includes psyllium husk that can cause some possible side effects like digestive discomforts and bloat.
Balance of Nature Side Effects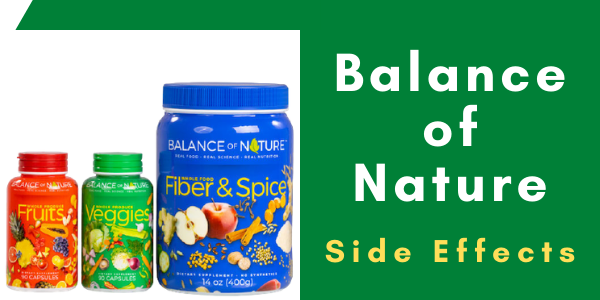 Being a natural formulation of fruits, veggies, and herbs, there are relatively few possible side effects related to the use of this supplement. Also, there are not many negative reviews reported online for this supplement.
The only possible side effect that I can expect is killing your craving for real fruits and veggies. Also, you should check the ingredient list before using the supplement to get assured that you are not allergic to any ingredients used.
Balance of Nature Reviews & Complaints by Customer: Balance of Nature has many benefits to improve your health and overall well-being. Not only does it help increase your energy levels but it is also packed with antioxidants and probiotics. Its antioxidant and nutrient equivalent are equal to that of 10-12 servings of fruits and vegetables. The digestive enzymes and probiotics contained in the formula aids in the absorption and the digestion of Balance of Nature nutrients.
Overall, the reviews, ratings, and feedback for Balance of Nature on Google, Facebook, Amazon, and BBB are quite positive. The product is popular online and doesn't receive any negative reviews related to side effects.
Although, there are some negative reviews and ratings many of them are either related to shipping, billing, or orders.
The product has received an excellent rating on Google with 4.8 stars of 5. Customers have also rated the supplement with 4 stars out of 5 on BBB. Although, the BBB hasn't rated it. Rating on Facebook is something that the company needs to be concerned about as the supplement has received less than 3.2 stars out of 5.
Although, if we talk about Amazon, the product has amazingly received 4 stars out of 5. Overall, other than BBB, Balance of Nature has been rated impressively on various online platforms.
Balance of Nature Review – FAQs
Is Balance of Nature rich in vitamins and minerals?
Yes, the supplement is formulated with all-natural fruits, veggies, and herbs so you get the maximum amount of vitamins and minerals out of it.
Is it safe for consumption by children?
Yes, the official website clearly mentions that being free from additives, it is safe for use in children.
Is it a non-GMO supplement?
Yes, the supplement is a completely non-GMO product and vegan friendly.
Is Balance of Nature FDA approved?
No, the company states that the supplement is not approved by the FDA and it does not claim to cure any ailment or disease.
Is the Balance of nature any good?
Yes, the supplement is a good source of essential vitamins and minerals that you need from your daily foods. The supplement is claimed to be a potent composition of raw and organic fruits and veggies that helps in boosting immunity, digestion, and overall health.
Is Balance of Nature a hoax?
I don't think that Balance of Nature supplements is any type of hoax. The supplement is very much popular in the market with lots of satisfied customers. The supplement actually delivers strongly on its claims.
Is the Balance of nature legitimate?
Yes, the supplement has received lots of positive reviews and feedback from the users that prove its legitimacy.
Are the Balance of nature products organic?
Yes, all the three products of this brand are 100% organic blend of raw ingredients that include veggies, fruits, fibers, and spices.
Does the Balance of nature have fiber and caffeine?
The supplement doesn't include caffeine but it includes fibers in all their products. The company offers a special product that is formulated with essential fibers and spices.
Does Balance of nature lower cholesterol and blood pressure?
Although the supplement is not promoted as a treatment to counter high cholesterol or blood pressure level, it claimed that regular use will help in maintaining a healthy level of BP and cholesterol.
Does the Balance of nature cause gas?
Although it is not a common side effect in some cases, the use of fiber and spices supplements may cause gas.
How many carbs in the Balance of nature?
A single serving of both fruits and veggie supplements contains about 4 grams of carb.
Is the Balance of nature the same as Juice Plus?
Although, both the supplements are almost similar as they both are formulated with fruits and veggies but the main difference is that BON is formulated with raw fruits and veggies whereas, Juice Plus is a juice extract of fruits and some veggies.
Is Balance of nature keto-friendly & gluten-free?
Yes, the supplement is claimed to be gluten-free but there is no real proof of being keto-friendly.
How much fiber is in the Balance of nature?
Every serving of Fiber and Spice supplement contains 40% of dietary fibers along with other essential vitamins and minerals.
When to take Balance of nature?
As per the official recommendation, you can take 1-1 pill of fruits and veggies in a day and 2 scoops of fiber and spices powder in a day.
How to cancel Balance of nature?
The company offers a feature to cancel your subscription any time you feel to do so.
Are there any scams with Balance of Nature?
I cannot find any scams related to this supplement. But if you want to avoid any possible scams, you should buy it only from the official website.
Is Balance of nature available at Costco?
No, I could not find the Balance Of Nature Vitamins on Costco.
What are Balance of Nature reviews on Amazon?
The supplement has been rated amazingly on Amazon. Customers have rated the Fruits & Veggies 4.4 out of 5 stars and the Whole Health System 3.8 out of 5 stars. As a seller Balance of Nature has a 95% positive rating.
Is there any promo code or free trial with Balance of Nature?
The company does not offer a free trial however, there are promo codes available for first-time orders as a Member. You do need to pay a one-time fee for membership.
Using our exclusive promo code GREENSDAILY for 35% off on the first order as a member makes it free for you to join as a member and get lifelong privileges and a discounted price.
Balance of Nature Vs Juice Plus Vs Texas Superfood
The three products viz Balance of Nature, Juice Plus, and Texas superfood are frequently compared. Though to my mind and based on my research, honestly, there exists no comparison between the three products though all of them are marketed as whole food fruit and vegetable supplements and all three supplements are available in capsule form.
In our Balance of Nature Vs alternatives Comparison, we compare it with most of the prominent options available in the market, BON comes out as more prominent among them mostly as it is formulated with 100% real fruits and veggies and has a very long history of reviews and satisfied customers.
Juice Plus is a capsule supplement with juice extracts of fruits and veggies and Texas Superfood is formulated with raw extract of fruits and veggies. Both Juice Plus and Texas Superfood also use fillers in their supplements. Our in-depth comparison between the three ( Link available in the first para) can give you a more detailed analysis of their benefits and differences if you want to find out more.
Price of Balance of Nature Products – Promo, Coupon & Discount Codes
Preferred Membership Plan –
One-time payment of $24.95 (This membership allows you to get special discounts and a personal health coach)
Balance of Nature Fruits & Veggies Price –
A combined Pack of these two supplements costs $89.95, but if you are a preferred member then you will get a discount of $20 – i.e. you get it for  $69.95
Balance of Nature Fiber & Spice Price – $69.95 per bottle, but if you are a preferred member then you will get a discount of $20 i.e. you get it for  $49.95
Balance of Nature Whole Health System Price –
It might be a better idea to buy the Whole system pack, comprising of Fruits capsules, Veggies capsules as well Fibre & Spice – $159.95 per pack ( $89.95 plus $69.95), but if you are a preferred member then you get an overall  discount of $50 hence you get it just for $109.95
Where to Buy Balance of Nature?
If you are searching for the best place to buy this supplement, then you have two options, the Official website, and Amazon. Balance of Nature is available for sale on both platforms but if you are searching for it on other stores like Walmart or eBay, then you would not find it.
Although it's available on Amazon, it is always advisable to buy it from the official website as not only is it cheaper, it also comes with more benefits like health coaching besides you are assured of its authenticity, as it's been seen often that on certain Ecom platforms individual sellers do sometimes compromise on certain factors and some time also sell cheap imitations which are hard to distinguish.
You can also avail the best offers on the official website, Our Exclusive 35% Off coupon code for e.g. is usable only on the Official Website and gives excellent savings, by getting you in the preferred member club literally free of charge, so that whenever you buy the supplement in the future too you get a preferred price.
My Verdict on Balance Of Nature Review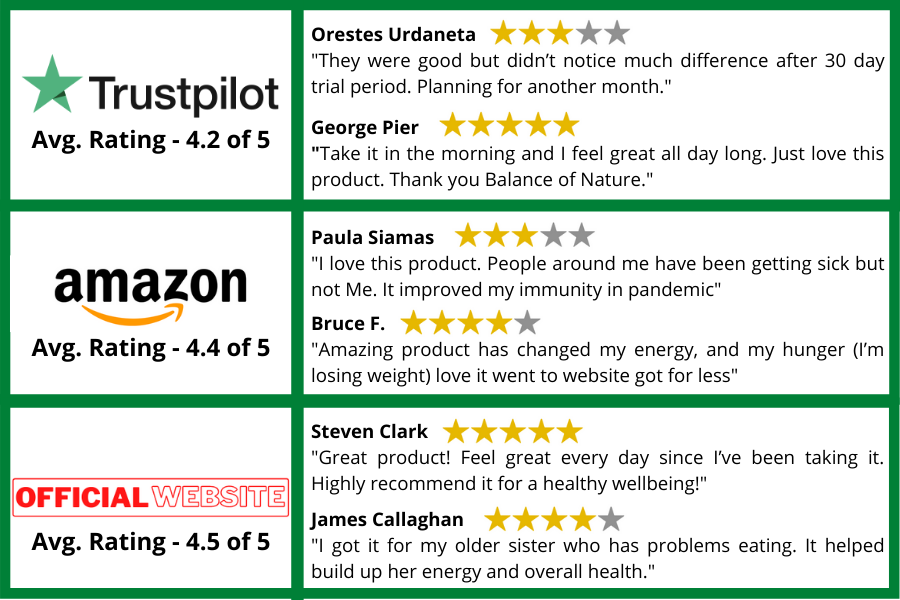 Frankly, I am not a big follower of the concept that you can replace your daily fruits and vegetables with pills. It is true that these supplements are marketed as whole food and there is no doubt that they are nutritious but only living on these pills for your nutrition is not going to be enough.
You will need to consume your daily fruits and vegetables as usual and taking these supplements will then assist in fulfilling the nutritional gap on a daily basis.
Now, to focus on the crux of the matter, Balance of Nature is actually a powerful and very prominent natural whole food supplement available in the market. The most impressive thing that I found about this supplement is that as claimed, it is actually formulated with 100% real and natural fruits, veggies, and herbs. Actually Unbelievable!!
The supplement has also proven to be result-driven and effective for providing and improving overall health boost for the past 20+ years now with a huge number of positive reviews and results available in neutral verifiable channels. Again Unbelievable!!
Balance of Nature could be the best choice if you like the most of us are unable to include enough fruits and vegetables in your daily diet and hence prefer the convenience of popping a proven and efficacious capsule to provide and supplement your daily dose of Nutrients.
Note:
Exclusive Offer: Use Code GREENSDAILY- Get 35% OFF!  – You can also become a Balance Of Nature Preferred Customer- Effectively for Free – ensuring Instant as well as Life-Long Mega Savings.
Do Not Miss Out on This Limited Time Opportunity!

Using This Code now will Ensure That you Become A Preferred Customer Effectively for Free, ensuring Instant as well as Life-Long Savings.