I have reviewed various popular and acclaimed green superfood supplements on the market. I have tried most of them personally. Every green drink product makes big claims like boosting your immunity and improving digestion, mental fitness, and overall health. But only a few of them stand tall against their claims. SuperGreen Tonik is a new entrant in the market with some big claims. This Supergreen Tonik review is all about exploring the legitimacy behind the claims made by this green superfood supplement.
SuperGreen Tonik Review: An Overview

What is SuperGreen TONIK?
The manufacturer of SuperGreen TONIK claims that it is the best fuel for boosting both your mind and body. The supplement helps in improving your energy level, reducing stress, boosting immunity, promoting better sleep, and improving cognition. Overall, as per claims, it is a powerful blend of health boosters.
What are the benefits?
It helps boost energy level
Improved concentration and focus
Promotes healthy sleep and reduces anxiety
Improves immune system
Convenient and easy to use
Helps control appetite
SuperGreen TONIK Ingredients

The ingredient blend of this supplement is the most impressive. The superfood drink uses 100% natural and organic ingredients that are healthy and safe. Here is the list of ingredients used in the formulation.
Organic Blend
Spirulina helps improve blood lipid levels by suppressing oxidation, reducing blood sugar, and controlling blood pressure.
Kale: This ingredient helps lower cholesterol levels in the body, reducing the chances of heart problems.
Spinach is a green vegetable that is known for its healthy effects, such as better eyesight, reducing stress, and controlling blood pressure.
Barley grass is enriched with various nutrients to promote healthy weight loss, improve heart health, and control blood sugar levels.
Chlorella – This ingredient also helps reduce blood sugar and cholesterol levels in the body.
Moringa another powerful green superfood that is known for its anti-inflammatory effects, keeps you protected from arsenic toxicity.
Nootropic Blend
Ashwagandha a popular herb found in India, helps reduce cortisol levels, insomnia, and anxiety. It also improves task performance and reaction time.
Bacopa a common herb that is found in most nootropic supplements, helps boost brain function and reduce anxiety, stress, and ADHD symptoms.
Adaptogen: It is an ingredient that helps in optimizing mind-body performance, ultimately reducing mental fatigue, increasing motivation, and promoting healthy sleep.
L-theanine is a type of amino acid that is usually found in black and green tea. It helps in eliminating drowsiness.
Ginkgo biloba – another great nootropic ingredient that helps improve blood circulation, eyesight, and overall brain function.
L-thyrosine: This ingredient is known to promote mental function.
Immune Blend
Garlic, a common but healthy food that is known for its antiviral and antibacterial properties, helps promote a healthy immune system.
Dandelion is also known for its antiviral and antimicrobial properties, which help improve the body's immune system to fight infection.
Olive Leaf: The olive leaf is a powerful immune booster ingredient that also helps in controlling inflammation.
Does SuperGreen TONIK work?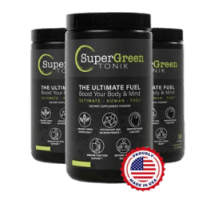 Supergreen Tonik Review 2023: After analyzing the impressive ingredient list of SuperGreen TONIK, I am pretty much assured about the efficiency of this green superfood supplement. Unlike many other supplements, the manufacturer doesn't hide or shy away from disclosing the ingredients used and their nutritional value.
Also, the company offers a 365-day money-back guarantee—the first supplement I came across with such a long-term money-back guarantee. All this proves that the company is assured about the efficiency of its product and its claims for SuperGreen TONIK.
Advantages
The packaging is very good and convenient
Gives clear and easy-to-follow usage detail
Unlike many other green superfood supplements, it has a pretty decent taste
Clear and full disclosure of ingredients used and quantity
Formulated with three powerful blends: organic, nootropic, and Immunity
Clearly delivers as per the claims made
Helps in boosting energy, mental health, and immunity
Backed up with 365-day money-back guarantee
Vegan Friendly
Drawbacks
The cost of a single tub is quite high
includes the natural sweetener stevia leaf extract; the taste may not be to everyone's liking.
Who Can Use SuperGreen TONIK?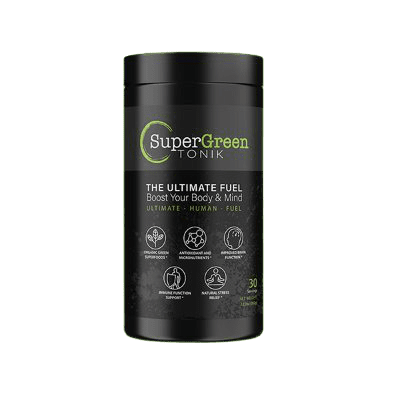 Any person over the age of 18 is eligible to use SuperGreen TONIK. The supplement is meant for those who:
Are irregular with their diet due to hectic lifestyles.
Have an inadequate diet or consume unhealthy food.
Are busy enough to focus on their daily nutritional intake.
Are suffering from mental fatigue and low cognition.
Have the aim of staying fit and healthy for a long time.
Get sick frequently due to a low immune system.
Side Effects
Being formulated with 100% natural and organic ingredients, I don't see any possible side effects associated with its use. I have checked various forums and websites to find complaints regarding this supplement but didn't find any such thing.
Although I don't guarantee that it is 100% side-effect-proof for everyone, there is a possibility that you are allergic to any of the ingredients used in the formulation. Therefore, it is important to check the ingredient list before you buy it or any other supplement.
SuperGreen TONIK Reviews by Users
Supergreen Tonik Review: Being a newcomer in the green superfood drink market, SuperGreen TONIK does not have a huge customer base, and that's why it is not easy to find user reviews on third-party platforms. Although some users have shared their reviews and experiences on the official website, some of them I have mentioned below.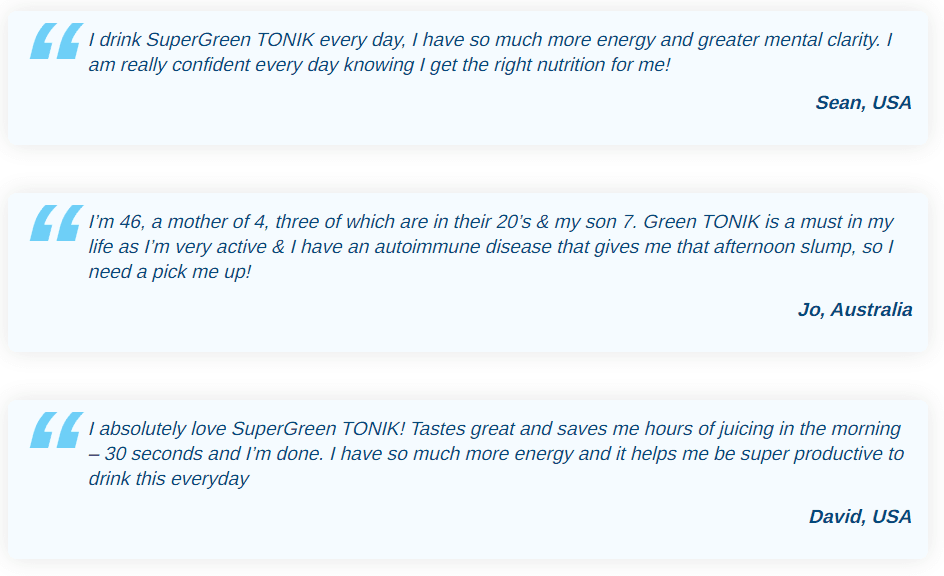 How is SuperGreen TONIK better than other green powders?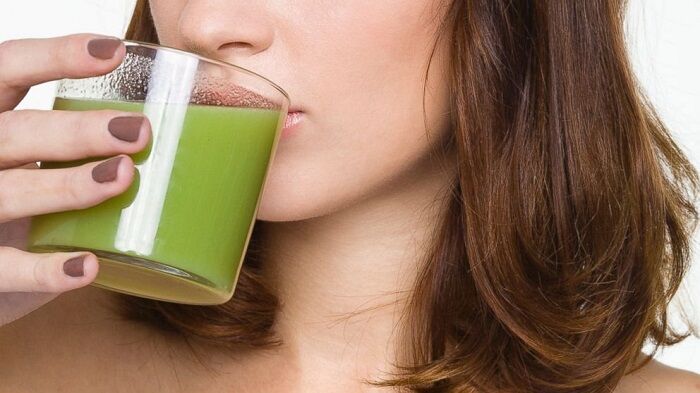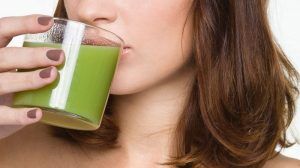 When you type best green superfood powder in the Google search box, you will find a long list of supplements with huge claims. Before SuperGreen TONIK entered the market, there were some big names with deep roots in the market and huge popularity.
But still, SuperGreen TONIK managed to make its place and continuously gained popularity due to its impressive ingredient blend, practical claims, and result delivery. Still, there are some individuals who hesitate to adopt newcomers and stick to rooted products.
*Related: For these individuals, the best alternatives to SuperGreen TONIK are Organifi Green Juice and Balance of Nature, which I have earlier reviewed on this website.
Frequently Asked Questions
How to use Supergreen Tonik?
It is very easy to use SuperGreen TONIK. All you need is to just mix a single scoop into a glass of water. It is recommended to use cold water or a smoothie for a refreshing experience.
What is the best time to consume SuperGreen TONIK?
The best time to consume this superfood drink is to take it in the morning with breakfast or in the afternoon.
How does SuperGreen Tonik Taste?
The supplement drink has a natural mint flavor that is quite delicious. It also uses stevia leaf extract, which gives it a natural sweetener.
How fast should I expect results?
With natural supplements or green superfoods, you need to give yourself some time and patience to experience positive results. Although the company claims to experience noticeable results in just a couple of weeks,
Does SuperGreen TONIK help in losing weight?
The company doesn't make any promising claims about weight loss, but some ingredients used in the formulation are known to help in losing weight. Green veggies and superfoods are known to control your appetite and promote healthy weight management.
Can I buy SuperGreen TONIK from Amazon or eBay?
Although Amazon and eBay are selling green superfood powders with similar names, this supplement is now officially sold through these online stores. It is only available on the official website for sale.
Is there any money-back guarantee?
Yes, the company offers an outstanding 365-day money-back guarantee that is possibly not available with any other green superfood supplement. Any unsatisfied user can return the product and claim back money at any time within this period.
Where to Buy SuperGreen TONIK?

The supplement is only available on the official website for sale. It is not available in any nearby or online store. Ordering SuperGreen TONIK from the official website ensures that you are getting a legit product. Here below are the pricing and packages offered on the official website.
SuperGreen TONIK Review: Final Verdict
After going through SuperGreen TONIK reviews and my experience reviewing various green superfood supplements, this supplement looks pretty cool and fail-safe. The supplement supports a lot of health benefits, has been backed by medical research, and has received plenty of positive reviews from users.
The most impressive thing about this supplement that I mentioned earlier is its powerful ingredient list with blends of organic, nootropic, and immune ingredients. All these prove that SuperGreen TONIK is a promising green drink that every superfood lover should try.