Trifecta vs The Alternatives: If you are also a fan of meal delivery services, then you might have heard of a popular name, Trifecta. Since it was founded in 2015, the company has been regularly growing its fan base. But, no matter how popular a meal delivery service is, it is obvious that it will not satisfy every user equally. With lots of companies playing in the market, it is better to compare and find out which is the best meal delivery service for you. In this article, we are going to compare some popular alternatives to Trifecta and help you choose the best one.
An Overview on Trifecta Nutrition
Trifecta is a meal delivery service that delivers pre-made meals to promote clean eating. They were considerably more geared toward fitness enthusiasts initially, but with the addition of the new meals they now provide, Trifecta is now focusing on broader population. For example, Trifecta now include meal plans for clean eating, vegans, vegetarians, paleo, and keto. You can even select any foods you want from the a la carte menu.
It has the most complete meal delivery service app I've ever seen. In addition to offering hundreds of workout and exercise plans, calorie tracker, and other features, Trifecta Nutrition also lets you choose the meals you want to eat and modify your subscription, which is something that several meal delivery services let you do.
Trifecta vs Factor Meals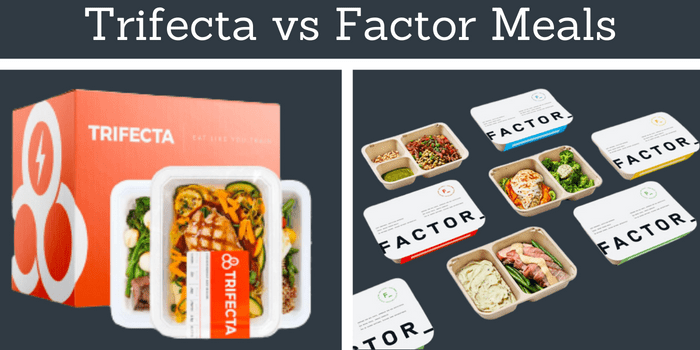 Initially catering to keto dieters and fitness fanatics, Factor Meals is also a pre-made meal delivery company that has recently expanded its menu to offer a wider selection of meals. However, low-carb options still contain the majority of Factor meal's menu.
The company is currently offering variety of meals, including chef's choice, calorie smart, keto, vegan and vegetarian, and protein plus. Factor meals is  among the inaugural fresh prepared meal delivery companies to offer countrywide shipping.
While Trifecta's service kept developing and getting better over time, Factor's remained largely static. The main difference among the two is that Trifecta expanded their meal delivery business to include a full marketplace that offered a greater selection of alternatives, including breakfast dishes, desserts, smoothies, snacks, drinks, and more. Due to Factor's service being largely focused on lunch and dinner, Trifecta was able to offer meals for breakfast, lunch, and dinner.
Pros
Zero preservatives and additives
Facilitates all types of dietary needs
Variety of meals to choose
All ingredients used are fresh
Cons
Choosing a specific delivery day is not possible
Pricing is higher compared to Trifecta
Trifecta Nutrition vs Freshly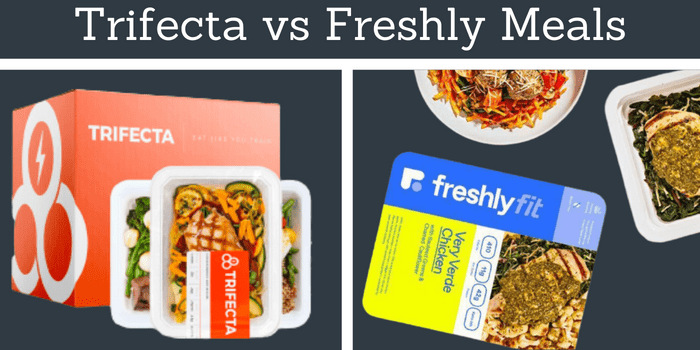 A weekly meal delivery business called Freshly offers a rotating menu. Plans ranging from 4 to 12 meals per week are available, with rates per meal ranging between $8.99 to $11.79. Each meal costs less, the more you purchase. Your subscription can be modified or suspended at any time.
Various categories, such as Freshly's Signature Selection and Freshly Fit, can be used to sort the available foods. You can also set search parameters depending on your requirements and dietary requirements to view meal options that are dairy-free, low in carbs, gluten-free, or plant-based.
There were about 50 different meal options on the menu, ranging from sesame-ginger chicken to pork carnitas, which I enjoyed because it provided a good selection to satisfy all culinary moods. You can order additional proteins and sides, such as turkey meatballs, grilled chicken breast, and sautéed green beans from a la carte menu in addition to whole meals.
Pros
Fresh pre-made meals
Pricing is affordable
Packaging is biodegradable and recyclable
Cons
Currently not delivering in most US states
Serves small portion meals
Trifecta vs Icon Meals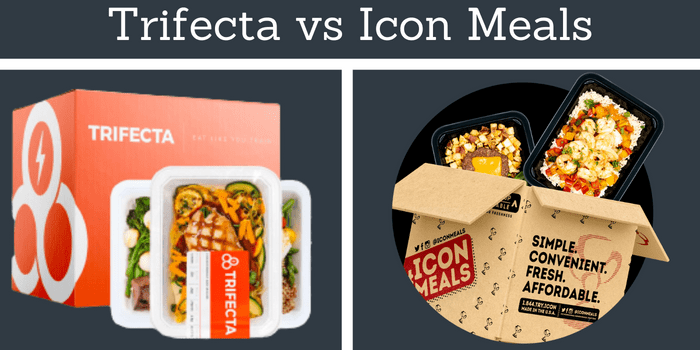 Icon Meals provides healthy, high-protein meals, and macro-balanced that are made to simplify meal preparation and healthy eating. You'll discover a brand-new weekly menu with enticing, healthful meal options each week. Additionally, you may always use their a la carte and signature menu to make your own unique meals.
The Icon team focuses on creating nutrient-dense meals quickly, easily, and frankly. They also take satisfaction in cooking meals that are delicious and high-quality without compromising on health. Icon meals create delicious foods that are inspired by chefs.
All meals provided by Icon are freshly made, quickly frozen to preserve flavor and nutrition, and then delivered direct to your door. Each meal is supplied in a biodegradable box and is packed in a microwave-safe container.
Pros
Quick and easy
Custom meals provided
Freezer-friendly
Cons
Flavor not satisfying
No sourcing info available
Limited menu
Trifecta vs Fresh n Lean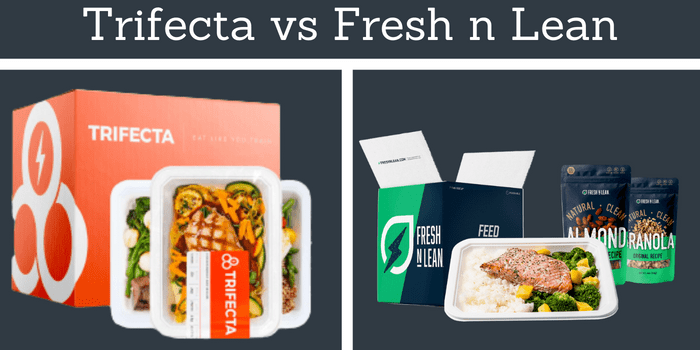 The vast selection of meals designed for particular diets is what makes Fresh n Lean a popular alternative to Trifecta. Protein+, Paleo, Keto, Vegan, Low-Carb, Whole30, and Mediterranean Diet are among their meal plans. Every week, each plan offers between 22 and 25 different food options.
But Trifecta offers a higher amount of personalization than Fresh n Lean, which is how it varies from the former. Fresh n Lean also offers you to pick a certain diet plan and get all of the meals prepared, while you can also ask for specific ingredients to be left out of your meals. As a result, you can modify your meals to suit your unique nutritional requirements and tastes.
Overall, Trifecta looks a step beyond Fresh n Lean, as per our research at MyGreensDaily, when it refers to sealing their meals fresh and delicious. For each and every meal they deliver, Trifecta use a vacuum sealing procedure to accomplish this.
Pros
Variety of diets
Expansive menu
Simple reheating
Cons
Expensive
Lacks credibility
Trifecta vs BistroMD
A meal delivery service with a focus on weight loss is called BistroMD. ,The company offers lunch, dinner, as well as breakfast and has a wide assortment of frozen, medically balanced meals, in addition to a variety of mildly decadent snacks, all bundled into a range of various programs for particular dietary requirements. Addition to the typical program, BistroMD offers programs for men, women, menopause, diabetes, heart health, and gluten-free eating.
We were interested to discover if BistroMD had anything special to offer in consideration of the abundance of frozen meals available in supermarkets, including nutritious and low-calorie selections.
Pros
Healthful, and low-calorie meals
Dietician support
Fully prepped
Provides all day meals
Cons
Provides frozen foods
Limited dietary accommodation
Can't choose specific delivery day
What To Keep In Mind Before Ordering?
In order to pick the meal delivery company that best meets your needs, you need to think carefully about a few essential factors before deciding to subscribe for any of them.
Cost – It's vital to think about how much the service will cost, taking into account the meal's individual cost, shipping costs, and any other extra expenses. Ensure that it is under the budget and be aware that there are less expensive alternatives.
Menu Options – Look over the menu choices to check if the meals satisfy your dietary requirements and tastes. Do you prefer certain ingredients or have any dietary allergies? While some services like Trifecta may have more options and allow you to customize your meal, others might have less options.
Delivery – Take into account how frequently you want food delivered. Most providers deliver once a week, but some lets you have two boxes per week.
Location – Be sure to double-check to see if the company delivers to your region before making any final decisions. Certain regions or zip codes are the only ones served by some services.
Food quality – Would you prefer that your meals be made with organic, non-GMO ingredients devoid of artificial additives, or are you unconcerned about that? It's important to keep in mind that meal delivery businesses frequently charge more for higher-quality cuisine.
Final Verdict
Here at MyGreensDaily, we are committed to identifying the top meal delivery services out there. We spent a significant amount of effort and time in investigating, evaluating, and testing many options in order to do this.
Over the years, we've evaluated numerous meal delivery services and built a detailed review procedure that involves customer reviews, ingredient quality, menu, pricing, health benefits, identifying all advantages and disadvantages, and more.