We have read about Leaf Nutrisystem, whenever we stumbled across the Nutrisystem website, because the Nutrisystem website is the leading brand in the sphere of healthy lifestyle and wellness. It doesn't need any identification proof to show its credibility.
Operating for more than fifty years, it has been a universal health hub for fitness enthusiasts who are aiming to achieve a high goal of fitness in their lives. The main motto of Nutrisystem is to facilitate its consumers with no compromise on taste and flavor.
And this is what makes it great! Nutrisystem has devised different diet plans for different categories of their customers, like the Women's Plan, the Men's Plan, the Partner Plan, and so on.
The all-new Nutrisystem has formulated its unique metabolic diet plan with a scientific concept to use the metabolic adaption in a very sustainable manner, so that a person finds it an easy-to-follow weight loss journey!
What is Leaf Nutrisystem?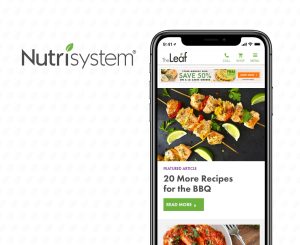 Talking about The Leaf, it is an official Nutrisystem blog which lets you keep updated with the latest trends in the wellness world and also morally provides support to its customers' queries related to health.
and has acknowledged various sections of health like diet recipes, grocery guides for how to prepare your lunch and dinner in a more sophisticated manner, and some expert guidance on topics like nutrition and diet plans.
The leaf allows you to take a fitness survey and determine your body type, allowing you to gain more insight into your physical health and create a diet plan that is tailored to your nutritional needs.
The Leaf by Nutrisystem: Healthy Recipes
To our surprise, we were amazed to see that Nutrisystem has divided the leaf blog recipes section into a total of nine sections, ranging from appetizers to Nutrisystem food hacks.
Appetizers
An appetizer is a small portion of food that you want to start or serve with as part of your meal!
Nutrisystem publishes featured appetizer recipes that have a delicious taste and may alleviate the confusion of someone looking for healthy appetizer options.
Like, they recently shared the recipe for "Healthy and Cheesy Cauliflower Nachos". It seems interesting, and to find more details about this, you can simply scroll through their appetizer section.
Main Courses
The main course is the fancy meal of everyone. No one ever wants to compromise with it, so to balance the flavor with health, the Leaf Nutrisystem blog experiments with taste and goodness.
Like their blog on side dishes, limiting itself to 353 calories, and also, the calorie tracking process is checked by the NuMi app.
Sides
It was great to see that to complete their main course, they used their dish planning with green beans, where the total calorie count for these side dishes was only 148 calories.
In one of its side dishes, they have used non-starchy vegetables like spinach, which are bowlful and at the same time can be paired with a side salad, and some creamy butternut squash and tada!! Your dish is prepared.
Snacks
Have you ever tried tater tots with mashed cauliflower? We bet that you haven't! Because many of you will be thinking that it's too oily, yes, you are right!
But what if we air fry them and make them more delicious? This was the concept supported by Leaf Nutrisystem, as cauliflower is a low calorie and an awesome snack with only 140 calories. You can check their recipe on their official blog.
Desserts
Everybody loves sweets and desserts, so no one is able to abandon them easily, and it is also sad that following such a strict routine, we have to avoid sweets.
But not anymore. If you are a cake lover, then, you will be very happy to check out Leaf Nutrisystem's recipe for carrot cake. It is very filling and yet at the same time enchanting and delicious.
Shakes and Smoothies
Leaf Nutrisystem has come up with more than 150 recipes for drinks like caramel chocolate smoothies and Chocolate Caramel Peanut Protein Shakes, berry hibiscus green tea with coconut milk, and so on, to make it more interesting.
Flex Meals and Snacks
Many nutritious snacks, like Protein Waffle Recipe, Butternut Puree, etc., have been suggested under a holistic diet plan.
Nutrisystem Food Hacks
If you want to turn your salad into something magnificent or want to pair up your tuna with an avocado salad, you will be thrilled with plenty of options given under the Nutrisystem food hacks section.
What You Should Know About Nutrisystem Leaf!
Under this section, the Nutrisystem Leaf blog has provided you with a deep insight on how to maintain your daily diet and health. It has also introduced a "weight loss" tab.
Where a person can learn many things about diet and nutrition, fitness and lifestyle, like how to burn extra-calories and drink water, and how to protect yourself from the harmful rays of the sun, where tips and advice are provided.
Grocery Guide for Weight Loss
Here they have started to deliver every week's grocery plan for perfect shopping, as they called for Power Fuels, Smart Carbs, and non-starchy vegetables.
They have also written detailed tips and advice on how to use frozen and canned foods, as well as their benefits and drawbacks.
Inspiration Tab
Many success stories of its customers are shared in a very story-telling manner, who have achieved their goals by staying consistent.
Program Tab
Here they have provided a simple brochure about how the 'Nutrisystem Fitness Programs' are made to function, and several Nutrisystem plans for men and women and success are discussed thoroughly.
Conclusion
Leaf Nutrisystem has endorsed a customized blog for each query and frequently asked question by their customers.
Even lowering their bars of simplicity, they have tried to advise on very particular topics like grocery guides for your household meal plans, etc.,
According to us, it is a definite "go-go" situation to check if you want a personalized diet plan for yourself!