Weight loss doesn't come naturally for many people. People tend to take weight-loss supplements over time to kickstart the weight loss process. There are plenty of weight loss supplements such as fat burners, weight loss pills, and powders that are available out there. But these supplements merely work in the long term. Currently, green powder is a name revolving around long-term weight loss. However, does green powders help in weight loss?
Deep down, we all want to shed the unwanted weight stored in the stubborn areas of our bodies. You may have tried everything available for a quick weight fix, but all in vain. Most of the supplements contain zero to no nutrients. Super green powders are an effective and healthy alternative to weight loss products currently available on the market.
Does Green Powders Help In Weight Loss?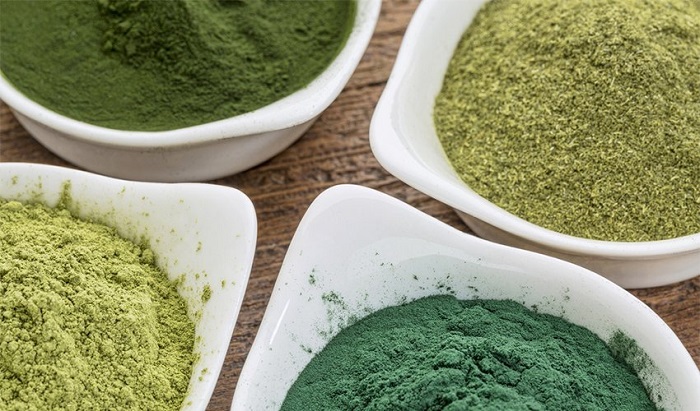 Super Green powder is the ultimate way to lose weight naturally in the long term. Incorporating super green powder into your diet will help you achieve a slim and fit body. In this article, we will share our findings on how super green powder can help you lose weight, what the things (ingredients) in super green powders can do, and much more. let's get started.
What are Super Green Powders?
The majority of the super green powders contain an exotic blend of superfoods, including super greens and super fruits as well. Super green powders are low in calories and rich in nutrients. The recipe may differ from brand to brand. However, most of the super green powders include similar ingredients.
Super green powders are packed with nutrients, antioxidants, vital vitamins, probiotics, micronutrients, etc. These powders offer multiple health benefits, along with shedding extra pounds.
What Is Inside the Super Green Powders?
Super green powers include plant-based ingredients in their formula. These powders are organic, 100% pure, and safe. The most common ingredients that can be found in all super green powders are grasses like wheatgrass and barley grass, leafy vegetables like spinach and kale, digestive enzymes, probiotics and prebiotics, fiber, and antioxidants.
You can find spirulina and chlorella as antioxidants in super green powders. These ingredients ensure that the users are getting the optimal amount of daily nutrients, vitamins, and minerals for good health. Additionally, each ingredient offers an array of health benefits to the users.
For instance, kale is a nutrient-dense leafy green. It is the most nutritious and healthy plant food on the planet. It is low in fat and this leafy green dramatically increases the nutrients in your diet. It can help with weight loss, reduce oxidative stress, reduce inflammation, protect the heart, lower blood pressure and add a lot more benefits to your health. Dietitians believe that the super greens that contain 10–30 super ingredients are considered good green power.
Fiber and Weight Loss
Does Green Powders Help In Weight Loss?: The reason why green powders are loaded with fiber is that super green powders are jam-packed with nutrient-rich vegetables like grasses, algae, spirulina, and many other fiber-rich ingredients in their formula. Several studies have linked it to weight loss. However, one study published in Oxford Academic shows that high dietary fiber results in an increase in post-meal satiety, decreases hunger, and leads to weight loss.
Fiber plays an important role in weight loss by manipulating your metabolism. It makes your metabolism work for longer hours and, ultimately, it will break down the fiber and burn extra fat. In addition, fiber also helps with weight loss by managing bowel movements and reducing constipation. It will flush out toxins from the body and thereby aid weight loss.
Although super green doesn't contain fiber, it fulfills the requirement for fiber with the help of green vegetables.
How Can Antioxidants Support Weight Loss?
Super green powders for weight loss contain enough antioxidants. Kale and spirulina are good examples of antioxidants. Some green powders also contain berries, which makes them more beneficial and antioxidant-rich powders.
Antioxidants help to push out toxins and unhealthy substances that you consume in your daily diet. It can reduce inflammation and aid weight loss by eliminating toxin storage in your body. It flushes out all the toxins and leads to weight loss. Antioxidants kick out toxins as much as possible. Plus, it prevents bloating and manages the digestive system. Antioxidants are one of the essential elements that are linked with weight loss.
Low Calorie Weight Loss
People often practice a low-calorie diet for weight loss. However, low-calorie foods are good for reducing as much fat as you want, and that's why green foods are so effective in weight loss. Super green powders are rich in nutrients and low-calorie powders. If you purchase super green from a trusted brand, then it will provide you with optimal health benefits and support weight loss efforts.
Big brands' green powders typically include 40–50 calories per serving. This is a perfect number and a good replacement for your high-calorie foods.
Are Super Green Powders Effective?
If you want to lose an incredible amount of weight, super green powders are effective and helpful. Super green powders that contain weight loss-friendly superfoods including fruits, antioxidants, enzymes, probiotics, and the above-mentioned ingredients can aid weight loss. It will help the user by boosting metabolism, controlling hunger and appetite, providing nutrients, assisting bowel movement, and getting rid of toxins from the body, to name a few of the ways.
However, incorporating super green powders will work efficiently if you have bad eating habits and disturbed routines. Super green powders work better with a balanced diet, a little bit of exercise, and healthy habits.
Does Green Powders Help In Weight Loss? (FAQs)
Are green powders effective?
Green powders are made of plant-based superfoods. They are excellent for weight loss. These powders comprise ample ingredients that offer an array of health benefits to you.
Are green powder good for you?
Super green powders are the best option for anyone who wishes to lose weight. It is safe and made with organic ingredients. In addition, there have been no negative side effects so far from taking super green powder.
When to take green powder?
The best time to take green powder is in the morning. It will boost your metabolism and flush off all the toxins by the end of the day.
Are green powders worth it?
The super green powders are completely worth it. They are safe, effective, simple, and convenient to use.
Does Organifi help with weight loss?
Organifi powder is an excellent option available on the market. It helps to reduce weight, ensure well-being, boosts metabolism, and targets various root causes of obesity.
Final Verdict
So, here we are going to end this blog, but before we end our blog, does green powder help with weight loss? We want to pass on our opinion on this topic. We have gone through multiple blogs and content to write about green powders, and we found that green powders are the best supplements for weight loss.
Not just because they are organic and safe, but they also contain almost every essential item that supports long-term weight loss. Moreover, green powders are a highly nutritious and low-calorie supplement. The super green powder will not only aid weight loss but also provide plenty of other benefits, which makes them impressive and worthwhile.