Losing weight becomes more difficult when you are diagnosed with type 2 diabetes. In diabetes, increasing fat is a big concern. Well, it is also true that diabetes cannot be cured, but it can be managed with proper diet, exercise, and medication. If you take the right types of meals, you can successfully manage weight, even with diabetes. Thanks to the Nutrisystem diabetic plan, which helps to manage weight with its safe and proven meals. In this post, you will learn how this Nutrisystem for diabetics works, why you should trust this meal delivery program, the pros and cons, and other necessary details of the Nutrisystem plan for diabetics.
Nutrisystem

Diabetic Plan

– What Is It

?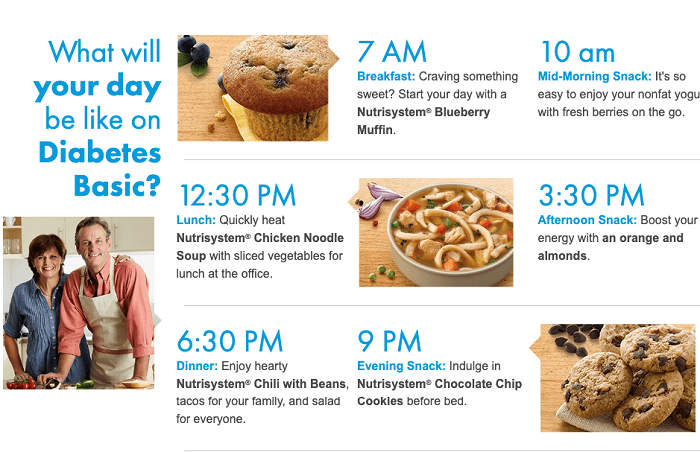 When a lot of meal delivery fails to provide long-term results, the all-new Nutrisystem D for Diabetes plan appears as a full-proof diet program for the diabetic person. In the weight loss industry, it's a well-known brand that makes home delivery diets that work well and are safe to use.
Nutrisystem's four-week meal delivery program is specifically designed for type 2 diabetes patients or those managing pre-diabetic conditions. There are three diet plans in the Nutrisystem Diabetes Plan.
Diabetes Management Plan.
Diabetes Plan That Is Totally Yours.
The Ultimate Diabetic Plan Is Individually Yours.
These plans allow you to eat healthy, high-protein, and high-fiber meals by limiting carbs and fat. Meals in each plan are designed by experts, nutritionists, and professional chefs to keep weight off, manage type 2 diabetes, and lower your A1C. Additionally, you don't have to count calories, plan daily meals, or go grocery shopping every day; Nutrisystem does it all for you.
Nutrisystem Plan For Diabetics
There are three types of Nutrisystem D diabetic plan options that are available on the official website. The duration of each plan is usually 4 weeks. Nutrisystem offers an array of tasty and healthy menus. This comprehensive seeks to provide a balanced diet of low-calorie meals for type 2 diabetics so that they can achieve meaningful weight loss without compromising their health.
The Nutrisystem Basic Diabetes Plan is an affordable meal plan in this diabetic plan. It includes high-nutritional and super delicious ready-to-go meals and snacks. 130 menu options allow you to select the best meals for yourself.
You will also get guidance on how to choose healthy meals, expert advice, and tips to promote weight loss. Lastly, each order qualifies for free shipping and a 7 days money-back guarantee.
The Uniquely Yours Diabetes Plan is the most popular plan. This plan contains everything that is provided in the basic plan. It is chosen by the majority of people and here you will get a wide variety of menu options along with the freedom to choose frozen or non-frozen food.
Uniquely Yours Ultimate Diabetes Plan is slightly expensive. It provides all the things that are covered in the regular ultimate plan, but this plan offers the convenience of seven days of ultimate menu variety. You will enjoy seven days of breakfast, lunch, dinner, and snacks per week. It is one of the convenient meal programs, and it also saves you time and effort in meal prep.
With each diabetic plan, you will get the guidance of experts, certified diabetes educators, and dietitians to guide you throughout your weight-loss journey. Moreover, you will get access to the NuMi application that helps you to complete fun challenges, track progress, win a prize, and more.
The Advantages of the Nutrisystem Diabetic Plan
Nutrisystem meal delivery programs deliver various health benefits to their users. Besides supporting weight loss, it provides ample other benefits when you are using the Nutrisystem diabetic plan.
Encourages a Healthy Lifestyle: The Nutrisystem meal program leads to a healthy lifestyle and changes the perspective of food in life. It encourages users to choose healthy foods and eating habits that will keep them healthy and disease-free.
Saving time and effort: Nutrisystem D programs save a lot of time and effort, and this is the biggest advantage of this meal program. You don't have to spend hours preparing meals or finding the best recipe for diabetic patients.
A wide variety of menus: you will enjoy an array of recipes for breakfasts, meals, snacks, and even for deserts and shakes. Even the basic plan contains more than 130 menu options. Thus, you will not get bored of eating the same recipes over and over again. Moreover, there is a flexible meal option as well, allowing you to choose top-rated frozen or non-frozen food.
No More Hunger: Nutrisystem meal programs are tailored to keep you full while losing weight. The food offered by Nutrisystem helps to reduce hunger and appetite, and boosts metabolism to burn fat easily. Instead of taking a large portion of meals, Nutrisystem encourages you to take six small meals per day to keep you full until your next meal.
How Does It Work?
Every month, the Nutrisystem program for diabetics works. All of the meals are perfectly balanced with high protein and low carbohydrate content. It contains low-calorie food and diabetic-friendly food to manage blood sugar and prevent cravings. Nutrisystem's diabetes meal delivery programs help to reduce sustainable weight by approximately 10 pounds each month.
During the programs, you have to eat six meals per day, and you can choose two flex meals each week. Nutrisystem's four-week meals for diabetics are easy to follow and customizable.
You can structure your plan as per your choice. Simply visit the website and choose a plan that suits your needs. Then you have to select meal options and place your order. Your order will be delivered to you within 7–10 business days.
Each meal comes with easy preparation and cooking steps. For best results, stick to the diet plan to control your diabetes and weight.
The Nutrisystem Diabetic Sample Menu
No other meal delivery is as effective as Nutrisystem for diabetes. The Nutrisystem D: Diabetes plan comprises distinctive menu options for its users. They offer a variety of meal options, especially in their Uniquely Yours Ultimate Plan. However, in each meal plan, your daily meals are divided into six small meals and snacks with a 2-3-hour gap between the meals.
Nutrisystem provides a personalized menu that is designed to meet your goals and daily nutritional requirements. However, in most of the plans of Nutrisystem for diabetic men, Nutrisystem offers 1,200 to 1,600 calories per day. The cost may vary depending upon the type of food you receive or order.
A Sample Menu of Nutrisystem for Men and Diabetes
Breakfast at 7 a.m.: Egg muffins with coffee, turkey, sausage, etc.
Morning Snack at 10 a.m.: Fresh fruits, low-fat yogurt, skim latte, etc.
Lunch: Pepperoni pizza malt, grilled or chicken sandwich, 12 p.m.
Afternoon Snacks around 3:30 PM: cheese and apple slices, crackers, nut bars, and more.
Dinner at 6 P.M.: Roasted turkey medallions, stuffed shells, and salad or others.
Evening Snacks around 9 p.m.: cheddar popcorn, ice-cream sandwiches, etc.
How Much Weight Can We Lose?
People are concerned about how much weight they could be expected to lose while following the Nutrisystem diet for diabetes. So, according to Nutrisystem, if you follow the diet properly, you can expect to lose approximately 14–18 pounds in three months.
Is Nutrisystem Good for Diabetics?
Nutrisystem Diabetes is completely different from other programs. It provides low sodium and has less sugar content in its meals. It aims to offer diabetic-friendly meals that also help to burn unwanted fat.
In a survey conducted on Type 2 diabetic patients, it was found that those who were following the Nutrisystem Diabetes plan lost around 20 pounds in three months and also got positive results in diabetes. Nutrisystem uses high-quality ingredients in its meals. They greatly emphasize dietary fiber, which is beneficial for diabetic patients.
Additionally, all meals or recipes are tested before being delivered to the customers. Thus, it is a safe and healthy weight loss program.
How Do I Join Nutrisystem Diabetes?
We know that if you came this far, you probably thought about how to join Nutrisystem D. Well, the joining procedure is very simple. You have to just go to the official website of Nutrisystem and sign-up by providing the necessary details.
Choose your plan and select the meals of your choice. They will ask you a few questions to prepare the best menu for steady blood sugar and weight loss. There is a 7-day money-back guarantee on each plan. Well, the best part of this meal delivery program is that it is affordable and would not cost more than what you spend every week on groceries.
You may have to add a few more bucks for delivery service charges. Still, it wouldn't squeeze your pocket. We recommend you choose an ultimate plan because it has good menu choices and great meal options compared to other plans.
Conclusion – Nutrisystem Diabetes Plan
The Nutrisystem Diabetic plan is a great choice for people with type 2 diabetes or those diagnosed with the symptoms of diabetes. In diabetes, weight gain is the biggest problem, and in this case, Nutrisystem Diabetic plans help you to keep weight off and manage diabetes as well.
Don't get fooled by false information floating on the internet. Nutrisystem is an effective program to get rid of excess weight issues and enjoy a healthy lifestyle. Joining Nutrisystem diabetic programs is worth the money, easy-to-follow meals, and overall best for diabetic patients.