Welcome back to our latest review of Nutrisystem weight loss programs. People want to know what the Nutrisystem Diet is. Nutrisystem is beloved by many celebrities and fitness enthusiasts.
It is a top-leading company offering tailored weight-loss meal plans at your doorstep. According to Nutrisystem, you can lose up to 1 pound every week. In this Nutrisystem diet review, we will check how much it is true. Does it really work or is it a scam?
What Is The Nutrisystem Diet?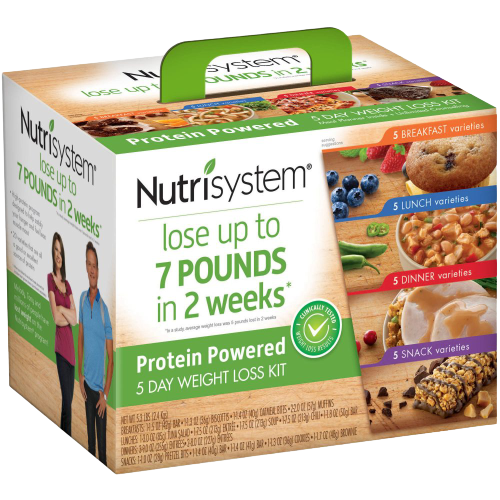 What is Nutrisystem? Well, Nutrisystem is a trusted weight-loss meal delivery program. They provide proven and balanced heat and eat meals to combat over-weight problems. Meals designed by Nutrisystem are enriched with nutrition, low in calories, high in protein, and easy to prepare. Additionally, it's simple, tasty, and healthy. Nutrisystem weight loss meals are specifically planned and prepared by experienced and well-educated team members.
Nutrisystem delivers prepackaged meals and snacks or portions meals as per the customer's choice and needs. Meals are available in frozen and shelf-options along with the required ingredients. Their meals are based on the glycemic index to support weight loss. It will help you burn fat easily, improve your health, and provide energy for the entire day.
Nutrisystem's weight loss program has a diet plan for everyone. They provide personalized meals, breakfast, snacks, and shakes according to your, gender, height, weight, goals, taste, and preferences. It also offers 1-on-1 coaching and counseling to its customers through the NuMi mobile application. Additionally, you can also track your health, weight, etc. with this application.
How Does Nutrisystem Work?
The Nutrisystem diet plan works on the glycemic index to promote rapid weight loss. You have to sign-up on the official website to start and reap the benefits of the Nutrisystem weight loss plan.
Individuals are required to choose breakfast, snacks, lunch, and dinner from the menu for themselves. After that, Nutrisystem will plan and prepare personalized meals for you. The Nutrisystem diet plans focus on getting the right portion of lean protein, trans-fat, and carbohydrates.
This unique diet program triggers weight loss from week one. For the first week, you will get seven days of breakfast, snacks, lunches, and dinners along with seven highly nutritional, protein-rich shakes to control your carving.
According to Nutrisystem, you can expect to lose approximately 5 pounds in the week after following the weight loss meals. You have to eat six small meals per day to accomplish your goals easily.
After completing the first week, you will get the freedom to prepare Flex meals for two days every week. This will help you stick to a healthy cooking and lifestyle after being connected to Nutrisystem.
The meals offered by Nutrisystem are proven to promote healthy weight loss with exercise. You will also get on-demand, 24-hour coaching and support. The Nutrisystem application provides expert tips, inspirational stories, articles, grocery tips, and various challenges throughout your journey.
What Is Nutrisystem Diet-Benefits?
Nutrisystem is packed with multiple benefits. However, one of the most significant advantages of the Nutrisystem is that it is simple to follow, which makes it more realistic. When you are on the Nutrisystem diet, you don't have to count calories, prepare shopping lists, or plan a menu like with other diet programs. Nutrisystem did everything for you; all you have to do now is stick to your plan and naturally lose weight.
Some of the major advantages of Nutrisystem weight loss plans are mentioned below.
Control your appetite and hunger.
The cost of the plans is budget-friendly.
The best meal delivery programs to encourage a healthy lifestyle.
Put together prepackaged meals.
There is a wide range of recipes for lunch, dinner, breakfast, and snacks.
On-demand, 24×7 customer support.
The Nutrisystem NuMi Application allows you to track your progress.
No major side effects
Free shipping for US customers.
Money-back guarantee
The Benefits and Drawbacks of the Nutrisystem Diet
Pros
It is a convenient weight loss program.
This is the best program for those who are busy or don't want to get stuck in traffic or lines at the supermarkets.
It is an easy-to-follow diet plan.
Rich in nutrition, vitamins fulfill the daily nutritional requirements.
Specific diet plans for diabetics or vegetarians.
loaded with healthy meals and snacks.
We deliver meals to your doorsteps.
encourages staying fit and healthy.
promote healthy weight loss.
Prevent carving.
Cons
The meal portion is small, so you may feel hungry frequently.
It is not for pregnant or breastfeeding women or those with pre-existing health conditions.
The cost of the program gets higher when supplementing with vegetables, fruits, lean protein, etc.
Is Nutrisystem Healthy Or Has It Side Effects?
Nutrisystem is a great way to cut calories and burn extra calories effortlessly. Well, there aren't necessarily negative effects associated with Nutrisystem. The meals provided by Nutrisystem are customized according to your body type and requirements.
Besides melting fat, it also fulfills nutrition deficiencies in the body. Through developing healthy and balanced eating habits and encouraging limited calorie intake, Nutrisystem plans support weight loss through a variety of ways.
Due to changes in your diet, you may notice mild side effects like constipation, fatigue, nausea, etc. It will be fixed as soon as you get familiar with the diets and Nutrisystem plans.
Nutrisystem Plans
Nutrisystem provides personalized plans for everyone. It has a specific plan for men and women. Moreover, they have separate plans for individuals with diabetes or vegetarians. Additionally, they have recently added a partner plan to their programs to lose weight together with your fitness partner.
How to Use the Nutrisystem Diet
The best and easiest way to get access to Nutrisystem is through the official website. Over there, you can choose the best plan for you. Apart from the official website, Nutrisystem frozen and packed products are also available at Walmart. People with a Costco membership can also purchase Nutrisystem meals and snacks online or directly by mobile phone.
Plans and Pricing
Nutrisystem offers budget-friendly meal plans. You can expect to spend approximately $275 to $500 per month. The basic plans start at $8.21 a day. It includes five breakfasts, lunches, dinners, and snacks every week.
Apart from that, there is also a plan called "Uniquely Yours." In this plan, you will get more options to choose from, including basic plan choices. Cost of
Uniquely Your Plan is $10 per day.
Nutrisystem also offers the Vegetarian Plan, Diabetes Plan, and Uniquely Yours Ultimate Plan. All these plans are affordable and beneficial for burning fat quickly. The overall cost of the program depends upon your choices and grocery list, along with $9.29 shipping charges.
Final Verdict
In high demand, what is the Nutrisystem diet? We have reviewed the Nutrisystem diet program and created this informative article for you. While writing this article, we have found that the Nutrisystem diet plans lead to healthy weight loss by controlling calorie intake and encouraging you to stick to prepackaged meals and exercises.
So, if you have decided to lose weight by eating healthy meals and snacks, Nutrisystem is the best choice for you. It will help you to maintain healthy cooking and lead to a better lifestyle. Nutrisystem is a very simple and convenient meal program. Also, you can cancel or edit your meals at anytime. Start your weight loss journey today with Nutrisystem diet programs.