Looking for Vibrant Health Green Vibrance Reviews? The next addition to my green superfood review rack is this Green Vibrance review. It is an amazingly popular green powder drink manufactured by Vibrant Health. The best part of this product that makes it a real choice is its transparency.
The market is flooded with supplements that make big claims about their long list of ingredients and formulation. But when check the label, their claims are vaporized. Green Vibrance is one such supplement that provides honest claims, at least about the ingredients. Therefore, this Vibrant Health's Green Vibrance Reviews is going to explore this supplement.
In this review, we are going to find out the ingredients used in the formulation of this supplement that make it a nutritionally high value. Also, we will explore its benefits, side effects, and customer reviews. So, let's get started.
Vibrant Health Green Vibrance Review – What It Is?

Green Vibrance is a powerful plant-based green dietary supplement manufactured by a renowned company, Vibrant Health. The supplement is a comprehensive blend of numerous recommended superfoods. The clinical formulation of the supplement ensures the proper absorption of vitamins and minerals in the body cells.
Being a 100% vegan green supplement, Green Vibrance is claimed to be a non-GMO and gluten-free powder drink. The amazing composition of the supplement makes it a convenient meal replacement drink to fulfill the daily nutritional gap. Green Vibrance by Vibrant Health is a green powder supplement that helps in countering 4 key areas of health that includes:
Easy digestion
Better immune system
Nutritional value
Enhanced circulation
About The Manufacturer: The company behind the production of this amazing green superfood drink is Vibrant Health that is located in Shelton Connecticut. The company was founded by Mark Timon in the year 1992 and since then it has been indulged in the production of some of the most prominent nutritional and health supplements. The company has also received numerous industry awards and recognitions for its quality supplement production. One of the main USPs for the brand is that all their supplements are backed by science and they clearly focus on producing supplements that deliver claimed health benefits.
Vibrant Health Green Vibrance Ingredients List

One of the main signatures of the Green Vibrance superfood supplements is their transparency in disclosing the ingredients and formulation. The supplement is composed of certified organic plant powder, root extracts, probiotics, and cereals. Some of the most prominent ingredients used in the formulation are oats, wheatgrass, barley, spirulina, sprouts, chlorella, and beetroot.
According to some nutritional experts, the daily use of green superfood drinks can help in improving heart health, cholesterol, and weight loss management, along with preventing an individual from few heart problems. Here is the list of ingredients used in the formulation of Green Vibrance.
Organic Cereal Ingredients –
Oat grass leaf powder
Barley grass leaf powder
Barley grass juice powder
Wheatgrass leaf powder
Oat grass juice powder
Wheatgrass juice powder
Kamut grass juice powder
Organic Plant Micronutrient Ingredients
Beetroot juice powder
Chlorella
Sunflower lecithin
Green bean root powder
Spirulina powder
Parsley powder
Zucchini fruit powder
Carrot root powder
How Does It Work?
Being a green superfood drink, the supplement clearly focuses on four major key areas of health and that is supplying proper nutrition, improving blood circulation, healthy digestion, and improved immunity. Let's have a brief look at how it works on these four key areas of health.
Fulfilling Nutritional Deficiency: One of the major reasons for poor health is our daily nutritional deficiency. Vital ingredients used in the formulation include raw and organic veggies, fruits, algae, and enzymes that help in fulfilling the daily nutritional deficiency that you lack in your daily diet.
Improved Blood Circulation: Few ingredients used in this green drink carry nutrients that are known to improve blood circulation. Healthy blood circulation has a healthy effect on your overall health as it not only improves your mental performance but also easily supplies nutrients to organs.
Healthy Digestion: Healthy digestion and intestinal function are very important to keep yourself fit, healthy and active. A healthy intestine helps in breaking down food and extract essential nutrients from it. Green Vibrance helps in improving digestion through digestive enzymes and fibers in the ingredient list.
Improved Immunity: High immunity is the most talked about topic these days and it is very important to have an improved immunity as it will help to prevent yourself from viral attacks and illness. Ingredients used in this green drink carry some essential nutrients that are known to improve your immunity.
Health Benefits of Green Vibrance Superfood Drink

Green Vibrance is not only for digestive health, it supports the entire body. The benefits of this product are endless. The obvious benefit is more complete nutrition, stable metabolism and healthy digestion but also promotes healthy blood circulation, neurological and cardiovascular health. Added Lecithin and Policosanol, helps maintain the structure of every cell membrane, supporting healthy cholesterol levels and nerve function.
Other ingredients assure bone and joint health, strengthening the immune system and increasing energy levels. 25 billion probiotics per serving helps breaks down proteins for easy assimilation, helping transport minerals and synthesize several B-vitamins, reducing unfriendly bacteria and yeast.
In each serving also is 120 mg. of herbal antioxidants, Ginkgo biloba, grape seed and Silymarin (milk thistle) extracts, all potent antioxidants, also improve peripheral circulation. GV then adds to its army of antioxidants, naturally present in other ingredients, such as beta-carotene, vitamin C, vitamin E.
Great versatility with mixing a drink
Formulated with whole food & natural ingredients
Includes 25 billion probiotics that help in improving digestion and detox
Helps in boosting energy
Powerful immunity booster
Improves bone health
Supports liver functioning
Helps in improving the health of the eye, hair, and skin
Includes some anti-cancer nutrients
Filled up with a strong nutritional value
Pros and Cons
Formulated with less sugar
Includes 25 billion probiotics in each serving
Also includes prebiotics
Rich source of essential vitamins and minerals
Helps in boosting the immune system
Include lots of antioxidants
It is soy-free and gluten-free
The product is also non-GMO
Helps in increasing body energy without affecting the sleep cycle
It is beneficial in improving your overall health
The supplement uses match and is not like ordinary green tea
Cons
Taste is a major drawback of this product
Quite expensive compared to few other green powders
The product is only available in a single, green grassy flavor
Being so, the supplement also doesn't taste good
Side Effects of Green Vibrance Powder Drink: As Green Vibrance superfood powder is completely formulated with 100% natural, organic and plant-based ingredients, the risk of side effects is very low. However, if you are manipulating the recommended dosage or adding it to another non-recommended diet, it might cause some side effects.
If you are a newbie to superfood powder or someone sensitive to green ingredients, you might notice side effects like gas, diarrhea, and constipation. Though the company claims to be transparent in its formulation, some reports claim that the supplement has some traces of arsenic. The company Vibrant Health, frankly addresses the controversy on their website. The company explains the controversy by saying that though there are some traces of arsenic, they are non-toxic and naturally occurred.
Who Would Use It?: This concentrated green superfood is recommended for anyone who wants improved health. Different people have different reasons why they prefer, but all have one thing in common, it works for them. For people with weak immune systems or physically ill will see and feel the benefits most. Menopausal or post-menopausal women use it to help normalize primary hormonal levels. Athletes love it for improving strength and endurance.
Men and women of all types use it to improve health and combat stress. Seniors use it to maintain their cellular vitality and energy boosts. Some people want to use it to reduce the signs of aging. Many people choose this green powder over other similar brands because they can see and feel the difference after taking the product almost immediately. There are no harsh chemicals or dangerous ingredients to cause any negative side effects. There are only positive Green Vibrance reviews from customers.
Vibrant Health Green Vibrance For Weight Loss
If you are planning to add Green Vibrance in your shell for your weight loss program, then you might get it right. The supplement is formulated with low calories and a high concentration of nutrients that has an impact on the metabolic effect of cells. Overall, this process of metabolism helps in weight management.
The plant-based ingredients used in the formulation contain polyphenolic flavonoids, phytosterols, and fiber, helping in cell repair. The supplement is claimed to be helpful in promoting weight loss through increasing cellular energy and moderating fat lipids.
Green Vibrance Reviews by Customers

If you want to judge a supplement, the best way is to look out for what people are saying about it online and their experience with that particular product and company. While reviewing for Green Vibrance, I found some really positive feedback.
Lots of people have left their feedback, stating that the supplement helped them in making them energetic, healthier, beautiful nails and hair and also improving their digestion. After watching so many happy customers, I was quite impressed with this green supplement.
Vibrant Health Green Vibrance Review – FAQs
Is Green Vibrance rich in probiotics & protein?
Yes, as per the ingredient list, the supplement is filled with 25 billion probiotics and proteins.
How to take Green Vibrance?
Similar to other green powder drinks, you need to mix one scoop in a glass of water and take it daily once.
Does Green Vibrance smoothie helps in detox?
Yes, along with improving immunity, digestion, and weight management, the supplement also helps in the detoxification of the body.
Is Green Vibrance FDA Approved?
The supplement is not approved by the FDA and even the company doesn't about that. But that is nothing to fear about as the product doesn't claim to cure any illness and it just helps in improving your health and nutrition.
How does it taste?
One of the main drawbacks of this green powder drink is its taste. The supplement taste like a traditional green drink that is earthy and grassy. Therefore, for those who hate the grassy taste, it is recommended to mix it with other smoothies or fruits to cover up the taste.
Are there any flavor options available?
No, the supplement offers only one flavor, Original. This is because the company doesn't want to compromise with the health benefits that other supplements do and hinder the nutritional value.
Is Green Vibrance available at Amazon & Vitamin Shoppe?
Yes, the supplement is available at major online supplement stores like Amazon, Vitamin Shoppe, Holland & Barrett, and others.
Where To Buy Green Vibrance at Best Price?
Green Vibrance is a popular green superfood supplement that you can easily find on various online stores like Amazon, Holland & Barrett, and HiLife Vitamins. Although you can find different offers and discounts on Amazon and Holland, the suppliers are not verified and therefore it is important to find a reliable store that can offer you the legit products at reasonable prices and discounts.
Final Verdict On Green Vibrance Reviews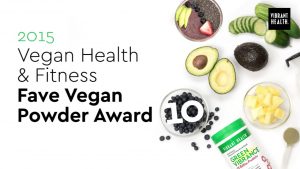 Are you planning to buy Green Vibrance? Well, the supplement has really impressed me a lot. It has received lots of positive reviews, contains quality ingredients, high nutritional value, transparency, and low price.
But one major drawback of this supplement is the taste. If you are really usual of eating raw veggies and grasses, then sure it is the best option for you. But I know, majority of you hate that taste.
No doubt that there are various other tasty options available in the market, but it is also a fact that when it comes to nutritional drinks, you cannot compromise with nutritional value and health benefits. Overall, Green Vibrance is the value for money product that you must try.