Nested Super Greens Review 2023: Once I found the perfect way to help maximum people out there to get all essential daily nutrition in their diet, I started reviewing popular green superfood powders. This Nested Natural Super Greens review is one of the latest addition to this line-up. This green drink supplement is claimed to be packed with various essential ingredients and nutrients, condensed into a powder form for everyday usage.
Well, I know that not everyone loves to drink powder supplements, but for majority of people, this form of supplement is a great option. For most of us, it is very difficult to eat lots of veggies and fruits daily, and therefore, these powder supplements are the best option to fulfill your daily nutritional deficiency.
Nested Natural super Greens: It is recommended by health professionals that everyone should consume enough veggies and fruits on a daily basis to avoid nutritional deficiency that can affect the functioning of various organs. In this review, we are going to find out that how Nested Super Greens fulfills your nutritional deficiency, ingredients used in the formulation, side effects and customer reviews.
Nested Naturals Super Greens Review – What is It?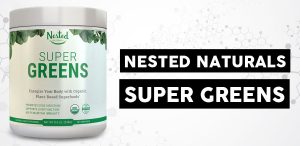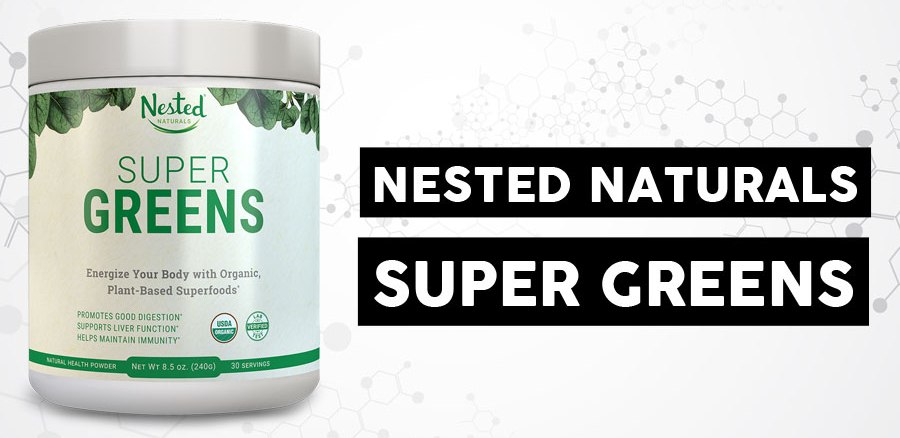 Super Greens powder drink by Nested Natural is a 100% natural green drink that is formulated with vital vegetables and fruits meant to fulfill your daily nutritional gap in the diet.
The supplement is aimed are providing comprehensive green drink that contains more than 40 green superfood ingredients. Every batch of the product is duly certified and tested by third party agency ensuring that all the claims made by the manufacturer are authentic.
Some main features of Super Greens powder include –
5 billion probiotics for gut health
40+ organic ingredients
1000mg of raw spirulina that consist of amino acids, vitamins & minerals
300 mg chlorella that consist of fiber, omega3, antioxidant and protein
Formulated in Canada and manufactured in USA
Nested super greens Ingredients
Nested Natural super Greens 2022: Super Greens powder is formulated with 40+ natural and organic ingredients. The supplement is a comprehensive formulation of 6 types of herbal blends. Let's have a deep look on these blends and ingredients used in it.
Alkalizing Blend – This ingredient blend helps in alkalizing the body and preventing it from free radicals. Ingredients included are:
Barley grass powder, spirulina powder, Alfalfa grass powder, Chlorella, Wheatgrass powder, Dulse powder, Broccoli, Spinach, Kale, and Chlorophyll sodium copper.
Fiber Blend – This blend of ingredients helps in improving the digestion system. Ingredients included are:
Apple fruit powder, Sunflower lecithin, Organic eleuthero root, and Organic brown rice bran.
Antioxidant Blend – This blend helps in detoxifying the body organs. Ingredients included are:
Bee pollen, Organic beetroot, Organic acerola berry, Green tea powder, Organic acai juice powder, Ginkgo Biloba extract, Organic blueberry juice powder, Organic raspberry leaf powder, carrot, Bilberry European extract and Grape seed extract.
Immunity Blend – As it is clear by the name, this blend helps in boosting the immunity. Ingredients included are:
Organic milk thistle, Royal jelly concentrate, Echinacea Angustifolia Extract, and Organic licorice root.
Probiotic Blend – This blend helps in boosting immunity, improving heart health, preventing allergy and inflammation. Ingredients included are:
Lactobacillus Rhamnosus, Streptococcus Thermophilus, Bifidobacterium Longum, Bifidobacterium Bifidum, Lactobacillus Bulgaricus, Inulin, and Lactobacillus Acidophilus.
Enzyme Blend – This blend helps in improving the digestion. The ingredients included are:
Protease, Papain, Lipase, Cellulase, Bromelain, and Amylase.
How Does It Works
Super Greens powder by Nested Natural is an amazing green superfood drink that claims to work on various key areas of health. Below we are going to explain how does this superfood supplement works.
Fulfilling Nutritional Deficiency: The supplement is formulated with premium blend of quality, fresh and organic fruits and veggies that are recommended by health professional to consume daily to improve your nutrition level. Super Greens supplies all essential nutrients that you lack in your daily diet.
Boosting Your Energy: This superfood supplement includes phytonutrients in its formulation that is known natural source of energy booster. The supplement doesn't include caffeine and sugar that is commonly found in most energy drinks but are recommended harmful and addictive source of energy.
Improves Brain Power: Most important thing about this supplement is that it also helps in improving mental health and cognition that is not found in most other green superfood drinks. Super Greens include some of the most prominent vitamins and minerals in its formulation that supports mental focus and clarity.
Supports Your Immunity: The supplement drink is enriched with vital antioxidants and vitamin C that are known to promote healthy immunity and detoxification. It also includes some essential herbs that also support and promote your immune system.
Supports Healthy Digestion: Nested Natural Super Greens is formulated with a natural blend of digestive fibers, probiotics, enzymes and good bacteria that work in improving your gut health, digestion and intestine.
Nested Naturals Super Greens Powder – Pros & Cons
It is duly tested and certified by third-party organization
The supplement is quite affordable
It is gluten-free, soy-free, caffeine-free and non-GMO
It includes 1000mg of spirulina and 300mg of chlorella in each serving
The product is rich in antioxidants
Cons –
The product is reported to have bad taste
It lacks significant dose of essential vitamins and minerals compared to other products
If you have sensitive digestive tract then 40+ ingredients included may be overwhelmed for you
Nested Naturals Super Greens Powder Side Effects: If you are a veteran lover of seasoned super greens, then you would be fond of this supplement without noticing any unpleasant side effects. Being a 100% vegetarian, non-GMO, and free from soy, gluten, and dairy, there are likely very few chances of possessing any types of side effects.
But if you are not a real lover of greens or if you are new to green superfoods, then there are chances of experiencing mild side effects like stomach upset. This symptom might be due to enzymes and probiotics included in the formulation. Although these side effects are temporary and might be reduced within a week.
Is Nested Super Greens A Scam?
Well, I don't find this product a scam, and there are some really solid reasons for it. The supplement is rated A+ on BBB (Better Business Bureau). The manufacturer is quite transparent with its information on ingredients, quantities, pricing, and formulation.
The company back their claims with the scientific studies conducted for their product along with easy to access customer support numbers. The supplement has received thousands of positive reviews on various platforms and therefore, all these factors prove that Nested Super Greens is not at all a scam.
Customer Reviews For Nested Naturals Super Greens: If you visit the official website of Super Greens, you will find plenty of reviews, all being positive. But you can't rely on reviews presented on official website. For the real picture, you need to read reviews on various other online stores like Amazon and eBay.
I visited Super Greens sales page on Amazon and found 2000+ reviews for the product. Of those, around 71% of customers gave 5 stars to this supplement. Though there were also some complaints, but all of them were about the taste of the supplement. Overall, Nested Natural Super Greens has received huge amount of positive reviews and praise.
Nested Natural super Greens – Common FAQs
Q – How to use Super Greens Powder?
One scoop of powder is used to be mixed with a glass of water, smoothie or juice.
Q – Are there any money-back guarantee or return policy?
The official website offers 100% lifetime money-back guarantee on Super Greens powder.
Q – Are there any benefits of Super Greens powder?
The supplement claims to help in improving digestion, immunity, heart health, detoxification, and preventing inflammation.
Q – Does Super Greens powder helps in weight loss?
Though the company doesn't prominently claim about weight loss, there are some ingredients that are known for losing weight.
Q – Is Nested Natural Super Greens gluten-free?
Yes, the supplement is free from gluten, soy, dairy, sugar, and GMOs.
Q – How is the taste of this supplement?
The original flavor of the supplement is not so good as it taste little bit grassy. Fortunately, the supplement is also available in chocolate flavor that is pretty good and delicious.
Q – How many flavors are available?
The company offers only two flavors for Super Greens, Original and Chocolate flavor.
Q – How to use Super Greens?
Most amazing thing about this supplement is that it can be used and mixed in different forms to change the texture and taste. You can mix one scoop everyday with water, smoothie or juice.
Q – Can kids use this superfood supplement?
No, this supplement is not meant to be used by kids and teens as some ingredients may cause severe side effects for kids. But the company offers special superfood drink for kids, Nested Natural Super Kids that is specially formulated keeping kids in mind.
Where to Buy Nested Naturals Super Greens?
Nested Natural super Greens: You can surely buy this supplement from the official website. The website stocks various supplements for sleep aid, digestion, immunity, mental health, pain relief, women, and baby health along with Super Greens.
The company offers free shipping for Nested Super Greens delivery within the USA. Although, if you are ordering from outside the USA, then you will have to pay shipping charges depending on your country. You can also buy this supplement from Amazon but you cannot trust about the legitimacy of the supplement as the most suppliers are not verified on Amazon.
Final Verdict on Nested Naturals Super Greens Review
There is no doubt that Super Greens is an amazing green superfood drink that includes lots of greens, vitamins, and minerals. The most important thing that impressed me about this supplement was customer reviews. Lots of positive reviews with 4 to 5 ratings are enough to make it a perfect choice for a green drink.
Taste is something that creates a downside for this supplement. But for those whom taste matter more, the company offers Chocolate flavor that is tasty, delicious and healthy. Overall, there is nothing that hinders making it a perfect green superfood choice.