Noom and Optavia are two ideal dieting apps that promote weight loss. There are a lot of people looking for successful weight loss programs but don't understand which apps or programs will be best for them. Some people quit the programs due to un-effective strategies or because they are repetitive and monotonous. In Noom vs Optavia, we will check what they offer to the users and which one is the best.
Noom vs Optavia: An Overview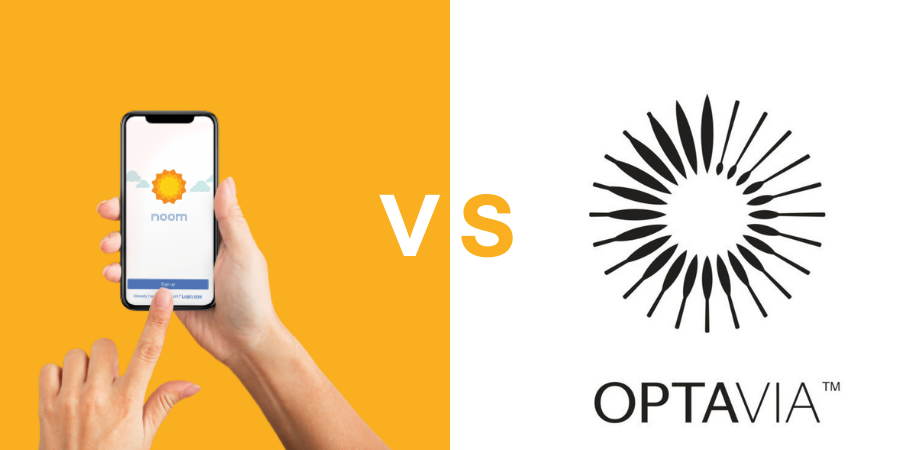 Let's start with: what is Noom? So, Noom is a dieting application. It is a subscription-based program. This successful app was initially released in 2008 as a calorie tracker and fitness app. Later, it was modified and came with added psychological and behavioral content, live coaches, and user support in the year 2016.
Noom is a team of the best health experts and coaches. This app is designed by people who have done various research in oncology, diabetes management, and prevention, and hypertension to provide the best weight loss program for you. Noom uses color-coded food categories to divide food as per calorie density. They categorized foods into green, yellow, and red diet plans.
Noom primarily focuses on the mindset of the users. Secondly, it triggers the calorie intake and activities you do on a daily basis. Noom works on examining eating habits and food preferences, making positive changes, and supporting healthy weight loss.
The Key Features of Noom
Easy to use: Noom is very easy to use. The unique design of Noom makes it close to my heart and the best program to support the weight-loss journey. It comes with a huge database, easy tracking, and personalized fitness lessons including physical aspects to achieve your goal.
Inclusive Food Lists: Noom contains a long-long list of food items and delicious recipes. You will not get bored by eating repetitive meals on alternate days. There are so many options available to pick and set your specific meals daily, and it is the best thing about Noom.
One-on-One Coach: Another key feature of Noom is its 1-on-1 fitness coaching. You often approach fitness coaches to get a customized diet or to seek their guidance for a healthy lifestyle. However, in the Noom app, you will get a professional coach who knows the science behind eating the right food and doing exercise in the right way to lose significant weight in a few months.
Educational Quizzes and Contents: Well, this feature of Noom is far from eating or exercising. This feature enables users to learn the nuances of dieting. Noom allows you to take frequent quizzes along the way to stay updated regarding your community.
Optavia
Optavia's dieting program is a great way to achieve your fitness goal. It will help you reduce stored fat around the waist, belly, and other stubborn areas in your body. Optavia has gained a lot of popularity in the past few years. It is also endorsed by celebrities.
It is a customized diet program that comes with tailored foods and health coaching to integrate healthy weight-loss and healthy habits for a better lifestyle. Optavia is a low-calorie diet-centered program. Optavia is very strict regarding food intake. They prepare a diet plan for the first 30 days for their clients and use that transition period for weight management.
Optaiva tends to take six small meals every 2-3 hours. These small, customized diets are enriched with high nutrients that prevent carving and keep you full for long hours. It is called "fueling" in the Optavia program. If you follow the Optaiva diet plan for 16 weeks, it will result in long-term weight loss.
Each fuel contains balanced macronutrients and probiotic cultures. Users are required to choose green and lean meat for their fuel. In addition, you should consume at least three non-starchy meals and two healthy fat meals per day.There are different diet plans for different age groups of users.
The Key Features of Optavia
Meal Delivery: Optavia is a company that is majorly focused on seamless meal delivery from day one. Optavia ensures that the diet plan you are going to follow is delivered to your doorsteps every week. It is one of the main differences between Noom and Optavia.
Optavia is the perfect app for those who want to prepare high-quality food. The benefits of the meal delivery program include high-nutritional foods, tasty food, and on-the-go meals.
Easy Customization: Everyone has different needs and requirements. Especially when you are going to follow any diet plan. There are ample options to customize your Optavia app as per your requirements. You can configure your fueling to your liking.
Choose the best kit that is going to work well for you. Optavia has organized each kit with dense nutrients for eating well. Optavia has a long list of fuels. It is simply a one-stop-solution for everyone.
A complete kit for everyone: Optavia is the number one choice of millions of people. It encompasses a large variety of healthy and delicious foods and snacks. They have created each recipe as simple as it should be, but they don't compromise on health. They have done fabulous jobs.
These recipes are created by a team of professionals. It includes organic and healthy ingredients that are effective in weight loss. The snacks offered by Optaiva are also wonderful. You won't regret eating these snacks throughout the week.
Coaching: Optavia offers ongoing coaching by professional coaches. They will guide you throughout your journey so that you will lose weight safely. The coaches on the Optavia app also help to personalize your meals. You can talk to your coach whenever you want to do so.
Noom vs Optavia: Differences Between the Two Apps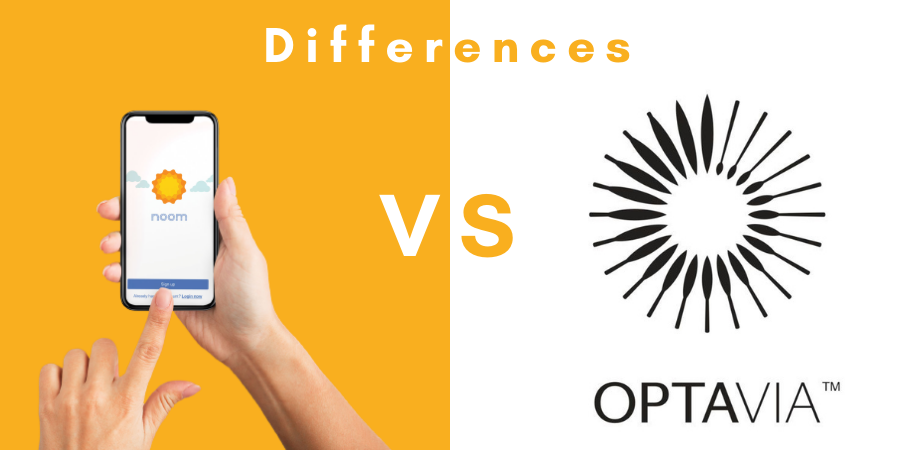 Choosing the best option from ample choices is not an easy task. We can choose one if we know the differences between the given options. In Noom versus Optavia, we will find out the biggest differences between Noom and Optavia and let you choose the most suitable app.
Optavia-Meal-Based Program
Optaiva is more than a dieting app. It follows a different route. Optavia focuses on providing tailored meal plans based on your preferences and then delivering those delightful meals right to your doorsteps. It is the best app for those who want to eat healthy meals. It is the easiest way to stay fit and healthy without getting bored with tasteless foods.
Optaiva is a time-saver as well. Your healthy meals will be delivered straight to your front door. Optavia is the best meal delivery program ever, at $450-$500 per week.
Noom-App-Based Program
On the other hand, Noom is an app-based diet program. With the help of Noom, you will get useful information that will help you lose weight through a psychological approach. You will lose stored fat by triggering calorie intake and tracking various other activities.
Noom offers customized diet plans for every day and provides you with a lot of scientific information and updates regarding your community. It is one of the best apps to cut corners, maintain weight loss and learn more about valuable information.
Noom's Pricing
Noom's monthly plan starts at $59.
2 months-$999.00
3 months-$129.00
$159.00 for 6 months
$199.00 for 12 months
Optavia Pricing
The Optavia Optimal Weight Plan (5 & 1 Plan) costs around $450-$500 per week.
Final Thoughts
So, this is a glance at Noom vs. Optavia. Both the diet apps are the best in their places. They each have their own aspects of delivering the best services to their clients or users. If you are a working person and don't get enough time to keep an eye on your health and want to eat healthy food, Optavia is a good option for you.
On the other hand, Noom is a preferable dieting app if you want to get customized meal plans, coaching by a professional coach, and updated information and affordability. Noom is for you. Both apps come with ample features that will lead to better health.
The 14 days Trial offers an excellent opportunity to check out the program personally. Here's to your Sustained Weightloss. May you Enjoy The Journey 🙂