Being human, our mind generates hundreds of questions when we are in the process of taking any decision.
Likewise, when its a question of our health and nutrition as well as investing money to buy a product, thousands of questions and doubts are randomly generated.
Today in this article I will try to answer all those common questions that arise in our mind related to Athletic Green. For this section, I have trawled the internet and tried to gather all the common queries that are asked on the web associated with this green powder. So let's start our most comprehensive Athletic Greens FAQ on the Net.
FAQ on product introduction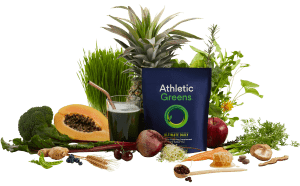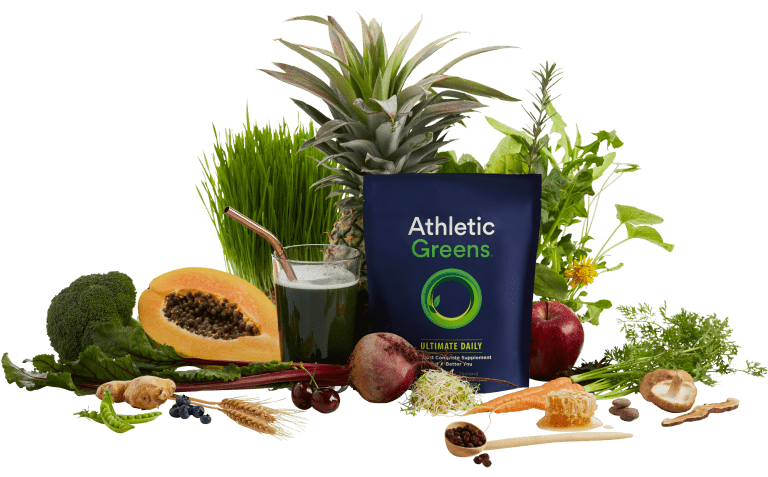 Every query starts in our mind with the introduction of the product, and we get eager to know about the product we come across. Here are some common questions related to product introduction.
Q – What is Athletic Green?
Ans – It is a premium superfood and cocktail of green smoothie powder. It is marketed as the best alternative to your daily nutritional deficit. It is perfectly blended and combined with all essential vitamins, minerals, and other nutrients that are important for our body's daily requirement that most of us fail to get from our regular diet.
FAQ Related to the Manufacturer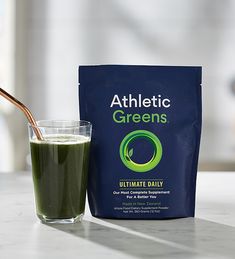 It is essential to know who is manufacturing or producing the supplement as the credibility of the manufacturer creates reliability and assurance in the buyer's mind.
Q – Who owns Athletic Greens superfood powder?
Ans – Well, I have researched a lot on the internet to find out the company's name who manufactures this product. But, there is no data available about the manufacturer. Even the official LinkedIn profile has not displayed the name of the company. Then at the official website, I found the name of the person who is the creator of this green drink powder and his name is Chris "The Kiwi."
FAQ- On the Ingredients list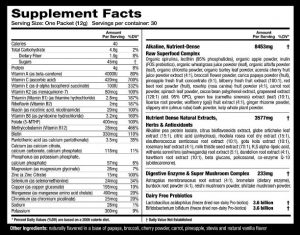 What we first check in any product or supplement is the list of ingredients used in the formulation. It is essential as a buyer should be aware that isn't the product includes any component that does not suit his body.
Q – What is Athletic Greens made of OR what are the ingredients?
Ans – The official website claims that the AG is formulated with 100% natural ingredients and includes nutrition in pure extract form. The supplement consists of a total of 75 vital elements that is equivalent to consuming 15 types of fruits and vegetables. Some of the prominent ingredients are Ashwagandha root extract, Rhodiola Rosea extract, Green tea extract, Cocoa bean extract, and CoQ10.
FAQ-on the efficiency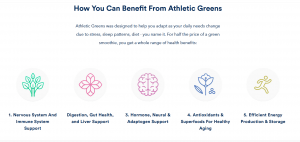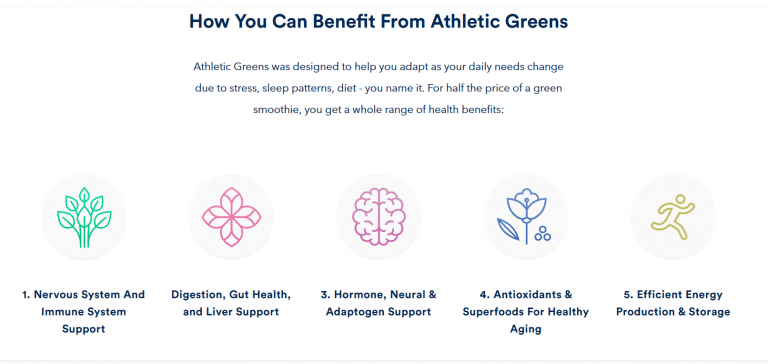 Every product or supplement officially claims in the market that it helps in boost immunity or treating various conditions from the root, but it is hard to believe as we cannot judge the product from the cover, and therefore it obvious that question arises in mind related to efficiency.
Q – Does Athletic Green powder really work?
Ans – As I crawled throughout the official website, I found many big claims made regarding the efficiency of this green drink powder. It is claimed that no other superfood supplement in the market can match the ability of this product. Consumption of this supplement is the equivalent of consuming five different types of vitamins and mineral pills. But talking about the facts, though the product is not as efficient as claimed, overall it can be said that it is an excellent green drink supplement in the budget.
FAQ-on the taste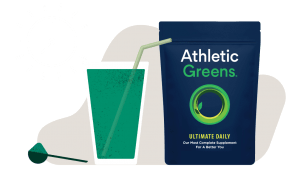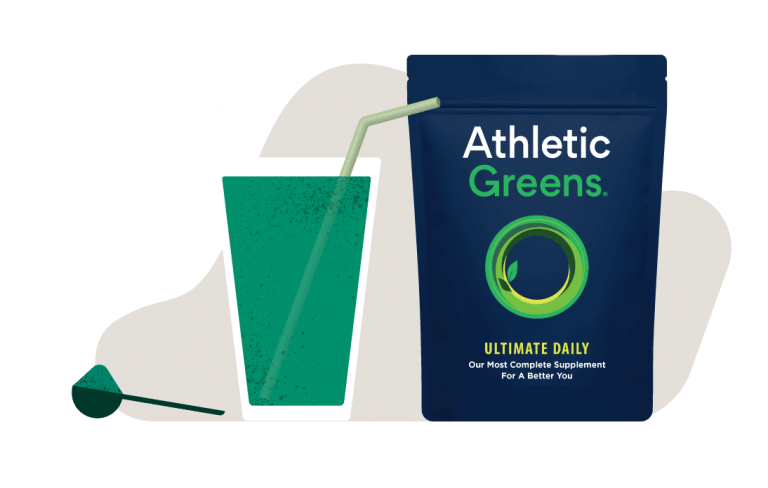 As we all know that any green drink, whether it's a homemade or packed supplement, doesn't taste well and that is the reason people hesitate in consuming such products. Therefore it is essential to know whether this product tastes similar to its league or it is different.
Q – What/How does AG taste like?
Ans – In this factor, I must say that it is much better, or we could say best in the market. I have gone through various customer reviews and found that almost everyone appreciates the taste of this green drink. It is much delicious, sweet, and smooth than any other green drink.
Q – How to make Athletic Greens taste better?
Ans – Although you may not need to add anything to make it taste better because it usually tastes sweet and delicious but if you want you can add some artificial sweetener or fruits in it.
FAQ related to usage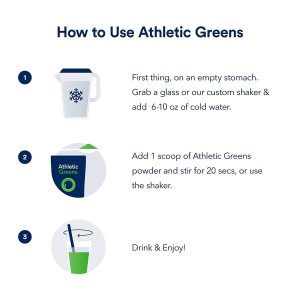 To drive out maximum result out of any supplement, it is essential to use it as recommended by the manufacturer. This raises some common questions related to the usage of this green drink powder.
Q – How to use or take it?
Ans – It is recommended to take this green drink powder twice a day in the form of shake by mixing it in water.
Q – When to drink it?
Ans – The manufacturer suggests taking it twice a day once with breakfast and another with dinner.
Q – What to mix with Athletic Greens?
Ans – Though the official website states to mix the powder with water, you can also use milk, only if you are not diabetic or overweight or any other condition which restricts protein intake.
Q – How to mix or prepare Athletic Greens superfood powder?
Ans – To prepare a green shake, you should mix two tablespoons of AG powder in 200 ml water.
The FAQ on Athletic Greens nutritional label & facts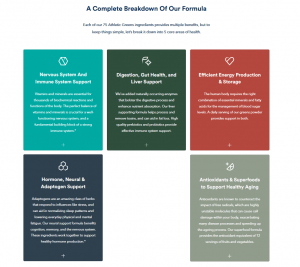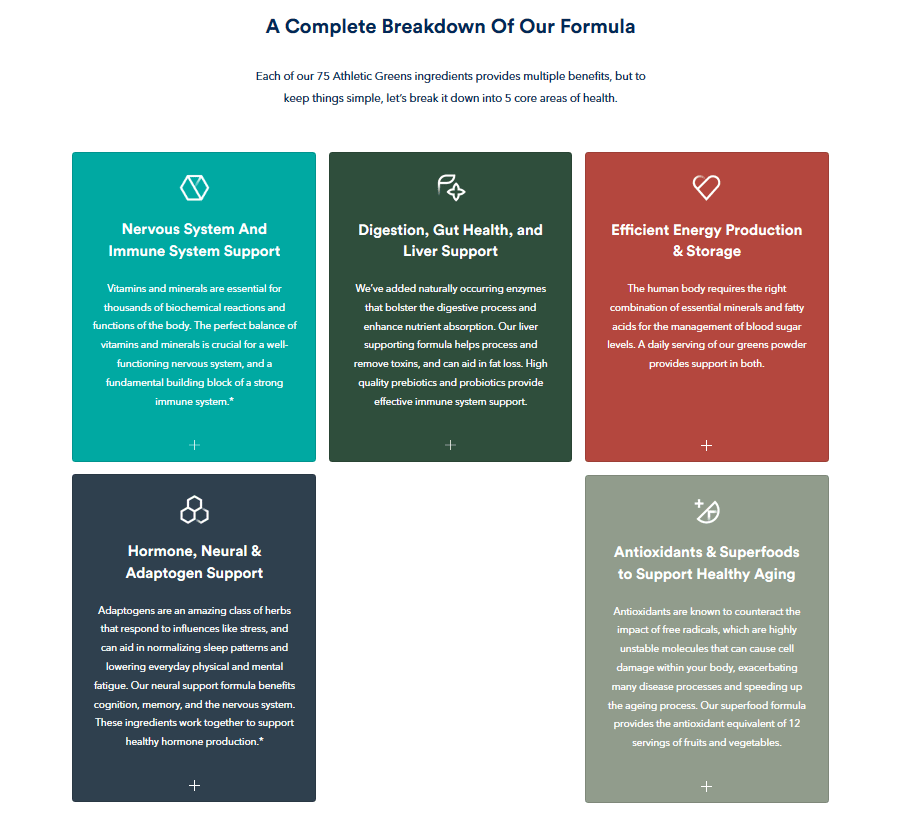 When we talk about a superfood supplement, it gets essential to know how that supplement will help in proving essential nutrients. Here are some common questions related to the nutritional quality of this superfood green drink.
Q – How many calories in Athletic Green powder?
Ans – There are 40 calories in one tablespoon serving of AG of which 42% is a carb, and 58% is protein.
Q – How many carbs in it?
Ans – There is a net 4.8 gram of carb in each serving of powder.
Q – Is there caffeine in this superfood powder?
Ans – No, the ingredient list doesn't include caffeine, and therefore it could be said that it is a caffeine-free drink.
Q – Is Athletic Greens keto-friendly?
Ans – No, because in the weight loss diet plans like ketogenic you are dependent on healthy fat and avoid carbs but in AG, you don't take fat and use carbs as the primary fuel. Therefore, AG and the Ketogenic diet cannot be continued parallelly.
FAQ related to scam and side effects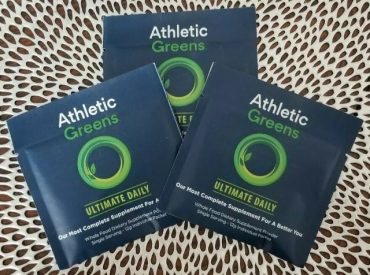 It is crucial for anyone to know whether the supplement or product he or she is going to use, produces any side effects or any harmful effect on the health. Find out answers to such questions related to Athletic Green.
Q – Are Athletic Greens good for you? healthy and safe?
Ans – These are the essential questions. Therefore, it needed some in-depth research. I have scanned various review websites and forums along with an official website to get the most excellent answer to this question. Being a natural ingredient supplement, there are no such possible side effects, but if you are suffering from any chronic health condition, then it is recommended to consult with your physician before consuming it. If you are on a low protein diet, then you must avoid taking AG because it provides 58% protein that would be not good for your diet.
The FAQ on price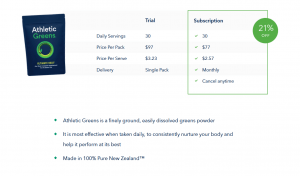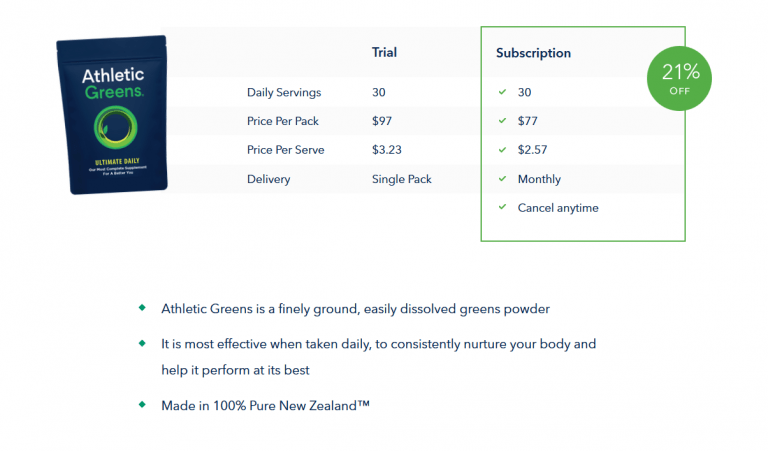 Every buyer's primary focus is on the price as they are restricted to their budget. Investing more than the pocket sometimes leads to complete dissatisfaction when you don't get the desired results. Here are some common questions related to the cost & best price of it.
Q – How much does Athletic Greens cost?
Ans – The cost of AG is quite high as the pack of 30 Servings costs you $77 per month whereas the package of 60 servings costs you $147 per month. There is a trial offer pack that costs you $97, but you can avail it one time only.
FAQ related to cost worthiness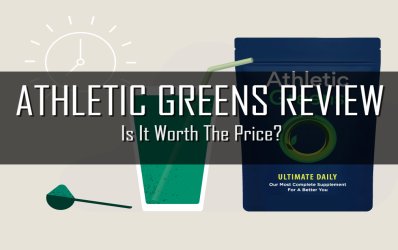 When you pay a high amount for any product or service, you expect better results from it, and if the product delivers you prominent results, you don't hesitate in investing in the future. But what about AG, it is cost worthy?
Q – Is Athletic-Green worth the money or price?
Ans – Although we could say that this supplement is quite costly compared to other alternatives available in the market if you go through the ingredients and results delivered, the price looks worthy. As per the official website, no such supplement matches the ingredient quality of Athletic Greens. If you individually buy those supplements, it will cost you around $445 per month, and therefore in such case, you are saving about $365 per month, and that's a considerable amount.
FAQ related to the purchase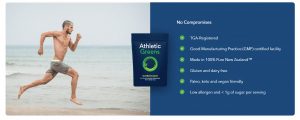 When you make your decision of buying a supplement, the next thing that comes is the best place to make your order. This is because there are lots of scams prevailing on the internet and millions of people are getting trapped and wasting money on it. Here are some common queries related to the purchase of Athletic Greens.
Q – Where can you buy or purchase Athletic Greens powder?
Q – Who sells/carries it?
Ans – Well, there are various options where you can buy this superfood green drink such as an official website, good affiliate sites, and online stores. But it is highly recommended to place your order through the official website as it ensures that you are getting the genuine product and not the fake or name resembling ones. You also get the option to subscribe and save on the official site as well as official promotions.
Q – Where to buy or purchase it in US/Canada/South Africa/Australia and for that matter from any part of the world?
Ans – Athletic Greens is a US-based superfood green drink that is very popular in the US and Canada. You can easily buy it from the official website and online stores in the US and Canada. Although the official website does not ship this product outside the US, Canada & Europe therefore if you live outside the US, Canada or Europe, you can make your order through online stores – best place -Amazon.
Q – Can you buy Athletic Greens in stores? What stores sell/carry it?
Ans – You cannot find this superfood green drink in local or nearby stores or supermarkets. Other than the official website you can only get it through Amazon.
Q – Does GNC sell or carry Athletic Greens?
Ans – Although many review websites claim that AG is duly available for purchase on GNC but I checked the GNC website to find it out, but there was no such product available on the store.
Other Athletic Greens FAQs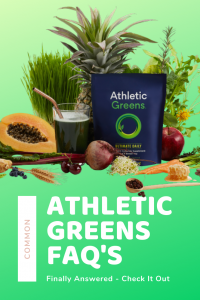 Q – What does AG do?
Ans – This superfood green drink works in 3 step formula, Nourishment – Absorption – Synthesis. It nourishes your body with all vital nutrients, improves your digestive system, and synthesizes your cells to allow your body to utilize all the nutrients delivered.
Q – Why is it relatively expensive?
Ans – The manufacturer's response to this question is that the ingredients used in the formulation are real extracts that are expensive in processing and also 75 types of nutrients increase the cost of this supplement.
Q – What is comparable to Athletic Greens?
Ans – When comparing Athletic Greens with other such supplements, two names are prominent in the market, Total Living Drink Green and Shakeology. But these two are even much costlier. The closest competitor to AG is Organifi. It is also an excellent green drink. Find out the complete list of Athletic Greens alternatives compared.
Hopefully, I have covered all the questions that are arising in your mind. If I have missed some or if you have some other questions related to this product, you can email us.
Also, check out our unbiased review on Athletic Greens for more details. Search for more superfood supplements on MGD that can be an alternative to AG.