Goli Nutrition has gained a lot of popularity and has received thousands of positive reviews in the health and nutrition industry. Both the red and blue Goli Gummies are produced by the same brand, Goli Nutrition, under license. With the help of this article, we will explain the difference between red and blue Goli Gummies. Having started with red gummies, now the company offers a variety of gummies for different purposes.
But our primary focus is on red and blue gummies. We also cover the benefits of the product, the cost, and other mandatory information about the supplements.
What Is The Difference Between Red and Blue Goli Gummies?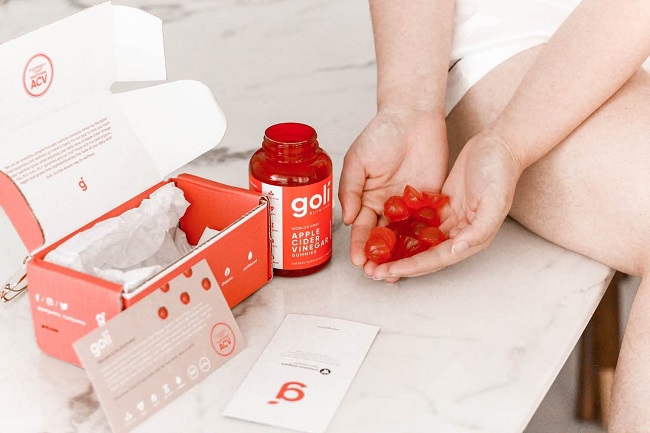 Goli Nutrition has ensured to offer organic and unfiltered Goli gummies that will support weight loss, help lower blood sugar and cholesterol, and offer healthy skin and remove toxins from the body.
The Goli Blue Gummies are the ashwagandha gummies that are the top-ranked detox and weight loss supplements on the market. However, the red gummies are known as Apple Cider Vinegar Gummies. The ACV gummies support the digestive system and also weight loss.
Both of the supplements, Goli Ashwagandha and Goli Apple Cider Vinegar Gummies, are the best nutritional gummies. They are made of natural ingredients, so these gummies are safe for adults and children. It is free from allergens, gluten, gelatine, and harmful chemicals. Moreover, these gummies are kosher-certified.
Goli Nutrition (ACV gummies) are the world's first Apple Cider Vinegar Gummies infused with powerful vitamins and nutrients. They are tasty. Vitamin B9 and B12 support cellular energy production, healthy immune function, a healthy heart, and an improved nervous system.
On the other hand, Ashwagandha Goli Gummies are the No. 1 choice of Americans. They are also delicious and natural-flavored gummies that are highly effective and made with bioavailable ashwagandha and vitamin D.
Red vs. Blue Gummies
Goli Gummies are growing in popularity, and now they are one of the most trusted nutritional brands. The difference between the blue and red Goli gummies is that the red gummies are apple cider gummies that promote weight loss, and the blue gummies are best for managing stress, improving sleep quality, and much more.
Goli Apple Cider Vinegar Gummies
Goli ACV gummies offer the same benefits as liquid apple cider vinegar offers to you, but these gummies do not have a sour or pungent smell. Goli gummies are flavorful, but that doesn't mean that they include added sugar. The ACV gummies are made with enzymes, beetroot, pomegranate, prebiotics, rich protein, antioxidants, vitamins, and many other natural ingredients.
If you are looking for an organic ACV gummy, Goli ACV is the best option available on the market. People who have an allergy to gluten can also use this supplement. If you have a wide range of digestive problems, such as chronic constipation, Goli gummies can help you improve your digestive system and keep your gut in good shape.
These gummies are also effective in reducing weight naturally. Goli ACV gummies help to suppress appetite and make you feel fuller for long hours. It reduces calorie intake. This is how controlling the major factors leading to weight gain promotes weight loss.
Goli Ashwagandha Gummies
Goli nutrition has launched Goli Blue Gummies and Goli Ashwagandha Gummies, which help to improve overall health and wellness. This supplement contains the benefits of Ashwagandha. The herb ashwagandha aids in the treatment of insomnia, stress, pain, inflammation, stress, and overall wellness and health.It has been trusted to help improve multiple types of health conditions.
However, Goli Ashwagandha is effective, safe, and natural. The main ingredients of Goli Gummies are ashwagandha, vitamin D, mixed berries, pectin, natural flavor, malic acid, citric acid, sodium citrate, organic sunflower lecithin, antioxidants, an essential vitamin, and others.
There are no negative side effects to Goli gummies. Goli Ashwa Gummies are made with high-quality ingredients. It is made in the USA and the US. Anyone can take these Goli gummies along with the other supplements. It keeps carving and stress at bay. Some people refer to taking these gummies between meal times to reduce appetite.
Moreover, if you are suffering from anxiety, Ashwagandha KSM 66 helps to overcome it.
The Advantages of Apple Cider Vinegar Goli Gummies
Goli ACV gummies are very beneficial for overall health. The primary benefits of ACV gummies are mentioned below.
Goli Apple Cider Vinegar Gummies aim to offer several health benefits without the astringent taste of acetic acid.
These are soft and chewy gummies that help to lower digestion.
Besides the benefits of apple cider vinegar, these gummies also offer the benefits of vitamin B9 and B12.
It prevents overeating and promotes healthy weight loss.
ACV Gummies also improve the immune system, boost metabolism, and improve the health of skin, nails, and hair.
Aswagandha Goli Gummies Advantages
Don't skip this section, because this section of the article consists of the benefits of blue Goli gummies. The major benefits of Goli nutrition in Ashwagandha Gummies are listed below.
Goli Blue Gummies help to manage cortisol hormones, thereby promoting good sleep and reducing stress.
These powerful gummies support weight management.
It is excellent for those who are struggling with emotional eating.
They can also help with things like better memory, sharpness, and alertness. Ashwagandha gummy bears are also good for this.
Other ingredients added to the Ashwagandha gummies are helpful for gut health, cholesterol levels, and controlling blood sugar.
The Price Difference Between Red and Blue Goli Gummies
Goli gummies are potent and loaded with several health benefits. Goli Apple Cider Vinegar Gummies are priced at $19 with a 100% money-back guarantee. On the other hand, the price of Ashwagandha Goli Gummies is also $19 for a single bottle. The company offers a 100% hassle-free refund policy on this product as well.
Conclusion
So, this is the basic difference between red and blue Goli gummies. Goli Nutrition is a leading brand in power gummies. These gummies are designed to offer various health benefits without any side effects.
Goli ACV gummies are good for digestive functions and weight loss. It is an organic appetite suppressor as well. It is the delicious gummies that combine the right ingredients, and this supplement is marketed globally.
Whereas, Ashwagandha gummies are better for targeting stress hormones, suppressing pain, inflammation, cognitive functions, and overall wellness. Both of the gummies are far away from chemicals and harmful substances. So even children can use these gummies.