"An apple a day keeps the doctor away" – It's not just a phrase. Apple is one such fruit that has been proven for its immense health benefits both by modern and traditional science. Apple has been used for centuries as an essential addition to the daily diet. Talking about apple cider vinegar, it is a fermented extract of apple that also carries lots of health benefits. But not all of us like to drink it due to its sore taste. That's why most companies have launched their ACV gummies that are tasty, healthy, and convenient. Goli is recognized as the first brand to launch ACV gummies and today we are going to compare Goli Gummies vs other brands to find out a perfect alternative to this popular acv gummy.
Goli Gummies vs Other Brands – An Overview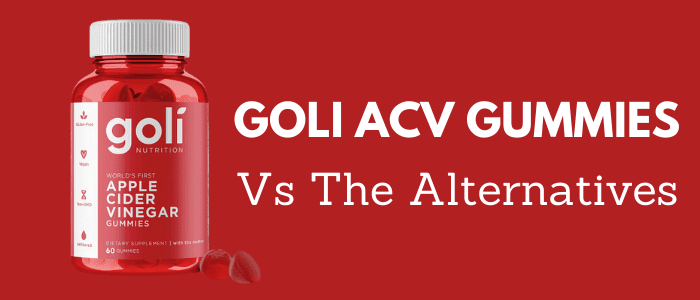 About Goli ACV Gummies
Goli ACV gummies are a nutritional gummy supplement that is designed and marketed by Goli Nutrition. Goli gummies are acclaimed as the World's First Apple Cider Vinegar Gummies.
The founder of Goli Nutrition, Michael Bitensky, started the company with an aim to provide healthy nutrition and wellbeing through breaking the orthodox supplementation.
This introduced an easy, tasty, and convenient way of supplementing yourself on the go. Goli ACV gummies carry all the nutritional benefits of raw apple cider vinegar without the sour taste and side effects. These gummies are also awarded with PTPA certification.
Read detailed review on Goli ACV Gummies over here
Ingredients
Goli ACV gummies' main ingredient is apple cider vinegar but it also uses other ingredients to make these gummies tasty, delicious, and healthy. Other ingredients used in the formulation are organic beetroot, organic pomegranate, organic tapioca syrup, organic cane sugar, pectin, sodium citrate, citric acid, malic acid, natural apple flavor, organic carrot, organic apple, and organic blackcurrant.
Health Benefits
Helps in supporting healthy gut and digestion
Promotes skin health
Helps in losing weight
Boosts immunity
Suppresses appetite
Improves cardiovascular health
Increases energy level
Possible Side Effects
Being formulated with all-natural and organic ingredients, Goli gummies do not carry any severe side effects. Common side effects associated with raw apple cider vinegar are also not experienced with these gummies. But it is highly recommended to do not overdose as it may cause stomach aches and diarrhea.
Goli Gummies vs Other Brands – Considerable Alternatives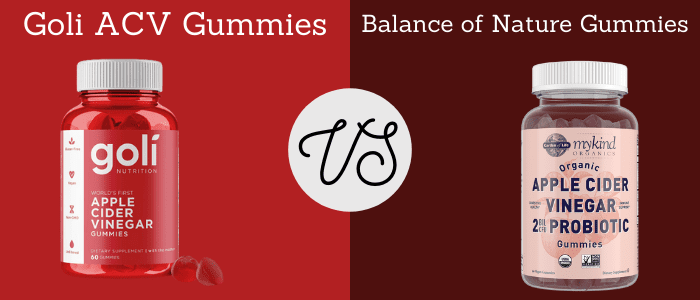 Goli Gummies vs Garden of Life Gummies
Garden of Life is a popular supplement brand on the market that has a wide range of nutritional supplements in its rack. One of these supplements is Garden of Life MyKind Organic Gummies.
There is a range of different gummies for every individual and various key areas of health. These include Multivitamin gummies for men, women, kids, gummies for immunity, and prenatal.
Garden of Life gummies are formulated with 100% natural ingredients that include organic fruits, vitamins, and minerals.
Ingredients
All the gummies by Garden of Life are formulated with organic fruits that are known to carry various nutritional benefits. These fruits include organic apple, organic peach, organic tapioca fiber, organic cranberry, organic purple carrot, organic orange, organic sunflower oil, and pectin.
Benefits
Helps in boosting immunity
Promotes men's health
Supplies vital nutrients for women health
Improves mental ability
Promotes healthy digestion
Supplies essential nutrients for pregnant ladies
Side Effects
Unfortunately, I couldn't find any reported side effects due to a lack of enough resources. All the reviews are available only on the official website therefore it cannot be completely justified. Although, you can expect the usual side effects carried with apple cider vinegar.
Goli Gummies vs It Works Gummies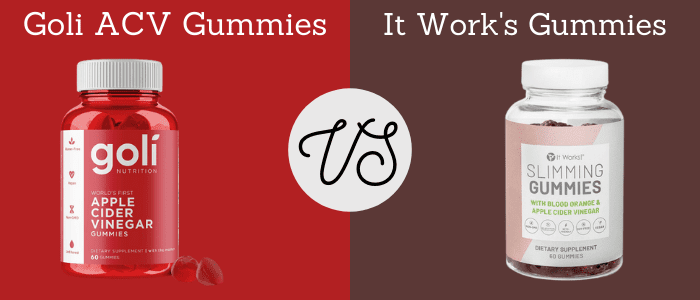 It Works Slimming Gummies are a delicious nutritional addition to the market by a popular supplement brand, It Works Nutrition.
These gummies are designed to help you lose weight while burning the body fat and controlling your appetite. The main feature of this gummies is that it is focused on curbing your body weight from the stubborn areas like stomach, hips, and waist.
Different from Goli ACV Gummies, It Works Slimming Gummies include Blood Orange in its formulation for improved results.
Ingredients
It Works Slimming Gummies with more ingredients than Goli ACV Gummies that includes blood orange extract, apple cider vinegar, and chicory root inulin. If you are looking for focused weight loss gummies, then It Works gummies have more powerful fat-burning ingredients than Goli gummies.
Benefits
Helps in burning stubborn body fat
Promotes energy level
Helps in maintaining ideal BMI index
Side Effects
Where Goli Gummies are safe from side effects, there are lots of reported complaints about It Works Slimming gummies. Lots of people have reported that they experienced various side effects, such as heartburn, nausea, headache, and stomach ache while using this gummy.
Goli Gummies vs Glow Gummies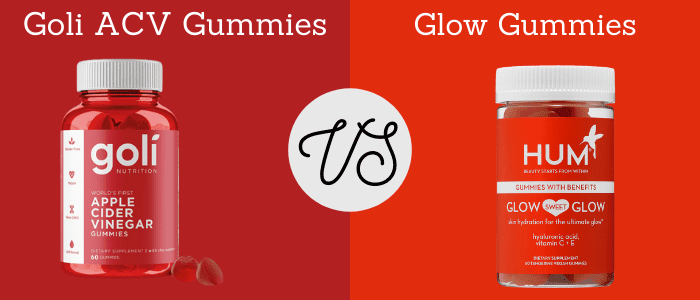 Glow Gummies is another considerable alternative to Goli ACV gummies. These ACV gummies promises to provide all essential nutritional benefits that you expect from raw apple cider vinegar.
Glow Gummies are claimed to be 100% vegan, organic, and gluten-free and are formulated with only natural and organic ingredients.
With lots of claimed health benefits, Glow Gummies are not as popular or you can say not as effective and healthy as Goli Gummies. The only advantage of Glow Gummies is that it uses ginger in its formulation.
Ingredients
Similar to Goli ACV Gummies, Glow Gummies also use apple cider vinegar as its main ingredient in the formulation. Though it uses ginger that is a prominent aid in digestion and gut health, it lacks other essential fruits in its ingredient list that you can find in Goli Gummies.
Benefits
Helps in maintaining healthy weight management
Controls blood sugar level
Helps in suppressing appetite
Promotes healthy digestion
Helps in converting carbs into energy
Side Effects
The official website claims that their ACV gummies don't carry any side effects but the combination of apple cider vinegar and ginger creates doubt about potential side effects like nausea and gastrointestinal upset.
Goli Gummies vs Nature's Truth Gummies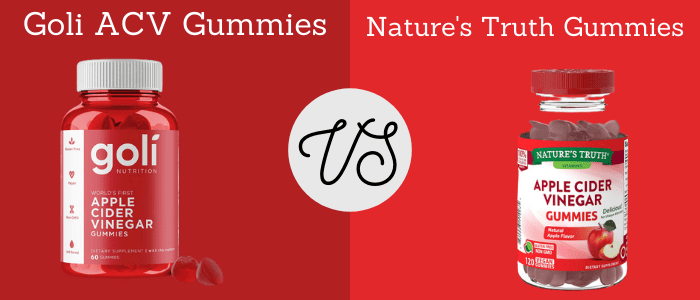 Nature's Truth is a renowned healthcare and wellness supplement brand that is known to manufacture some quality products for various key areas of health.
The company claims that all its supplements are formulated with organic and high-quality ingredients. Talking about its ACV gummies, the company has a wide range of gummies with different flavors targeting specific gender and health issue.
Though Nature's Truth is a popular brand, their ACV gummies does not match the quality with Goli gummies.
Ingredients
Like Goli gummies, Nature's Truth also uses apple cider vinegar as its main ingredients along with plenty of others that include sucrose, pectin, citric acid, vegetable oil, natural palm leaf extract, and black carrot juice.
Benefits
Helps in burning body fat
Promotes healthy weight management
Helps in suppressing appetite
Improves digestion and gut health
Side Effects
Although it is usual to experience common side effects that are carried with apple cider vinegar, but one thing that is most reported about these gummies is that it uses a high amount of sugar that is in no way safe and good for health.
Goli Gummies vs Hydroxycut Gummies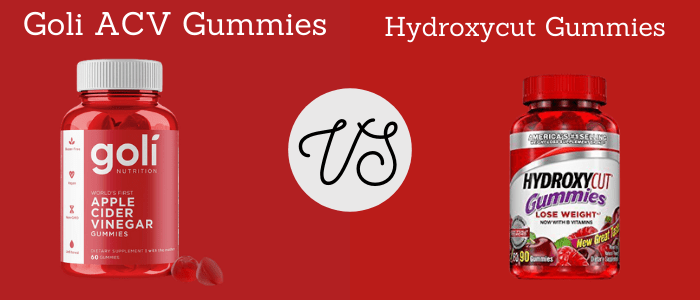 Hydroxycut is one of the oldest weight loss and muscle-building supplements on the market. For some consecutive years, Hydroxycut supplements have been acclaimed as America's best-selling supplement for weight loss.
Though it is available in the market for over a decade, Hydroxycut gummies fail to snatch the tag of World's First ACV gummies as it has been launched recently.
Gummies by Hydroxycut are not actually ACV gummies rather it is a multivitamin chewable supplement formulated with mixed fruits.
Ingredients
Hydroxycut gummies are multivitamin gummies that are formulated with various fruits. The ingredients of this chewable supplement for weight loss include Canephora robusta, biotin, pantothenic acid, thiamin, riboflavin, zinc, selenium, vitamin A, D, E, and K.
Benefits
Promotes fat burning
Helps in weight loss
Increases metabolic process
Promotes energy level
Side Effects
Though Hydroxycut supplements are very popular, it has been criticized for the side effects associated with it and its gummies it not different from it. Some users reported that using these gummies has left them with abdominal pain, digestive issues, and jaundice.
Goli Gummies vs Pure Gummies by SlimQuick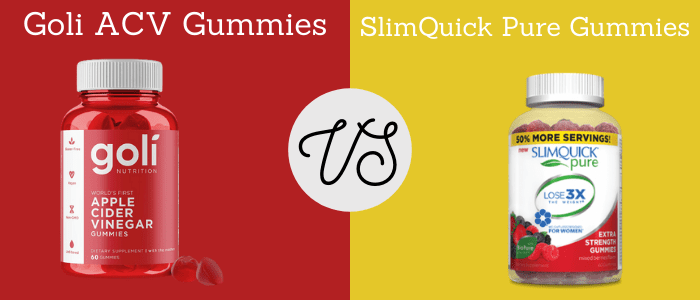 Pure Gummies are the weight loss gummies that are manufactured and marketed by the US-based supplement brand, SlimQuick. The brand has a wide range of nutritional and dietary supplements for weight loss, energy, and strength.
The gummies version of SlimQuick is designed for those who hate swallowing pills. These gummies are not formulated with apple cider vinegar rather it uses different types of berries in the organic form.
The worst thing about the SlimQuick brand is that it hasn't been listed on BBB yet.
Ingredients
SlimQuick Pure Gummies are formulated with organic berries rather than apple cider vinegar. Therefore, it is considered as a multivitamin supplement rather than for weight loss. Other ingredients used in the formulation are green tea extract, gelatin, citric acid, and corn syrup.
Benefits
Helps in increasing metabolism
Promotes energy level
Suppresses appetite
Reduces stress and improves mood
Side Effects
SlimQuick Pure gummies are also not left untouched from side effects. There are few possible side effects reported by the users on various platforms. Although the official website tries to hide these consequences, people reported that they experienced nervousness, restlessness, nausea, vomiting, and high pulse rate.
Goli Gummies vs Apple Cider Vinegar Liquid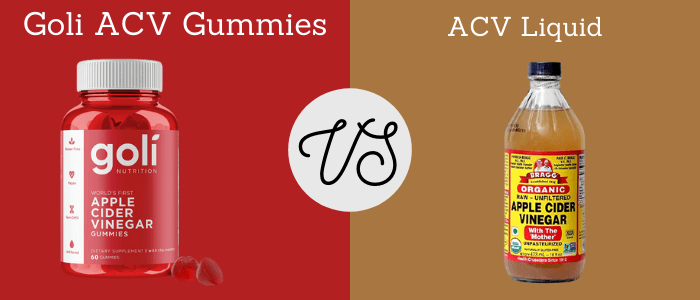 Apple is one such fruit that is known for its immense health benefits and apple cider vinegar is different from it when it comes to health benefits.
Apple cider vinegar is prepared from the fermented apples where the sugar content is been fermented with yeast. This process turns the cider into alcohol and further into vinegar.
Raw apple vinegar has lots of health benefits and has been used as a popular home remedy against weight loss and detoxification. But the taste is something that creates hatred for it among many individuals.
Benefits
Controls blood sugar level
Aids in weight loss
Prevents dandruff
Relieves itching and irritation
Promotes hair growth and quality
Relieves sunburn
Clears acne and pimples
Provides relief from sore throat
Improves digestion
Side Effects
Though there are lots of health benefits associated with the use of apple cider vinegar, you cannot ignore the possible side effects. One of the major and most common side effects of ACV is tooth erosion. Other effects include skin burns, intensive low blood sugar levels, and esphageal burns.
Goli Gummies vs Apple Cider Vinegar Pills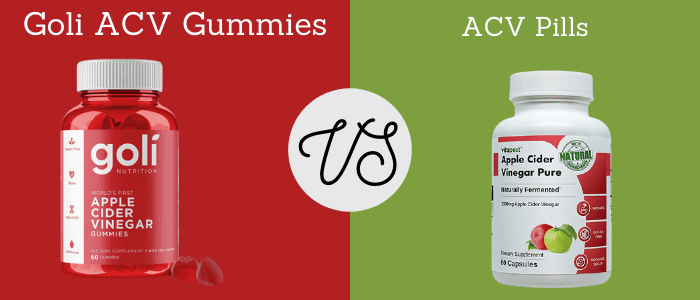 Another form of apple cider vinegar is in supplement form that is specially designed for those who prefer taking pills over liquid vinegar or hate the taste of ACV.
These pills are formulated with apple cider vinegar in a dehydrated form. Although the companies manufacturing these pills claim to carry similar health benefits, it is usually doubtful as it uses dehydrated vinegar.
The potency of the ACV used in the formulation varies from brand to brand but usually it is limited to 500mg that is equivalent to two spoon of liquid.
Benefits
The benefits of ACV pills vary according to the claims made by the different companies. Common health benefits are:
Helps in losing weight
Promotes healthy blood sugar level
Helps in reducing cholesterol
Promotes metabolism
Side Effects
Side effects with apple cider vinegar pills are not different from the liquid version. You may experience throat irritation, stomach upset, low potassium, and indigestion with the use of these pills.
Goli Gummies Blue vs Red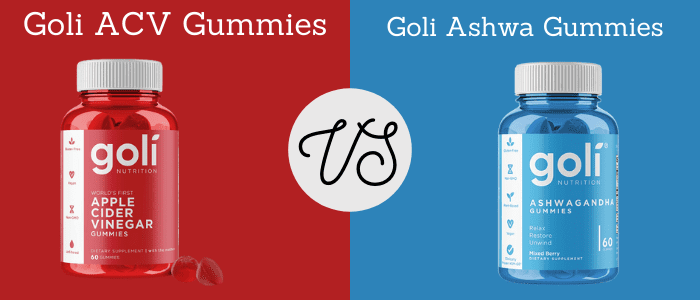 Goli Nutrition has been very specific with the product line and they didn't just lay the line of gummies with different flavors, creating confusion like most other brands.
After being tagged for producing World's First ACV Gummies, Goli launched the blue gummies that are known as Goli Ashwagandha Gummies.
Like ACV gummies are formulated with apple cider vinegar, Blue gummies are formulated with ashwagandha. These ashwa gummies carry all the potentials and health benefits of ashwagandha.
Ingredients
Though Goli Ashwa gummies use ashwagandha as its main ingredients, there are few other powerful ingredients used in the formulation like mixed berries, organic tapioca syrup, organic cane syrup, pectin, malic acid, citric acid, organic fruits & veggies juice, and organic sunflower lecithin.
Benefits
Helps in reducing stress
Promotes cognition and memory
Improves heart health
Boosts strength, endurance, and muscles
Improves the quality of sleep
Promotes sexual performance
Helps in weight management
Boosts immunity
Side Effects
Like the red one (ACV gummies), the blue one is also safe from any side effects due to its organic and natural formulation. Although, you are recommended to not overdose on it as it may cause common ashwagandha side effects like vomiting, diarrhea, and stomach upset.
Goli ACV Gummies vs Other Brands – My Final Verdict


Today if you search online, you will find hundreds of brands and companies with apple cider vinegar gummies. All of these try to make big and huge claims but the truth is that only a few of them are actually legit.
Usually, Goli is one such brand that is well known and recognized on the market for its high-quality formulation and number of health benefits. But it is obvious that most of us try to look for an alternative due to certain reasons and the same is with Goli Gummies.
I have tried to cover 9 best alternatives available on the market but to be specific, I couldn't find any brand matching the quality of Goli. In my words, if you are really looking to get the maximum benefits of apple cider vinegar, Goli ACV Gummies is the best choice for you.